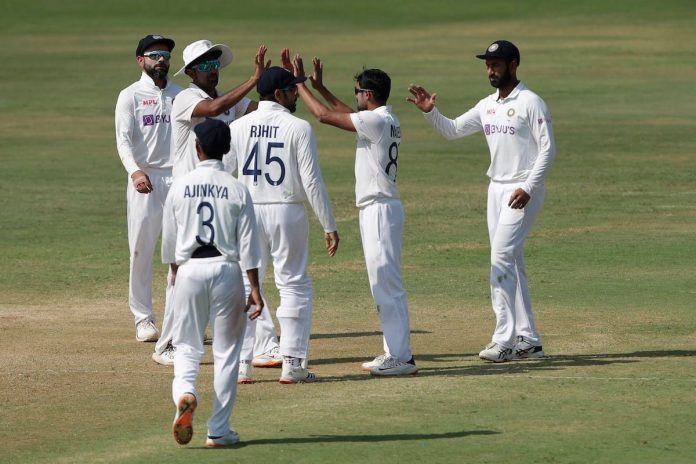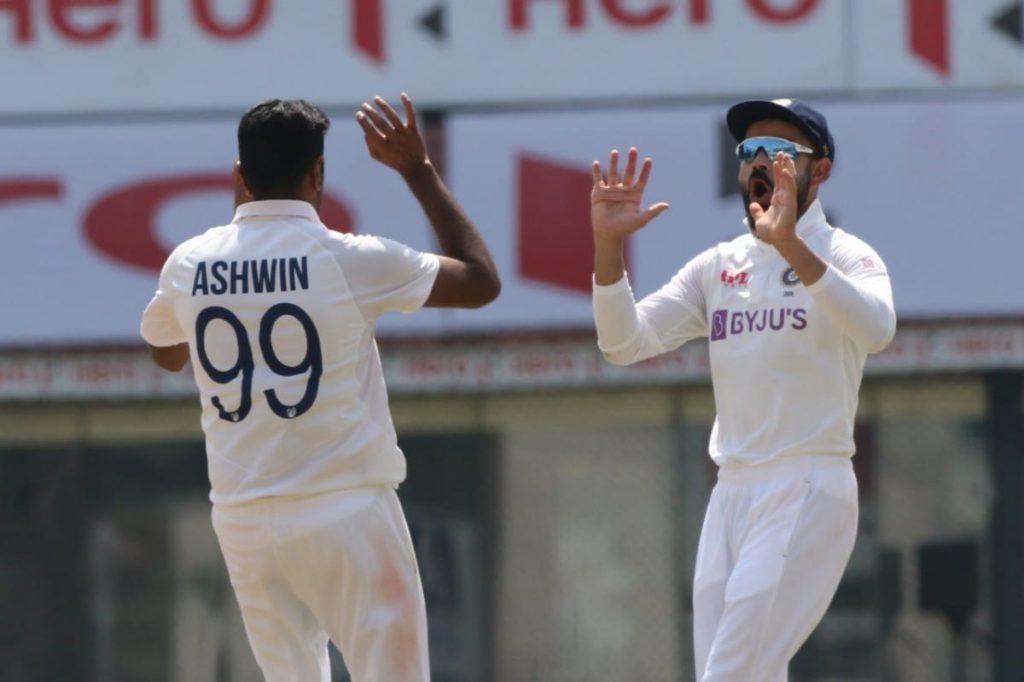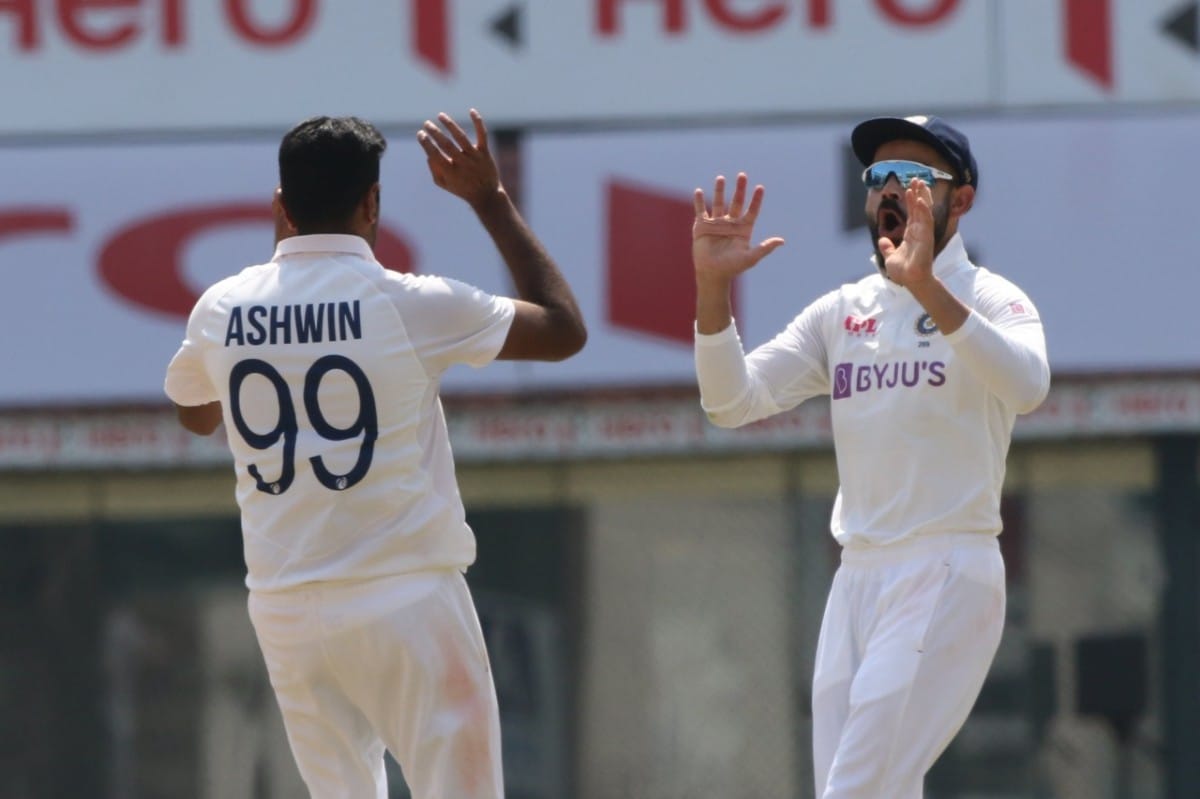 As many as 15 wickets fell on a fascinating day 4's play in the first Test between India and England. The hosts fought back well after getting bowled out in the first session of the day but the visitors ended the day well and truly on top by picking up the crucial wicket of Rohit Sharma before stumps. India now have yet another huge task at hand to rescue the Test and preventing England from going 1-0 up in the series.
Earlier, resuming on 257/6, local boys Washington Sundar and Ravichandran Ashwin looked solid in their partnership but the new ball brought the end of the latter who was deceived by extra bounce from spinner Jack Leach's delivery. Even as Sundar stroked his way to a fantastic 85*, the rest of the tailenders crumbled around him which meant a maiden Test century in his second Test was denied. India were bowled out for 337, 241 runs adrift of England's total but the follow-on was not enforced.
India bowl out England for 178 but lose Rohit later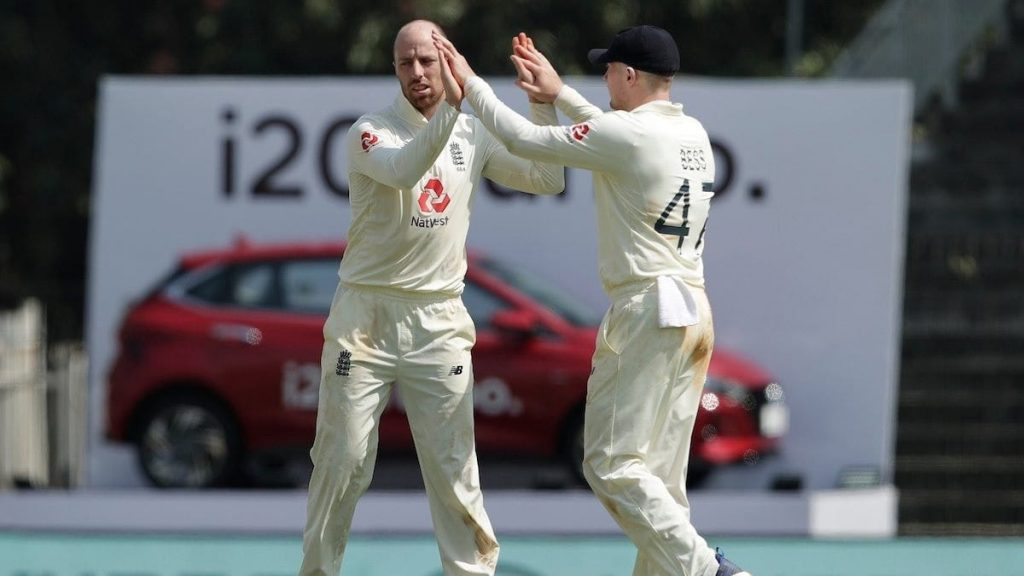 England's innings got off to the worst start possible as Ravichandran Ashwin removed Rory Burns off the very first ball of the innings. The wickets then kept coming for India as the likes of Dom Sibley, Dan Lawrence and Ben Stokes all got out after getting starts. Joe Root looked threatening in his stay but was sent packing by a terrific delivery from Jasprit Bumrah that trapped him in front.
Ollie Pope, Jos Buttler and Dom Bess then added some handy runs before perishing to ensure India got a big target of 420 to win the match. Ashwin was the pick of the bowlers with 6 wickets that took his tally in the match to 9. The Indian openers were then given less than an hour to negotiate and Rohit Sharma continued to disappoint as he was out bowled by a turning delivery from Leach. Shubman Gill and Cheteshwar Pujara then saw the day out and took India to 39/1 at stumps still 381 runs adrift of the target.
Scores
England – 1st innings
| | | | |
| --- | --- | --- | --- |
| Batsman | Mode of Dismissal | Runs | Balls |
| Rory Burns | c Pant b Ashwin | 33 | 60 |
| Dom Sibley | lbw b Bumrah | 87 | 286 |
| Dan Lawrence | lbw b Bumrah | 0 | 5 |
| Joe Root | lbw b Nadeem | 218 | 377 |
| Ben Stokes | c Pujara b Nadeem | 82 | 118 |
| Ollie Pope | lbw b Ashwin | 34 | 89 |
| Jos Buttler | b Ishant | 30 | 51 |
| Dom Bess | lbw b Bumrah | 34 | 105 |
| Jofra Archer | b Ishant | 0 | 1 |
| Jack Leach | not out | 14 | 57 |
| James Anderson | b Ashwin | 1 | 12 |
Total – 578 all-out in 190.1 overs
| | | | |
| --- | --- | --- | --- |
| Bowlers | Overs | Runs | Wickets |
| Ishant Sharma | 27 | 52 | 2 |
| Jasprit Bumrah | 36 | 84 | 3 |
| Ravichandran Ashwin | 55.1 | 146 | 3 |
| Shahbaz Nadeem | 44 | 167 | 2 |
| Washington Sundar | 26 | 98 | 0 |
| Rohit Sharma | 2 | 7 | 0 |
India – 1st innings
| | | | |
| --- | --- | --- | --- |
| Batsman | Mode of Dismissal | Runs | Balls |
| Rohit Sharma | c Buttler b Archer | 6 | 9 |
| Shubman Gill | c Anderson b Archer | 29 | 28 |
| Cheteshwar Pujara | c Burns b Bess | 73 | 143 |
| Virat Kohli | c Pope b Bess | 11 | 48 |
| Ajinkya Rahane | c Root b Bess | 1 | 6 |
| Rishabh Pant | c Leach b Bess | 91 | 88 |
| Washington Sundar | not out | 85 | 138 |
| Ravichandran Ashwin | c Buttler b Leach | 31 | 91 |
| Shahbaz Nadeem | c Stokes b Leach | 0 | 12 |
| Ishant Sharma | c Pope b Anderson | 4 | 11 |
| Jasprit Bumrah | c Stokes b Anderson | 0 | 2 |
Total – 337 all-out in 95.5 overs
| | | | |
| --- | --- | --- | --- |
| Bowler | Overs | Runs | Wickets |
| James Anderson | 16.5 | 46 | 2 |
| Jofra Archer | 21 | 75 | 2 |
| Ben Stokes | 6 | 16 | 0 |
| Jack Leach | 24 | 105 | 2 |
| Dom Bess | 26 | 76 | 4 |
| Joe Root | 2 | 14 | 0 |
England – 2nd innings
| | | | |
| --- | --- | --- | --- |
| Batsman | Mode of Dismissal | Runs | Balls |
| Rory Burns | c Rahane b Ashwin | 0 | 1 |
| Dom Sibley | c Pujara b Ashwin | 16 | 37 |
| Dan Lawrence | lbw b Ishant | 18 | 47 |
| Joe Root | lbw b Bumrah | 40 | 32 |
| Ben Stokes | c Pant b Ashwin | 7 | 12 |
| Ollie Pope | c Rohit b Nadeem | 28 | 32 |
| Jos Buttler | st Pant b Nadeem | 24 | 40 |
| Dom Bess | lbw b Ashwin | 25 | 55 |
| Jofra Archer | b Ashwin | 5 | 10 |
| Jack Leach | not out | 8 | 18 |
| James Anderson | c & b Ashwin | 0 | 2 |
Total – 178 all-out in 46.3 overs
| | | | |
| --- | --- | --- | --- |
| Bowler | Overs | Runs | Wickets |
| Ravichandran Ashwin | 17.3 | 61 | 6 |
| Shahbaz Nadeem | 15 | 66 | 2 |
| Ishant Sharma | 7 | 24 | 1 |
| Jasprit Bumrah | 6 | 26 | 1 |
| Washington Sundar | 1 | 1 | 0 |
India – 2nd innings
| | | | |
| --- | --- | --- | --- |
| Batsman | Mode of Dismissal | Runs | Balls |
| Rohit Sharma | b Leach | 12 | 20 |
| Shubman Gill | batting | 15 | 35 |
| Cheteshwar Pujara | batting | 12 | 23 |
Total – 39/1 in 13 overs
| | | | |
| --- | --- | --- | --- |
| Bowler | Overs | Runs | Wickets |
| Jofra Archer | 3 | 13 | 0 |
| Jack Leach | 6 | 21 | 1 |
| James Anderson | 2 | 2 | 0 |
| Dom Bess | 2 | 3 | 0 |
Also Read: India vs England 2021: Ishant Sharma becomes third Indian pacer to take 300 wickets in Tests