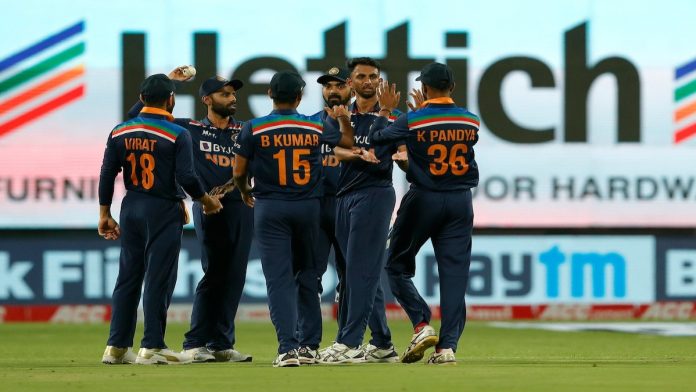 England were unable to ride on a scintillating start to their run-chase as India drew first blood in the three-match ODI series by winning the first match. The match saw plenty of excellent knocks and spells but in the end, the difference proved to be the runs India got in the death overs. England got off to a blistering start in their chase but a slew of wickets in the middle overs brought India back into the game and helped them win in.
Also Read: India vs England 2021: Netizens react to debutant Krunal Pandya's heated altercation with Tom Curran
Earlier, India were put in to bat and they decided to hand debuts to Krunal Pandya and Prasidh Krishna. The Indian openers were Rohit Sharma and Shikhar Dhawan and the two began cautiously. They got to 39/0 in the Powerplay before the latter lost his wicket. Dhawan and Virat Kohli then upped the ante and kept the scoreboard ticking.
Shikhar Dhawan, Krunal Pandya and KL Rahul shine with the bat; Prasidh Krishna and Shardul Thakur star with the ball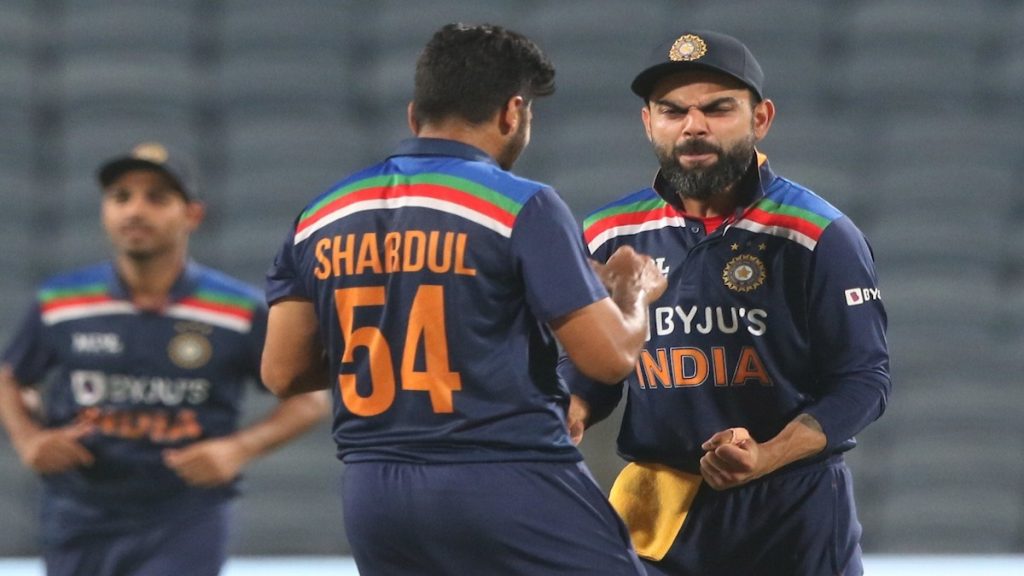 Shikhar Dhawan was the one who helped lay down an excellent platform, but the left-hander fell short of his hundred by two runs. Virat Kohli too got out after getting a fifty. Just as India were staring down the barrel of a collapse, KL Rahul and debutant Krunal Pandya joined hands and came up with a hundred-partnership as they pummeled the English bowlers in the last 10 overs to take India to 317.
In the chase, England were off to a flier as Jonny Bairstow came out all guns blazing. However, the wicket of Jason Roy brought about regular wickets as the Englishmen kept falling despite having the required run-rate under control. Prasidh Krishna who was taken for runs initially came roaring back with three wickets. The game's turning point however, was a double-wicket over from Shardul Thakur to remove Eoin Morgan and Jos Buttler.
England tried to guard their wickets later on since the required rate was below 6. However, the pacers kept picking wicket after wicket with an excellent display to bowl the visitors out for 251 as they fell short by 66 runs.
Scores
India Innings
| | | | |
| --- | --- | --- | --- |
| Batsman | Mode of Dismissal | Runs | Balls |
| Rohit Sharma | c Buttler b Stokes | 28 | 42 |
| Shikhar Dhawan | c Morgan b Stokes | 98 | 106 |
| Virat Kohli | c Ali b Wood | 56 | 60 |
| Shreyas Iyer | c (sub) Livingstone b Wood | 6 | 9 |
| KL Rahul | not out | 62 | 43 |
| Hardik Pandya | c Bairstow b Stokes | 1 | 9 |
| Krunal Pandya | not out | 58 | 31 |
Total – 317/5 in 50 overs
| | | | |
| --- | --- | --- | --- |
| Bowler | Overs | Runs | Wickets |
| Mark Wood | 10 | 75 | 2 |
| Sam Curran | 10 | 48 | 0 |
| Tom Curran | 10 | 63 | 0 |
| Ben Stokes | 8 | 34 | 3 |
| Adil Rashid | 9 | 66 | 0 |
| Moeen Ali | 3 | 28 | 0 |
England Innings
| | | | |
| --- | --- | --- | --- |
| Batsman | Mode of Dismissal | Runs | Balls |
| Jason Roy | c (sub) Suryakumar b Prasidh | 46 | 35 |
| Jonny Bairstow | c Kuldeep b Thakur | 94 | 66 |
| Ben Stokes | c (sub) Gill b Prasidh | 1 | 11 |
| Eoin Morgan | c Rahul b Thakur | 22 | 30 |
| Jos Buttler | lbw b Thakur | 2 | 4 |
| Sam Billings | c Kohli b Prasidh | 18 | 22 |
| Moeen Ali | c Rahul b Bhuvneshwar | 30 | 37 |
| Sam Curran | c (sub) Gill b Krunal | 12 | 20 |
| Tom Curran | c Bhuvneshwar b Prasidh | 11 | 16 |
| Adil Rashid | c Rahul b Bhuvneshwar | 0 | 5 |
| Mark Wood | not out | 2 | 7 |
Total – 251 all-out in 42.1 overs
| | | | |
| --- | --- | --- | --- |
| Bowler | Overs | Runs | Wickets |
| Bhuvneshwar Kumar | 9 | 30 | 2 |
| Prasidh Krishna | 8.1 | 54 | 4 |
| Shardul Thakur | 6 | 37 | 3 |
| Krunal Pandya | 10 | 59 | 1 |
| Kuldeep Yadav | 9 | 68 | 0 |
Also Read: 'If the ball is hitting the stumps, it should be out': Virat Kohli lashes out at Umpire's call