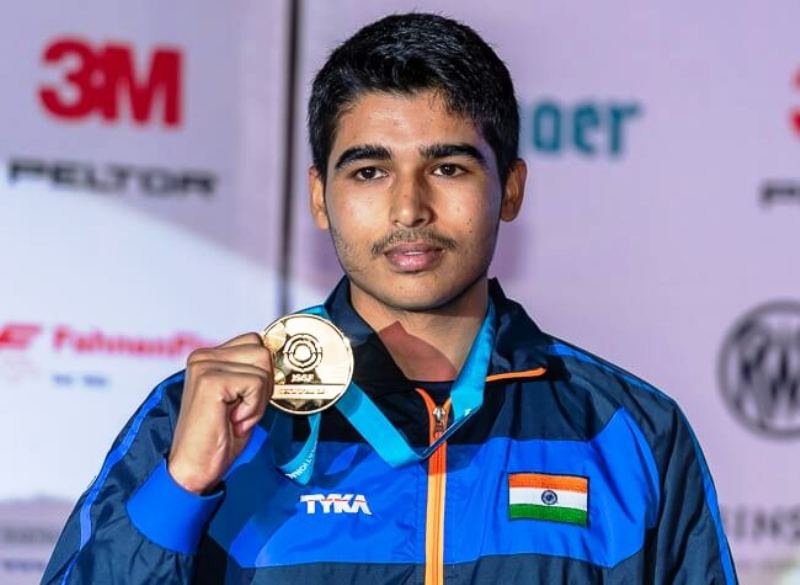 The Olympic-qualified Indian male shooters put up a great show at the InterShoot tournament held in the Netherlands from 5th to 9th February. Saurabh Choudhary and Divyansh Singh Panwar in particular won all three Gold medals on offer in their respective events.
Saurabh's qualification scores in Air Pistol Men read 585, 585 and 584. He finished in the top two in all three qualifying rounds, second only once to compatriot Nikhil Kumar who shot 586. His finals scores were 243.3, 240.3 and 245.1. Other notable competitors included Brazil's Julio Almeida and Portugal's Joao Costa. No big names from India participated in the AP Women and Junior events.
In Air Rifle Men, Divyansh's qualification scores were 632.4, 628.4 and 628.3 and his finals scores were 252.1, 251.6 and 251.3. Like Saurabh, he too was second only once in qualification which was also to fellow Indian Deepak Kumar with 630.8. Deepak's other two qualifying scores were 628.4 and 628.1. Other Indians too did well: Pratik Borse won two Bronze medals and Pradeep Singh won a Silver to add to Deepak's Silver and Divyansh's three Golds. Adding to these medals, Shahu Mane won two Golds and a Silver and Sanskar Havelia won a Gold, Silver and Bronze in AR Men Junior to make India's dominance complete.
India also won a Team Gold in AP Men and AR Men Junior and a Team Bronze in AR Men. Meanwhile, the top female shooters chose to participate in the NRAI selection trials being held in Kerala.