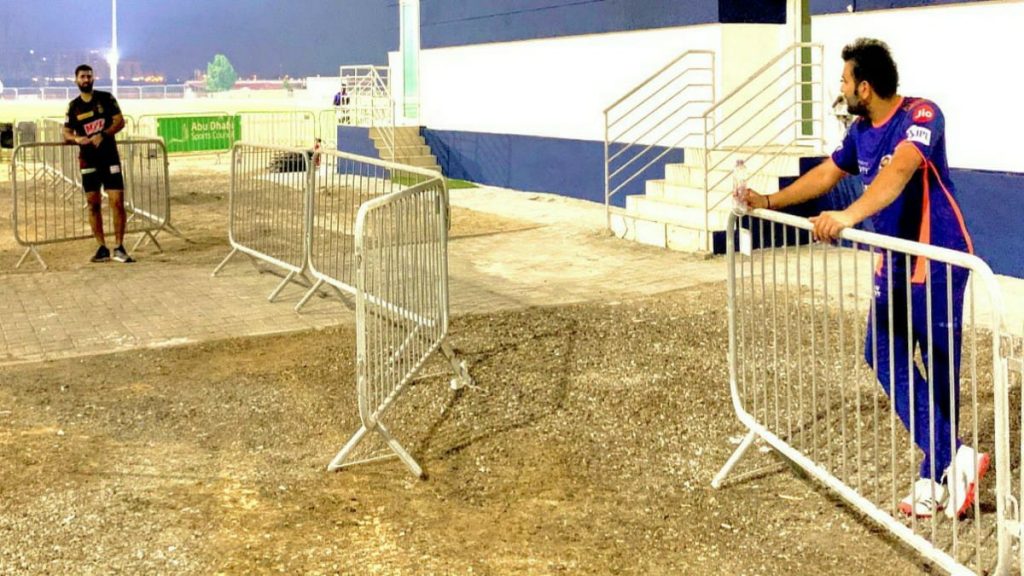 Players are sweating it out during training sessions after months of confinement at home due to spread of the coronavirus. The new season of IPL 2020 begins in Abu Dhabi, UAE, from 19 September onwards. UAE is among very few countries who has been able to flatten the curve and the teams are following strict protocols issued by the BCCI.
Defending Champions Mumbai Indians and Kolkata Knight Riders are currently training in Abu Dhabi and will face each other on the same venue on 19th and 23rd September.
Meanwhile, a video has been posted by KKR where MI skipper Rohit Sharma is seen interacting with Abhishek Nayar and Kuldeep Yadav while maintaining social distance norms.
Kolkata Knight Riders posted on Twitter, "Social Distancing 101 – @abhisheknayar1, @imkuldeep18, catch up with @ImRo45 at training, but with a 'new-normal' twist!"
Mumbai Indians also posted a picture on their Twitter handle. They wrote, "Hello, @KKRiders(from distance)See you on the 23rd!"
All the IPL teams are strictly maintaining health protocols laid down by the BCCI. The teams are in a bio-secure bubble to protect themselves and prevent the spread of infection.
Mumbai Indians face Kolkata Knight Riders on 23rd September
Mumbai Indians will start their season against Chennai Super Kings, which will be played on 19th this month. The next in line is Kolkata Knight Riders, who will play their first game of the season against MI.
Mumbai has defeated KKR in 19 games out of 25. The figures doesn't reflect Kolkata's true ability as they have also won the championship twice. The finals of the tournament will be played on 10th November. The venue for the playoff and the finals of the tournament has not been decided by the BCCI yet.
Also Read:IPL 2020: Brett lee predicts winner of the upcoming season, names teams to reach playoffs