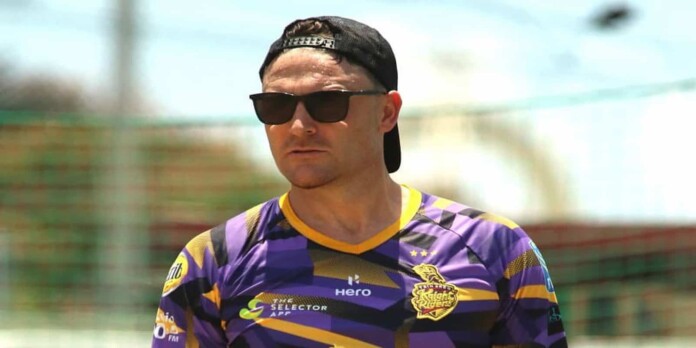 Kolkata Knight Riders (KKR) have had a horror first half of the season in the Indian Premier League (IPL) so far. With just two wins in seven matches, the side's chances of making it to the playoffs look bleak now. With the team found wanting with regard to its batting approach and intent on a lot of occasions, coupled with some strange batting order decisions, KKR are truly in a spot of bother.
In yesterday's match against Delhi Capitals (DC) that KKR lost, it was evident as to how different both side's approaches were. While Shubman Gill and the KKR top order dropped anchor, Prithvi Shaw went flying off the blocks with fearless cricket to send his team cruising to victory. Ahead of the second half of the season for KKR, head coach Brendon McCullum pointed out the aforementioned and gave a brutally honest assessment of KKR's season so far.
Brendon McCullum speaks on KKR's season so far
Brendon McCullum spoke at a post-match press conference about the loss and said, "It's very, very disappointing. I think as a player you ask to be given freedom and confidence and loyalty when it comes to selection to go out there and take the game on and be aggressive. And to try and make things happen for your team. And that's the style of play which both myself and the captain have asked of our players. And unfortunately, we're not quite getting there yet and definitely not getting it in the abundance we need."
Pointing out the need to be fearless, the New Zealander said, "What we saw from Prithvi Shaw tonight was the perfect team play of how we want to play. You're not always going to be able to hit every ball for four or six, but you can have the intent to do so. Particularly when you're given a free licence and it's very difficult to play … you don't play shots to score runs and unfortunately tonight we didn't play enough shots. And it's become a bit of a theme. And the saying that I've used throughout my career – if you can't change the man, change the man. So we'll probably have to make some changes."
With such an openly critical statement from McCullum on his players, changes seem to be on the cards and the head coach would hope that changes in personnel bring about a change in fortunes.
Also Read: IPL 2021: "I don't think about myself while batting" – Prithvi Shaw speaks on contributing for the team after match-winning knock
Also Read: IPL 2021: 'Kolkata Knight Riders batsmen lack class in batting,' says Sunil Gavaskar