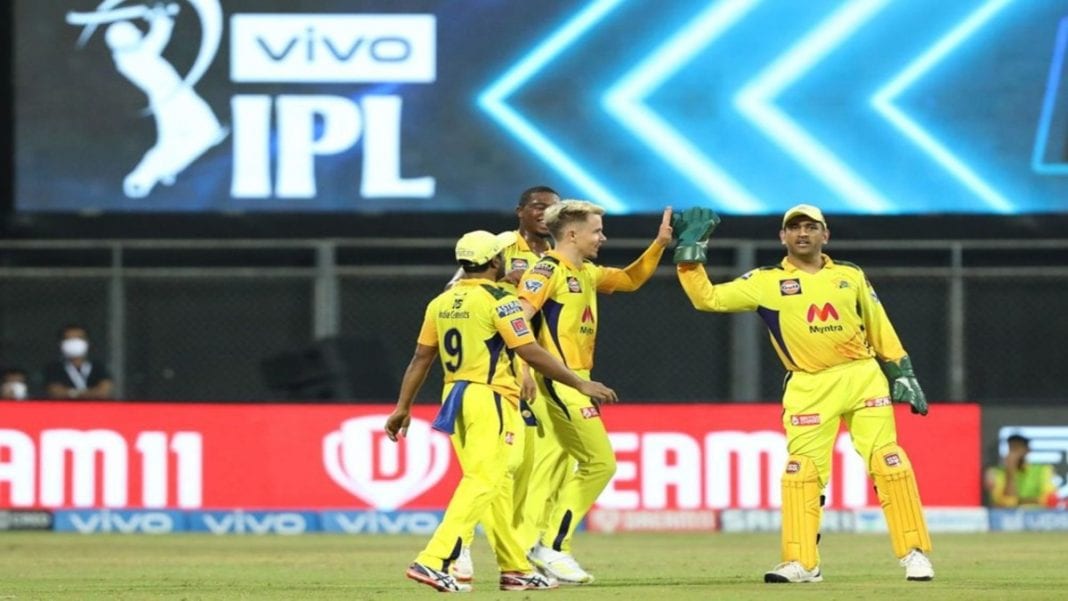 Chennai Super Kings (CSK) and Kolkata Knight Riders (KKR) put on an exhibition of exhilarating hitting and in the end, it was the former who came up trumps. On a batting beauty of a wicket in Wankhede Stadium, KKR gave a humongous scare to CSK through their batting in the lower-order led by Andre Russell and Pat Cummins, but in the end the target of 220 was just too stiff.
Earlier, KKR won the toss and opted to field first. They opted to bring in Sunil Narine and Kamlesh Nagarkoti for Shakib Al Hasan and Harbhajan Singh. CSK brought in South African pacer Lungi Ngidi and decided to hand rest to Dwayne Bravo.
Faf du Plessis' knock proves to be the difference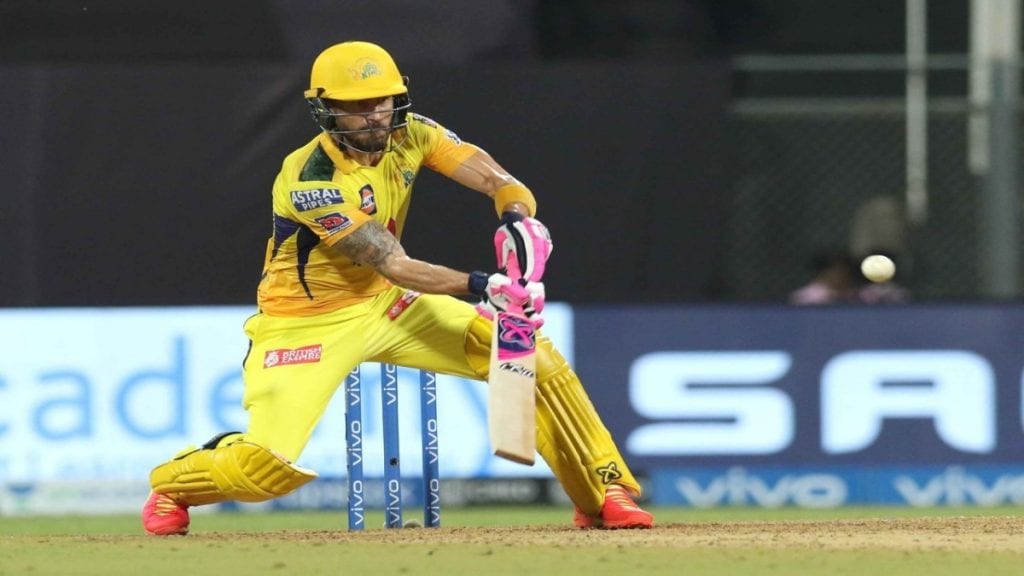 CSK began in excellent fashion as Ruturaj Gaikwad rewarded the faith shown in him by the management with a classy knock. His partner at the other end, Faf du Plessis played anchor before opening up as well. The duo got to a hundred partnership before the former holed out. There were then cameos from Moeen Ali and MS Dhoni coupled with du Plessis' unbeaten knock of 95 which helped CSK to 195.
In the chase, KKR incredibly slumped to 31/5 in the Powerplay to leave Andre Russell and Dinesh Karthik with a mountain to climb. However, the former produced a vintage knock that had the CSK hearts pounding before Sam Curran accounted for him with a strange bowled dismissal. Even after Karthik's dismissal that followed, Pat Cummins kept KKR in the game with a fifty before he ran out of partners in the last over with 20 runs needed to win the match.
Scores
CSK innings
BATTING
 Mode of Dismissal
R
B
4s
6s
SR
Ruturaj Gaikwad 
c Cummins b Varun
64
42
6
4
152.38
Faf du Plessis 
not out
95
60
9
4
158.33
Moeen Ali 
st †Karthik b Narine
25
12
2
2
208.33
MS Dhoni
c Morgan b Russell
17
8
2
1
212.50
Ravindra Jadeja 
not out
6
1
0
1
600.00
Total – 220/3 in 20 overs
| BOWLING | O | M | R | W | ECON | 0s | 4s | 6s | WD | NB |
| --- | --- | --- | --- | --- | --- | --- | --- | --- | --- | --- |
| Varun Chakravarthy | 4 | 0 | 27 | 1 | 6.75 | 8 | 2 | 1 | 0 | 0 |
| Pat Cummins | 4 | 0 | 58 | 0 | 14.50 | 5 | 4 | 4 | 3 | 0 |
| Sunil Narine | 4 | 0 | 34 | 1 | 8.50 | 10 | 4 | 1 | 0 | 1 |
| Prasidh Krishna | 4 | 0 | 49 | 0 | 12.25 | 10 | 4 | 3 | 1 | 2 |
| Andre Russell | 2 | 0 | 27 | 1 | 13.50 | 4 | 4 | 1 | 2 | 0 |
| Kamlesh Nagarkoti | 2 | 0 | 25 | 0 | 12.50 | 2 | 1 | 2 | 0 | 0 |
KKR innings
BATTING
 Mode of Dismissal
R
B
4s
6s
SR
Nitish Rana 
c †Dhoni b Chahar
9
12
2
0
75.00
Shubman Gill 
c Ngidi b Chahar
0
1
0
0
0.00
Rahul Tripathi 
c †Dhoni b Ngidi
8
9
1
0
88.88
Eoin Morgan
c †Dhoni b Chahar
7
7
1
0
100.00
Sunil Narine 
c Jadeja b Chahar
4
3
1
0
133.33
Dinesh Karthik
lbw b Ngidi
40
24
4
2
166.66
Andre Russell 
b Curran
54
22
3
6
245.45
Pat Cummins 
not out
66
34
4
6
194.11
Kamlesh Nagarkoti 
c du Plessis b Ngidi
0
2
0
0
0.00
Varun Chakravarthy 
run out (Chahar/Curran)
0
1
0
0
0.00
Prasidh Krishna 
run out (Chahar/Thakur)
0
1
0
0
0.00
Total – 202 all-out in 19.1 overs
| BOWLING | O | M | R | W | ECON | 0s | 4s | 6s | WD | NB |
| --- | --- | --- | --- | --- | --- | --- | --- | --- | --- | --- |
| Deepak Chahar | 4 | 0 | 29 | 4 | 7.25 | 14 | 3 | 2 | 0 | 0 |
| Sam Curran | 4 | 0 | 58 | 1 | 14.50 | 10 | 4 | 6 | 1 | 0 |
| Lungi Ngidi | 4 | 0 | 28 | 3 | 7.00 | 15 | 2 | 2 | 1 | 0 |
| Ravindra Jadeja | 4 | 0 | 33 | 0 | 8.25 | 7 | 3 | 1 | 0 | 1 |
| Shardul Thakur | 3.1 | 0 | 48 | 0 | 15.15 | 5 | 4 | 3 | 5 | 0 |
Also Read: IPL 2021: Twitter reacts as Ruturaj Gaikwad returns to form with a classy knock
Also Read: IPL 2021: WATCH – MS Dhoni hits his first six of the year