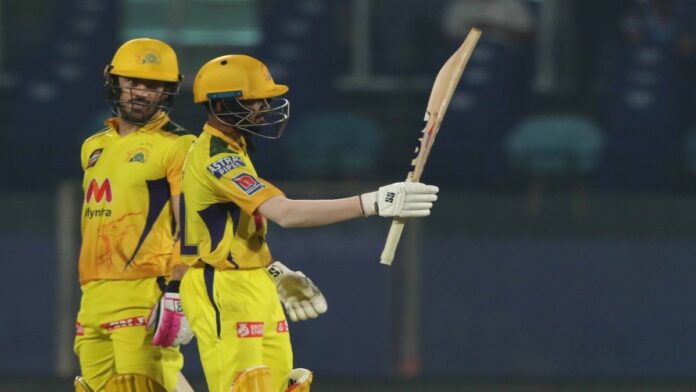 Chennai Super Kings (CSK) climbed to the top of the table with a comprehensive win over Sunrisers Hyderabad (SRH) at the Feroz Shah Kotla in Delhi in the Indian Premier League (IPL). The Men in Yellow were completely unstoppable in the chase of 172 as they raced towards the target thanks to their openers who put on yet another 100-run partnership to set the tone for the win.
Earlier at the toss, both captains gave contrasting views on what they would like to do. While David Warner won the toss and opted to bat first, MS Dhoni stated that he would love to have bowled first. Both captains agreed however, that the pitch wouldn't change much during the course of both the innings. It was evident in the match as the CSK batters made merry in the second innings with the pitch not offering much for the bowlers.
David Warner struggles; Openers lead CSK to easy win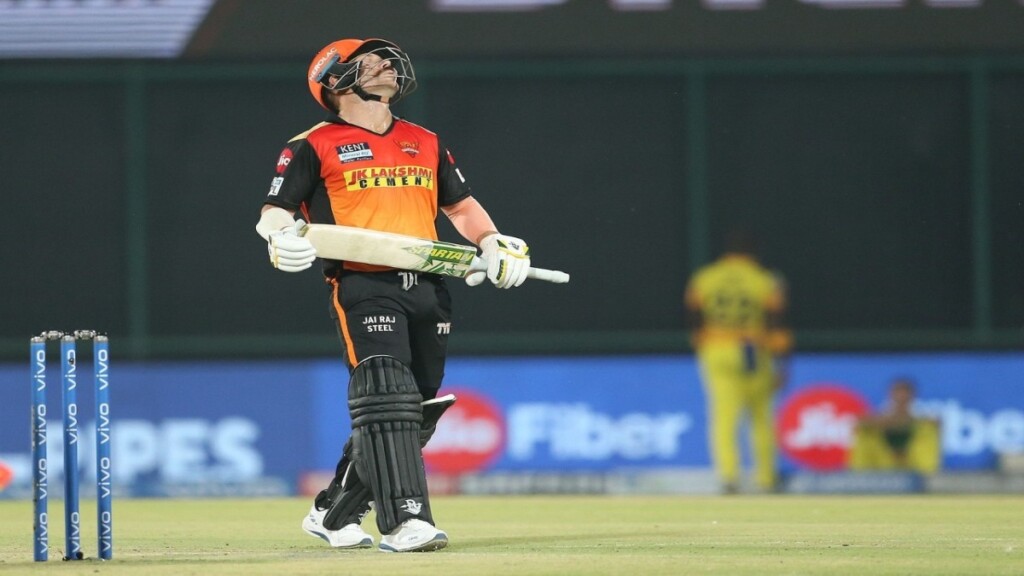 Opting to bat first, Jonny Bairstow lost his wicket early as he holed out off Sam Curran's bowling early on. Manish Pandey then joined David Warner and the duo kept the scoreboard ticking albeit patiently. The former was the aggressor as he got to his fifty while the latter struggled to connect deliveries and cantered to an agonizing run-a-ball fifty. In the end, it was some excellent striking from Kane Williamson and Kedar Jadhav which took SRH past 170.
In the chase, CSK began in brisk fashion as Ruturaj Gaikwad and Faf du Plessis continued their excellent form from the previous two matches. The duo took on the SRH bowlers and put CSK on course for a facile win with half-centuries. Although Rashid Khan hit back late on with 3 wickets, it was too little too late. Suresh Raina and Ravindra Jadeja then saw the chase through with ease in 18.3 overs.
Scores
SRH innings
BATTING
R
B
4s
6s
SR
David Warner
c Jadeja b Ngidi
57
55
3
2
103.63
Jonny Bairstow
c Chahar b Curran
7
5
1
0
140.00
Manish Pandey 
c du Plessis b Ngidi
61
46
5
1
132.60
Kane Williamson 
not out
26
10
4
1
260.00
Kedar Jadhav 
not out
12
4
1
1
300.00
Total – 171/3 in 20 overs
| BOWLING | O | M | R | W | ECON | 0s | 4s | 6s | WD | NB |
| --- | --- | --- | --- | --- | --- | --- | --- | --- | --- | --- |
| Deepak Chahar | 3 | 0 | 21 | 0 | 7.00 | 7 | 3 | 0 | 1 | 0 |
| Sam Curran | 4 | 0 | 30 | 1 | 7.50 | 9 | 2 | 1 | 1 | 0 |
| Shardul Thakur | 4 | 0 | 44 | 0 | 11.00 | 4 | 5 | 1 | 1 | 0 |
| Moeen Ali | 2 | 0 | 16 | 0 | 8.00 | 3 | 0 | 1 | 0 | 0 |
| Lungi Ngidi | 4 | 0 | 35 | 2 | 8.75 | 7 | 3 | 1 | 2 | 0 |
| Ravindra Jadeja | 3 | 0 | 23 | 0 | 7.66 | 6 | 1 | 1 | 1 | 0 |
CSK innings
BATTING
R
B
4s
6s
SR
Ruturaj Gaikwad 
b Rashid Khan
75
44
12
0
170.45
Faf du Plessis 
lbw b Rashid Khan
56
38
6
1
147.36
Moeen Ali 
c Jadhav b Rashid Khan
15
8
3
0
187.50
Ravindra Jadeja 
not out
7
6
1
0
116.66
Suresh Raina 
not out
17
15
3
0
113.33
Total – 173/3 in 18.3 overs
| BOWLING | O | M | R | W | ECON | 0s | 4s | 6s | WD | NB |
| --- | --- | --- | --- | --- | --- | --- | --- | --- | --- | --- |
| Sandeep Sharma | 3.3 | 0 | 24 | 0 | 6.85 | 8 | 3 | 0 | 1 | 0 |
| Khaleel Ahmed | 4 | 0 | 36 | 0 | 9.00 | 7 | 5 | 0 | 1 | 0 |
| Siddarth Kaul | 4 | 0 | 32 | 0 | 8.00 | 8 | 4 | 0 | 0 | 0 |
| Jagadeesha Suchith | 3 | 0 | 45 | 0 | 15.00 | 2 | 7 | 1 | 0 | 0 |
| Rashid Khan | 4 | 0 | 36 | 3 | 9.00 | 7 | 6 | 0 | 1 | 0 |
Also Read: IPL 2021: Twitter reacts as David Warner comes up with a slow 55-ball 57 against Chennai Super Kings
Also Read: "I want a 12 awarded!" – Kevin Pietersen vouches for change in rules of T20 cricket