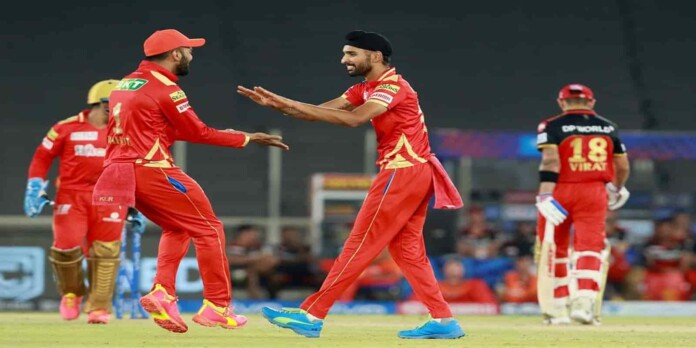 Punjab Kings (PBKS) secured an important win today against Royal Challengers Bangalore (RCB) to ensure that they go into the second half of the league phase with confidence. At the Narendra Modi Stadium in Ahmedabad, PBKS were guided by an excellent anchoring innings from KL Rahul and all-round brilliance from Harpreet Brar who came up with the performance of his life.
Earlier, PBKS were put in to bat by RCB. The Virat Kohli-led side brought in Shahbaz Ahmed instead of Washington Sundar stating that they were looking at match-ups. PBKS on the other hand, made three changes as they brought in Prabhsimran Singh for the injured Mayank Agarwal, Harpreet Brar instead of Arshdeep Singh and Riley Meredith for Moises Henriques.
Punjab Kings romp to victory over Royal Challengers Bangalore
Put in to bat, PBKS lost new opener Prabhsimran early on. On an indifferently low score in the first five overs, Chris Gayle and KL Rahul began accelerating. With the two on song, it seemed like 200 was on the cards. However, a spectacular slump led to Rahul losing the support of the entire middle order who fell in quick succession. It was then some excellent hitting from Harpreet Brar and Rahul in the end which helped PBKS to 179.
In the chase, RCB lost Devdutt Padikkal early as Riley Meredith sent his off-stump cartwheeling. Virat Kohli and Rajat Patidar then set about rebuilding, albeit a bit too slowly. With the pressure building, Kohli fell to Brar who then went on to remove both Glenn Maxwell and AB de Villiers. The game was all but done by then as the equation to win was just too stiff. In the end, all RCB could manage was 145 thanks to some late hitting.
Scores
PBKS innings
BATTING
R
B
4s
6s
SR
KL Rahul
not out
91
57
7
5
159.64
Prabhsimran Singh
c Kohli b Jamieson
7
7
1
0
100.00
Chris Gayle 
c †de Villiers b Sams
46
24
6
2
191.66
Nicholas Pooran 
c Shahbaz Ahmed b Jamieson
0
3
0
0
0.00
Deepak Hooda 
c Patidar b Shahbaz Ahmed
5
9
0
0
55.55
Shahrukh Khan 
b Chahal
0
3
0
0
0.00
Harpreet Brar 
not out
25
17
1
2
147.05
Total – 179/5 in 20 overs
| BOWLING | O | M | R | W | ECON | 0s | 4s | 6s | WD | NB |
| --- | --- | --- | --- | --- | --- | --- | --- | --- | --- | --- |
| Daniel Sams | 4 | 0 | 24 | 1 | 6.00 | 11 | 1 | 1 | 2 | 0 |
| Mohammed Siraj | 3 | 0 | 24 | 0 | 8.00 | 7 | 2 | 1 | 1 | 0 |
| Kyle Jamieson | 3 | 0 | 32 | 2 | 10.66 | 7 | 5 | 1 | 1 | 0 |
| Yuzvendra Chahal | 4 | 0 | 34 | 1 | 8.50 | 9 | 1 | 3 | 0 | 0 |
| Harshal Patel | 4 | 0 | 53 | 0 | 13.25 | 5 | 6 | 3 | 0 | 0 |
| Shahbaz Ahmed | 2 | 0 | 11 | 1 | 5.50 | 2 | 0 | 0 | 0 | 0 |
RCB innings
BATTING
R
B
4s
6s
SR
Virat Kohli
b Harpreet Brar
35
34
3
1
102.94
Devdutt Padikkal 
b Meredith
7
6
0
1
116.66
Rajat Patidar 
c Pooran b Jordan
31
30
2
1
103.33
Glenn Maxwell 
b Harpreet Brar
0
1
0
0
0.00
AB de Villiers
c Rahul b Harpreet Brar
3
9
0
0
33.33
Shahbaz Ahmed 
c Harpreet Brar b Ravi Bishnoi
8
11
1
0
72.72
Daniel Sams 
b Ravi Bishnoi
3
4
0
0
75.00
Kyle Jamieson 
not out
16
11
1
1
145.45
Harshal Patel 
c Ravi Bishnoi b Mohammed Shami
31
13
3
2
238.46
Mohammed Siraj 
not out
0
1
0
0
0.00
Total – 145/8 in 20 overs
| BOWLING | O | M | R | W | ECON | 0s | 4s | 6s | WD | NB |
| --- | --- | --- | --- | --- | --- | --- | --- | --- | --- | --- |
| Riley Meredith | 3.2 | 0 | 29 | 1 | 8.69 | 7 | 2 | 2 | 0 | 0 |
| Mohammed Shami | 3.4 | 0 | 28 | 1 | 7.63 | 9 | 3 | 1 | 0 | 0 |
| Ravi Bishnoi | 4 | 0 | 17 | 2 | 4.25 | 10 | 0 | 0 | 1 | 0 |
| Harpreet Brar | 4 | 1 | 19 | 3 | 4.75 | 15 | 1 | 1 | 0 | 0 |
| Chris Jordan | 4 | 0 | 31 | 1 | 7.75 | 9 | 3 | 1 | 1 | 0 |
| Deepak Hooda | 1 | 0 | 13 | 0 | 13.00 | 1 | 1 | 1 | 0 | 0 |
Also Read: "Nightmare of a week" – Ravichandran Ashwin's wife Prithi reveals ordeal with COVID-19
Also Read: IPL 2021: "We just want a way to go home" – Glenn Maxwell expresses concerns of Australian players