Sunrisers Hyderabad (SRH) secured their first win of the season as they defeated Punjab Kings (PBKS) comfortably to get a boost to their net run-rate as well. It all went horribly wrong for the latter as they won the toss and opted to bat first at the MA Chidambaram Stadium in Chennai. There were a plethora of debuts during the match as well with Moises Henriques, Fabian Allen and Kedar Jadhav getting their maiden caps for their respective franchises.
The win was SRH's first win of the season and a much-needed one at that. After three unsuccessful chases, SRH finally aced it although it was down to the low target and the bowling effort. PBKS on the other hand, slumped to their third consecutive win of the season following their win in the thrilling campaign opener against Rajasthan Royals where they came up with a batting effort for the ages.
Sunrisers Hyderabad get their first win of IPL 2021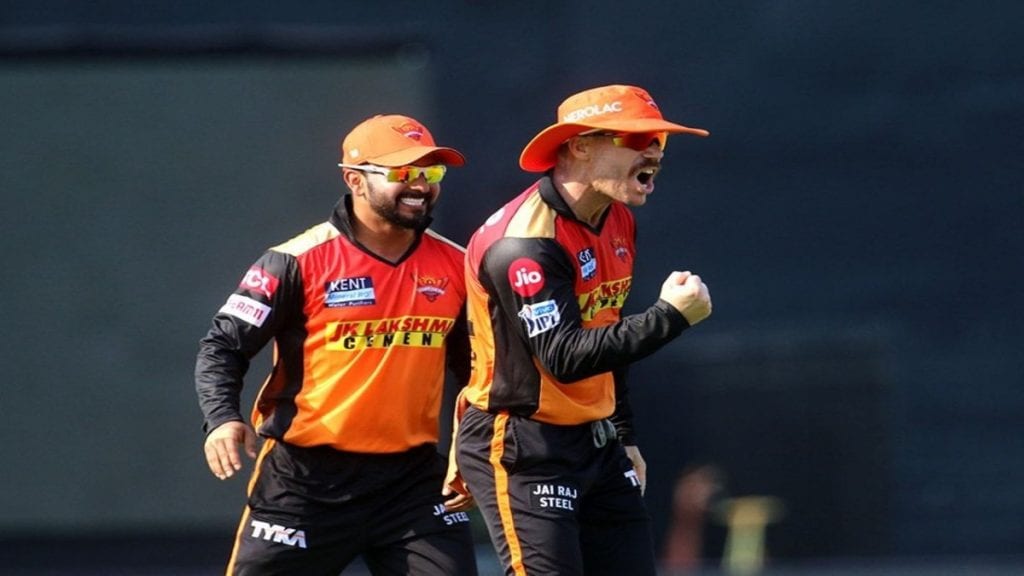 SRH drew first blood in the match by removing KL Rahul early through Bhuvneshwar Kumar. Just as Mayank Agarwal and Chris Gayle looked well-set, they were sent packing as well before the rest of the batting order completely capitulated. There were good starts and partnerships, but the wickets just kept tumbling at the wrong moments for PBKS. In the end, they were shot out for 120 runs.
In the chase, SRH began positively with David Warner and Jonny Bairstow looking set to ease the chase for their side. That was exactly what happened as they took calculated risks on a difficult pitch to bat on. Although they would feel there could have been a bigger boost to the net run-rate, in the end, the win was what mattered and it was a welcome one at that.
Scores
PBKS innings
| | | | |
| --- | --- | --- | --- |
| Batsman | Mode of Dismissal | Runs | Balls |
| KL Rahul | c Jadhav b Kumar | 4 | 6 |
| Mayank Agarwal  | c Rashid Khan b Ahmed | 22 | 25 |
| Chris Gayle  | lbw b Rashid Khan | 15 | 17 |
| Nicholas Pooran  | run out (Warner) | 0 | 0 |
| Deepak Hooda  | lbw b Abhishek Sharma | 13 | 11 |
| Moises Henriques  | st Bairstow b Abhishek Sharma | 14 | 17 |
| Shahrukh Khan  | c Abhishek Sharma b Ahmed | 22 | 17 |
| Fabian Allen  | c Warner b Ahmed | 6 | 11 |
| Murugan Ashwin  | c †Bairstow b Kaul | 9 | 10 |
| Mohammed Shami  | run out (Shankar/Bairstow) | 3 | 3 |
| Arshdeep Singh  | not out | 1 | 2 |
Total – 120 all-out in 19.4 overs
| | | | |
| --- | --- | --- | --- |
| Bowler | Overs | Runs | Wickets |
| Abhishek Sharma | 4 | 24 | 2 |
| Bhuvneshwar Kumar | 3 | 16 | 1 |
| Khaleel Ahmed | 4 | 21 | 3 |
| Siddarth Kaul | 3.4 | 27 | 1 |
| Vijay Shankar | 1 | 6 | 0 |
| Rashid Khan | 4 | 17 | 1 |
SRH innings
| | | | |
| --- | --- | --- | --- |
| Batsman | Mode of Dismissal | Runs | Balls |
| David Warner | c Agarwal b Allen | 37 | 37 |
| Jonny Bairstow | not out | 63 | 56 |
| Kane Williamson  | not out | 16 | 19 |
Total – 121/1 in 18.4 overs
| | | | |
| --- | --- | --- | --- |
| Bowler | Overs | Runs | Wickets |
| Mohammed Shami | 2 | 16 | 0 |
| Fabian Allen | 4 | 22 | 1 |
| Arshdeep Singh | 3.4 | 31 | 0 |
| Moises Henriques | 1 | 7 | 0 |
| Murugan Ashwin | 4 | 22 | 0 |
| Deepak Hooda | 4 | 22 | 0 |
Also Read: IPL 2021: Twitter reacts as Nicholas Pooran gets out for a duck for the third time in four matches
Also Read: Kuldeep Yadav picks the two toughest batsmen he has bowled to in his career