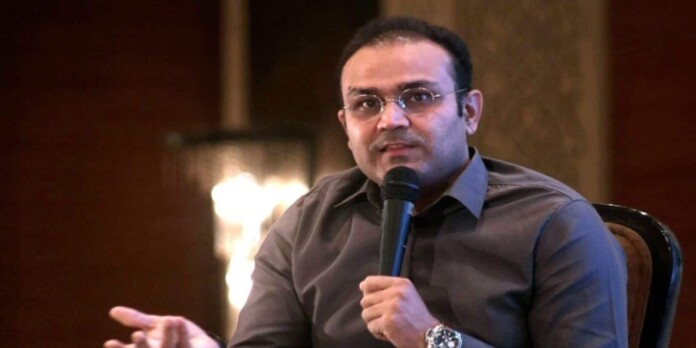 Kolkata Knight Riders suffered their fifth defeat in seven matches after they were crushed by Delhi Capitals on Thursday. They are halfway through the tournament and still haven't found their ideal batting order, which shows that the team management may be doing something wrong.
At the Narendra Modi Stadium, which was looking good for batting, KKR batters only managed to post a total of 154 runs. That too was possible because of Andre Russell's knock of 45 off 27 balls towards the end.
Virender Sehwag suggested that Andre Russell should bat a little higher in the batting order as a response to KKR's batting woes. He mentioned Thursday's game as an indication of how Morgan and Narine came before him and returned without scoring a run.
"I believe that if Andre Russell had come earlier than Eoin Morgan and Sunil Narine, they might have scored more runs as both of their wickets would have been preserved. He ultimately had to come in the 12th over, so at the very least, send him before these two batsmen to protect their wickets," said Virender Sehwag to Cricbuzz.
KKR has consistently suffered from weak opening partnerships, struggling to manipulate fielding restrictions on the majority of occasions, which has put pressure on all of the middle-order batsmen. For the briefest period in the competition, the top three of Nitish Rana, Shubman Gill, and Rahul Tripathi got off to a decent start but struggled to move on the ignition.
"I'm also not pleased with their batting order because Rana is at the top and they aren't getting the starts they need. Shubman Gill scored a respectable 40 runs, but he took too many deliveries. But instead, he should have someone with him that will at least keep the team's run rate going," added Virender Sehwag.
KKR should alter the batting order – Virender Sehwag
Virender Sehwag also chastised the KKR management, accusing them of failing to experiment further with the batting order despite identical performances.
"Fortunately, Morgan scored some runs in the previous match, but the same errors were made there as well. I don't believe management is making the best choices. You may tell you're backing your player, but you should at least attempt and alter the batting order to change the outcome," continued Virender Sehwag.
The team has made the IPL 2021 'boring,' according to Sehwag, by making the same errors in every game. Sehwag went so far as to say that he would consider 'fast-forwarding' the team's forthcoming matches. He compared KKR's batting to the "boring sequences" in a movie that deserve to be skipped.
"This is so much for me to take in. Whenever I watch a movie, I fast-forward the boring scenes. All KKR matches in this tournament will now feel a little dull and boring to me, and I'll have to constantly fast-forward through them. They have made it boring for all of us. And you make the same mistake every time you play. It was the same mistake even when they were chasing," concluded Virender Sehwag.
Kolkata Knight Riders will face off against Royal Challengers Bangalore in the reverse fixture on 3rd May at the Narendra Modi Stadium, Ahmedabad.
Also Read | IPL 2021: "The Delhi pitch suited us" – Rohit Sharma and Quinton de Kock reflect on MI's win over RR