IPL 2021 has been postponed with immediate effect. It was perhaps running on overtime anyway. As the nation plunged deeper into the pandemic hole, the IPL – in its messaging – sought to bring joy and cheer to the suffering Indian people. However, with the very players themselves getting infected, it forced the hand of the governing body to suspend the tournament until further notice.
As things stand, India's next assignment shall be the World Test Championship (WTC). Yet another bubble for the players who will have to switch from the frenzy of the shortest format (IPL) to the attrition of the longest (Test cricket). It shall be time for foreign travel again – passports will be brought out again and visas will be stamped by the UK immigration.
If the IPL remains suspended, it would have been a while when they make the journey and so, they will take some habituation. Perhaps recapping old memories while they rest at home from the IPL postponement will serve them well. The mind needs a break from the harsh reality of our times. So, why not shake it up to the last Test series. Or more fittingly, the last time the players needed to gather their passports and stamp their visas.
IPL suspended – Remembering India tour of Australia 2020/21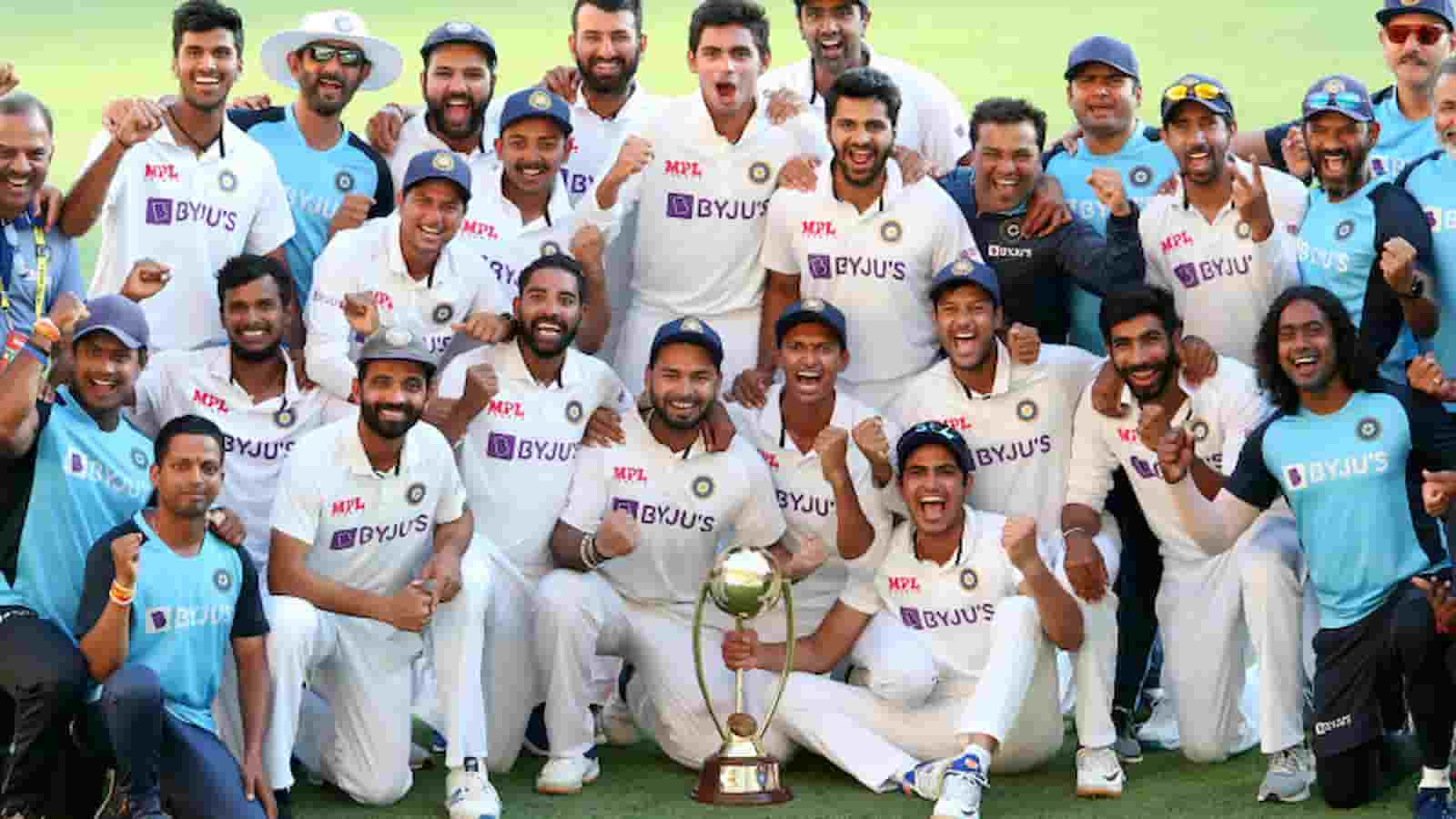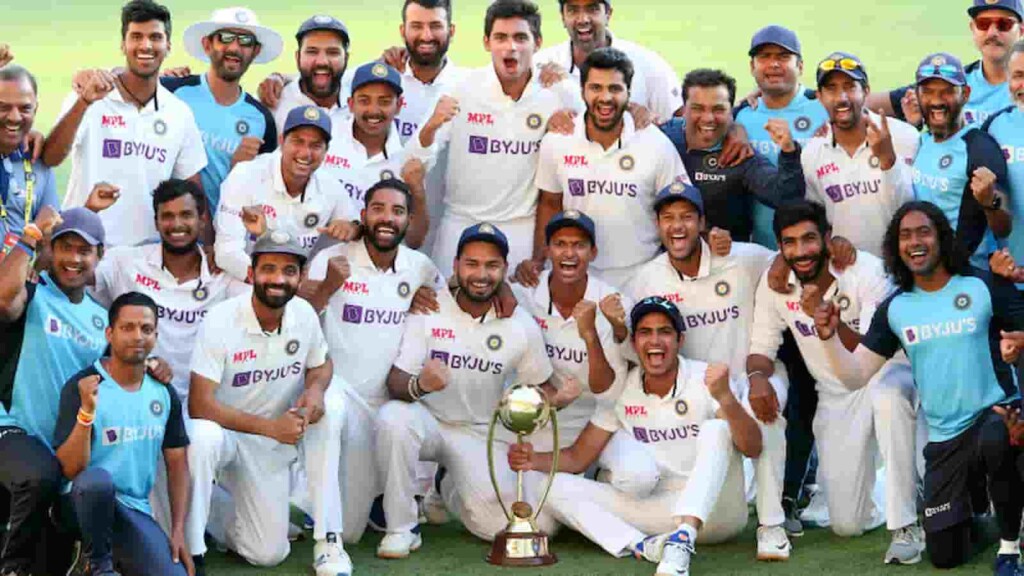 The suspension of the IPL thus serves us an opportune moment to take a short trip down our memory lane to India's last trip. A trip like none other. One that shall never be forgotten; perhaps never bettered.
Four Test matches in Australia that will live on and define so many men; tell so many heart-warming stories – of gumption, triumph, honest perseverance and the indomitable human spirit. Stories of simple men who transcended sport to give us life lessons. All while uniting us, making us laugh and cry, dance and virtually hug. That month in Australia was sport in all its glory; at its purest.
It was an exhibition of what – at its pomp – sport can do. People forgot loss, set aside human suffering, and embraced the triumph of people they have never met, never interacted with, and knew not who they were.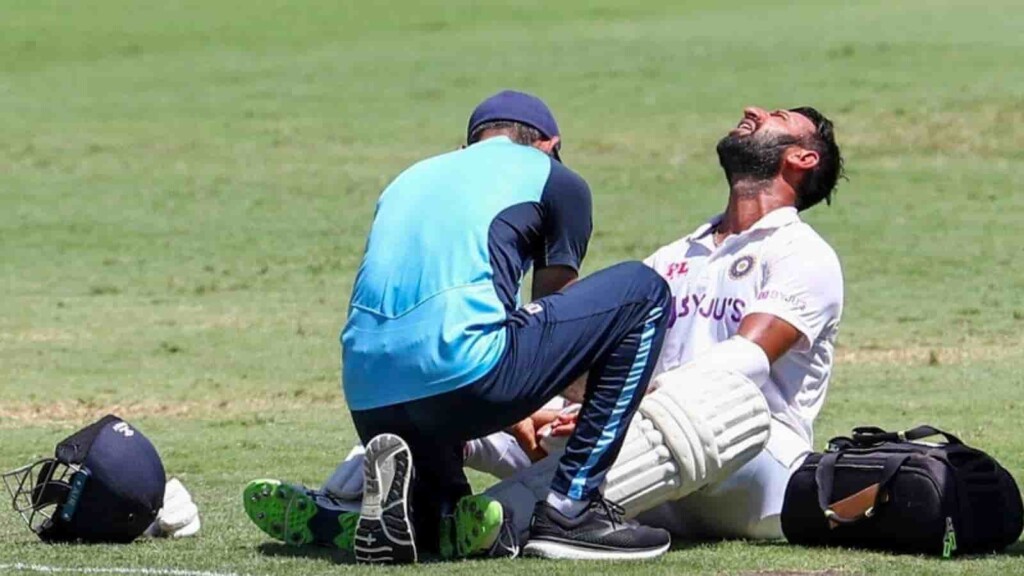 Four Test matches – obliteration in Adelaide; resurrection in Melbourne; resistance in Sydney; heist in Gabba. This was not just any Australian side they beat. No excuses, no asterisk of Steve Smith and David Warner. It was the best Australia could throw; every punch was packed with the force of the best they had. India, on the other hand, had no fingers left to punch by the time they reached the final frontier.
Virat Kohli, Mohammed Shami, Ravindra Jadeja, Ravi Ashwin, Hanuma Vihari, Ravichandran Ashwin, Jasprit Bumrah and Umesh Yadav were all lost while in Australia. Ishant Sharma and Bhuvneshwar Kumar could not even make it Down Under.
What is it about Australian captains making bold statements about the final frontier? Steve Waugh failed in 2001 and then it was Tim Paine who boldly claimed that he could not wait for the Gabba. By all extensions of logic, he was well within his right to be confident. The Gabba had not been breached by any travelling team since 1988. And India was heading into the last game with only three of the originals who started in the first. And yet, Paine fell flat on his face.
There is probably an explanation. That, as in life, in sport the arrogance of men leads to the triumph of the underdog. And this is the story of the underdog, of nice guys. How many times has life told us and shown us nice guys finishing last? This tour and the month that followed the shame of Adelaide was a rare example of the contrary. Nice guys not finishing last.
Of an unassuming captain Ajinkya Rahane who stood up to face adversity with front-foot leadership. There is a lot of relatability in him. So, when Rahane retaliated with a century in Melbourne, it was everyone's fire he was channelizing. He feels like one from the group, and the group resonated with him. Of a silent warrior Cheteshwar Pujara who stood up to literally be hit instead of walking back. His simple reasoning was that life taught him to stand through the difficult times long enough to welcome the good ahead.  
Sydney and the value of resistance in the face of crisis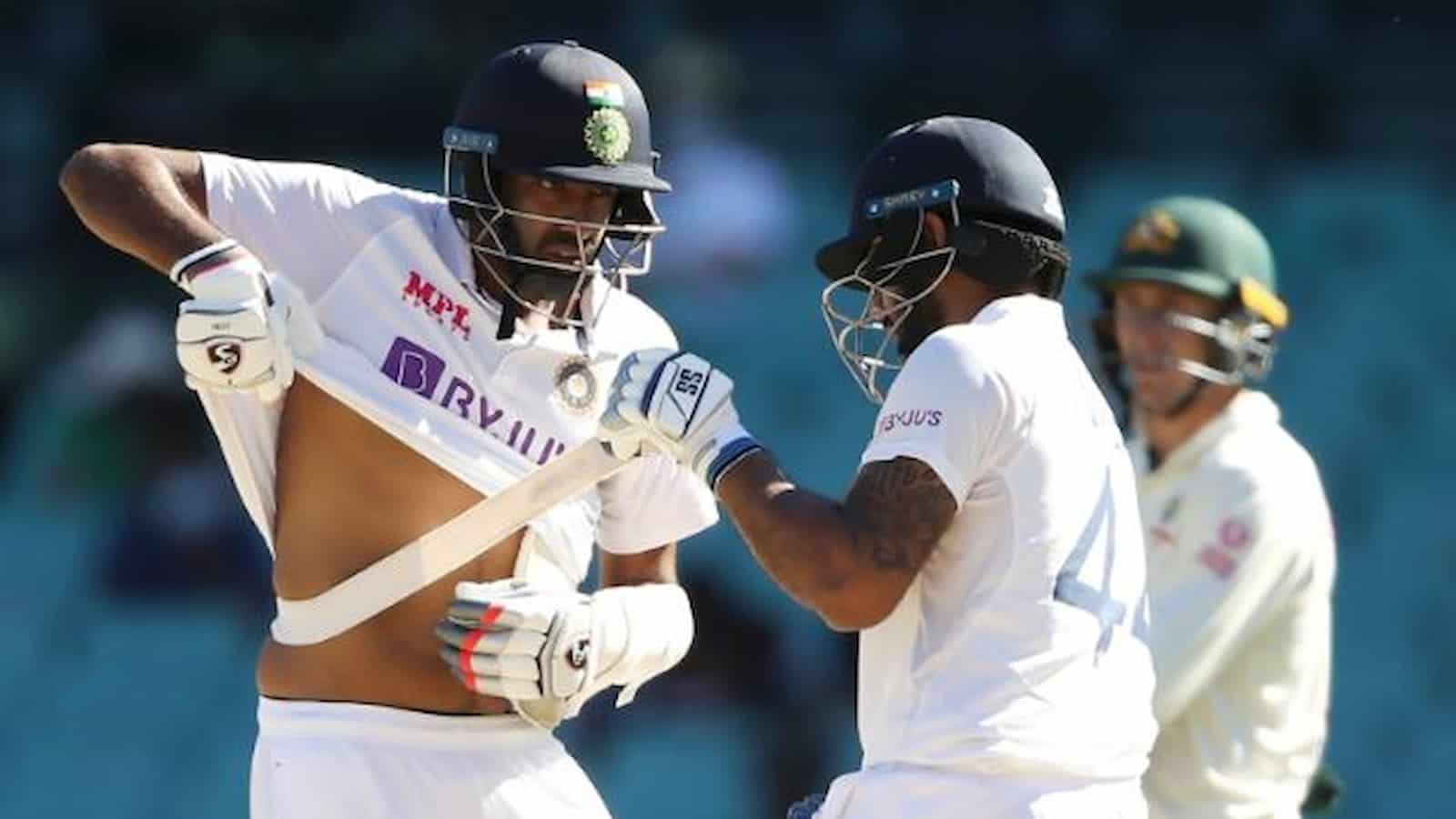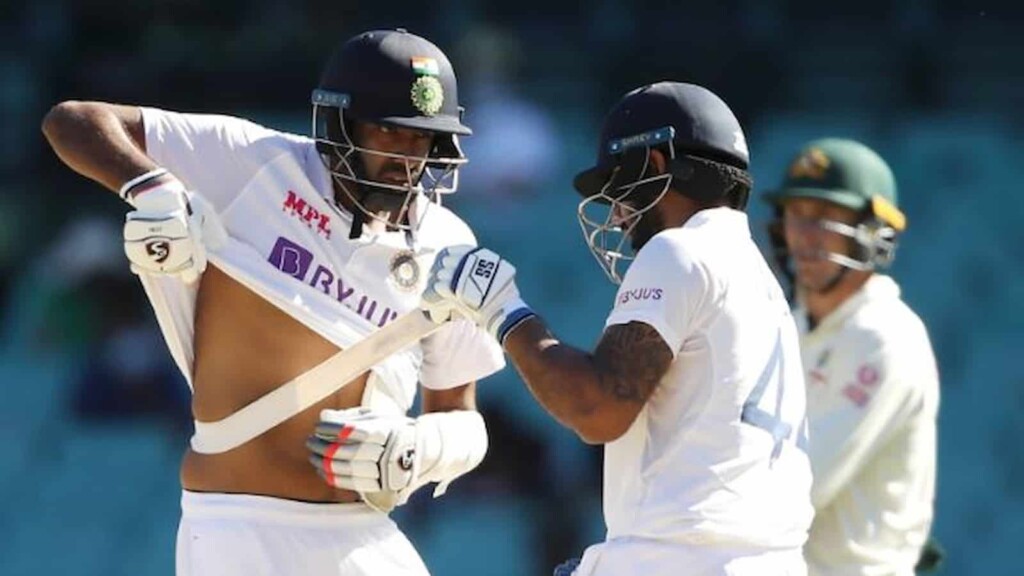 Sport imparts so many lessons, none better than the ones imparted by the resistance in Sydney. Because it resembles life, and you need to dig into the last reserves of your reservoir of steely character to survive here. Take the case of Hanuma Vihari.
He came into the series on the back of a disappointing series in New Zealand. He failed horribly five times here in Australia. He dropped catches for his side. He was demoted in the batting order. And then he came into bat at a time his side needed a Herculean rescue act. Immediately then, he lost his right hamstring and any mobility.
In any sport, that would be it. Finished. Not in Test cricket. This format allows you to stand there and get punched, over and over again. But till you keep standing, with grit, determination, fight and still more passion to keep standing for more, Test cricket will give you a chance.
4 hours. 161 balls. One leg. Unquantifiable grit, strength, will, character, resolve and a spirit indomitable. By his side, battling through equal pain and with equal heart was Ashwin, who – the previous night – was unable to bend down because his back had given in.
Television, video cameras, highlight reels will show you all the moments of glory from this series. However, it still fails to capture some boundless moments of togetherness.
India and togetherness in times of despair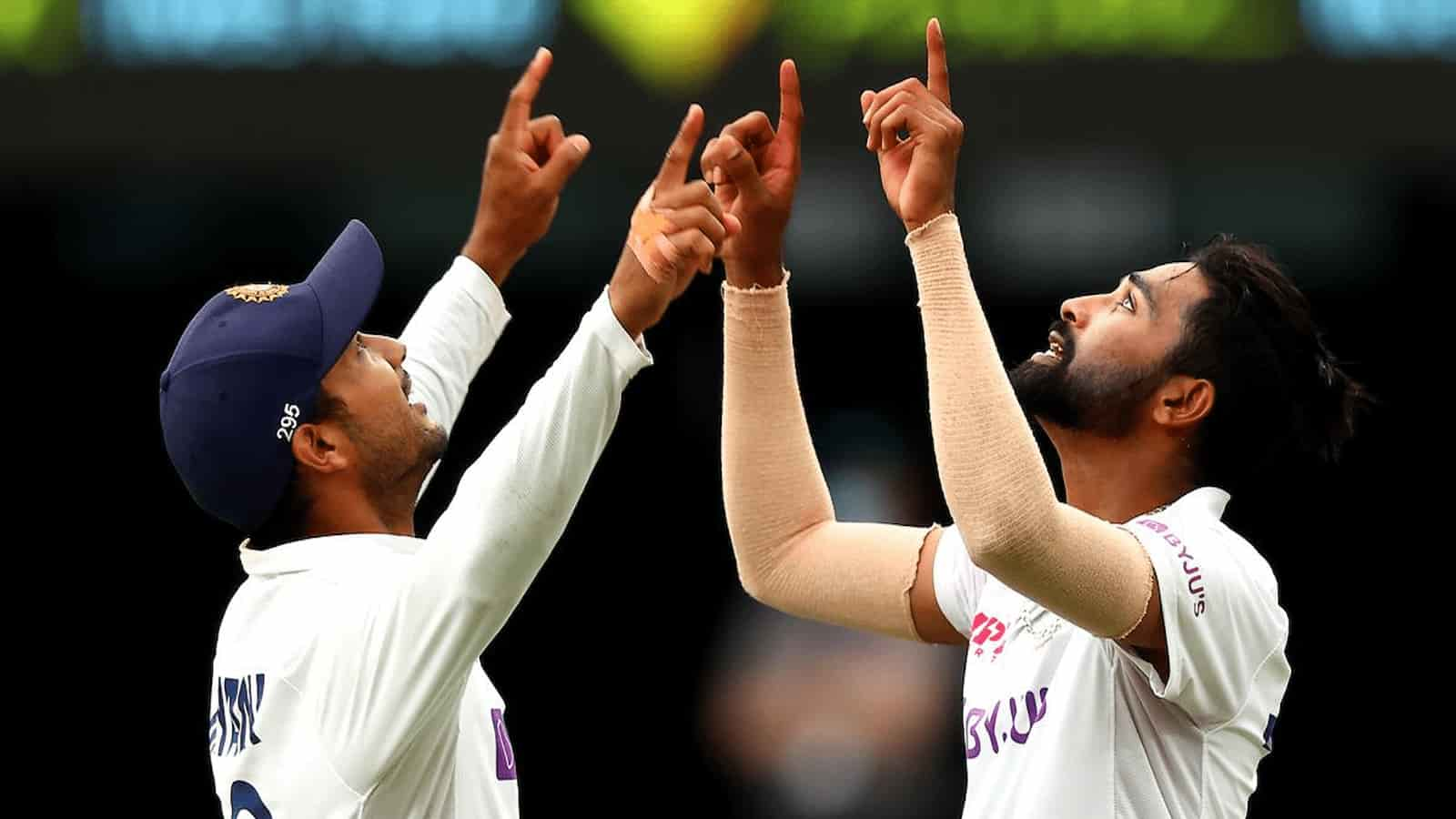 For example, Siraj's journey of looking up at the heavens that completed a full circle. The visuals of Siraj desolately staring up into the sky as Andre Russell mounted a brutal power charge on RCB at the Chinnaswamy in IPL 2019 is clear in a lot of our minds. The bowler found very little comfort that night as his captain, an elite player himself, was in no mood to play elder brother.
Two years later, in just his third Test match, he was leading India's bowling attack against Australia in one of the world's most dangerous wickets. On this tour, it was common knowledge that India had lost a lot of players. For Siraj, it was incomprehensibly difficult. He lost his father. But decided to stay on and fight. That he was finding it hard to check his emotions was visible when he teared up during our national anthem. Upon being asked, he responded saying it was his father's dream to see him play for his country.
A couple of weeks hence, Siraj dismissed Australia's last man to take his maiden fifer in Test cricket and in the embrace of his mates, looked up at the heavens in what could be described as a gesture emotionally weaved between grateful and longing. From Bengaluru to Gabba, the lasting memory of Siraj hereon will be a different look towards the heavens.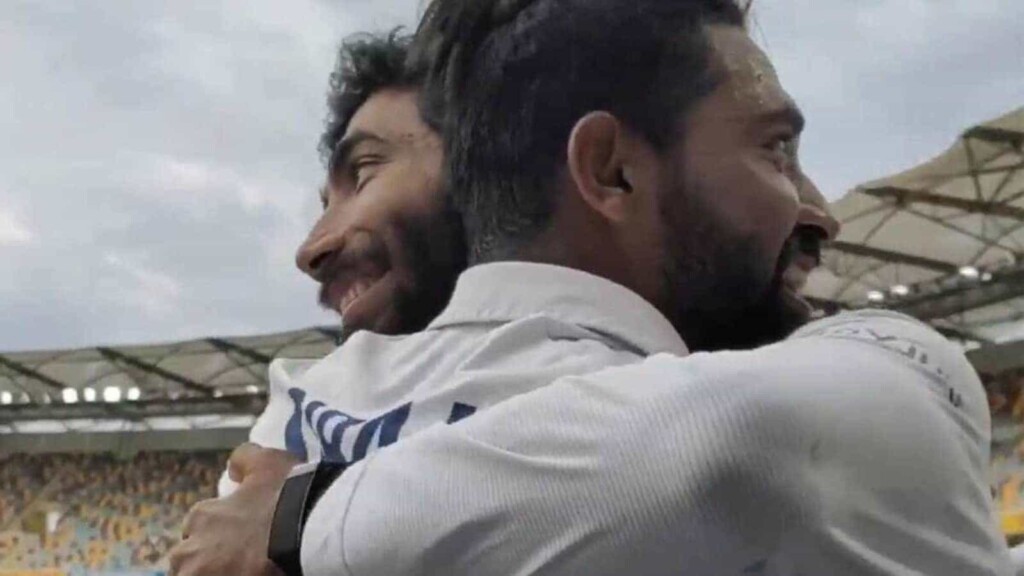 And the one who took the catch to give Siraj his fifth wicket was a man who was himself a wicket away from a maiden fifer – Shardul Thakur. The man who was told he would never make it as a cricketer. The same man who woke up at 3:30AM every morning to travel for four hours on crowded local trains to reach his practice ground.
As India walked off the field staring at an impossible target, right on the boundary line stood Jasprit Bumrah to greet Siraj. Bumrah knew what Siraj was going through. He too had lost a father when he was young. We often forget that sport is played by people just like us. These moments matter. Like in life through tough times, in sport too, camaraderie matters.
Redemption and fighting as a way of life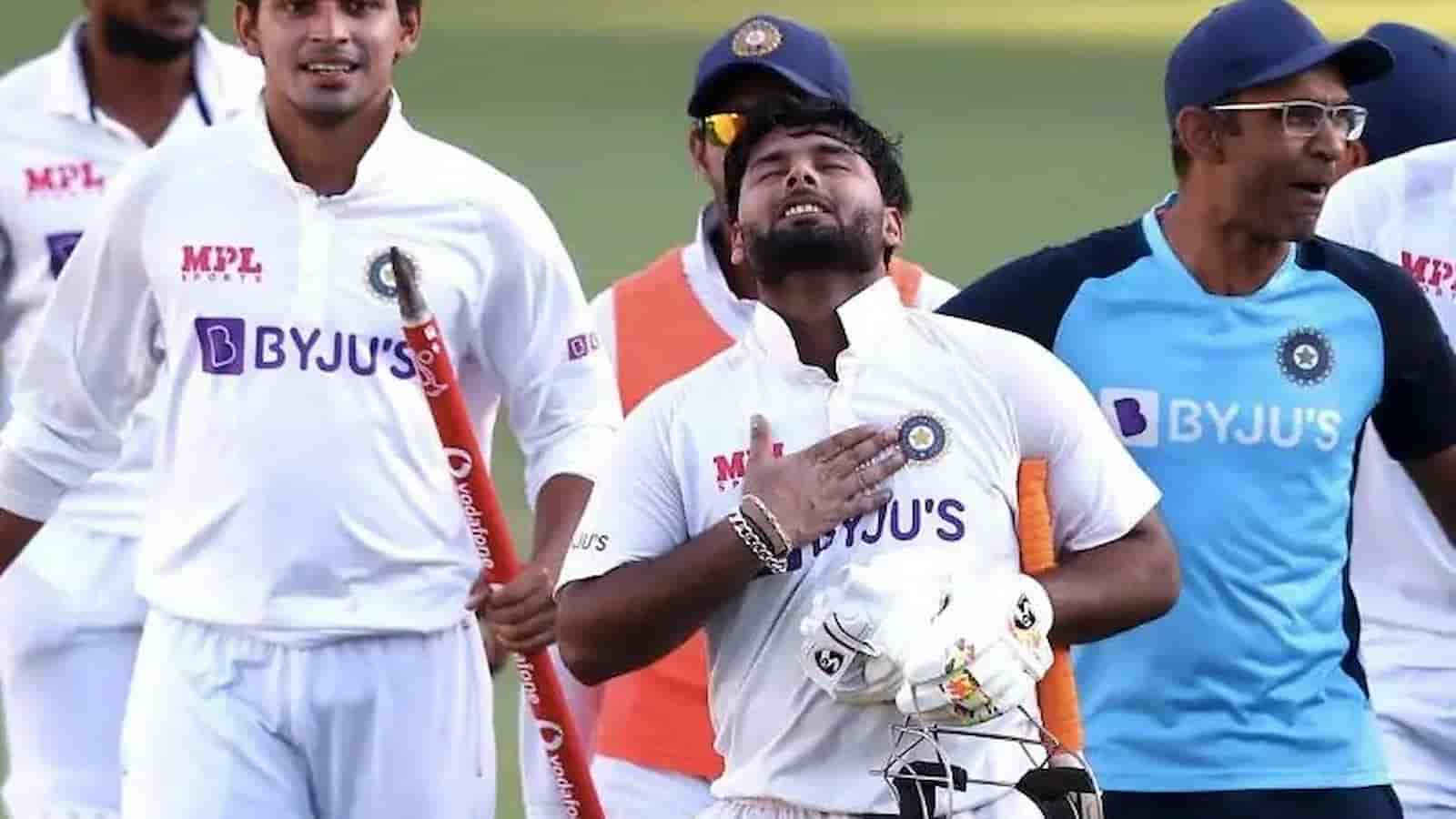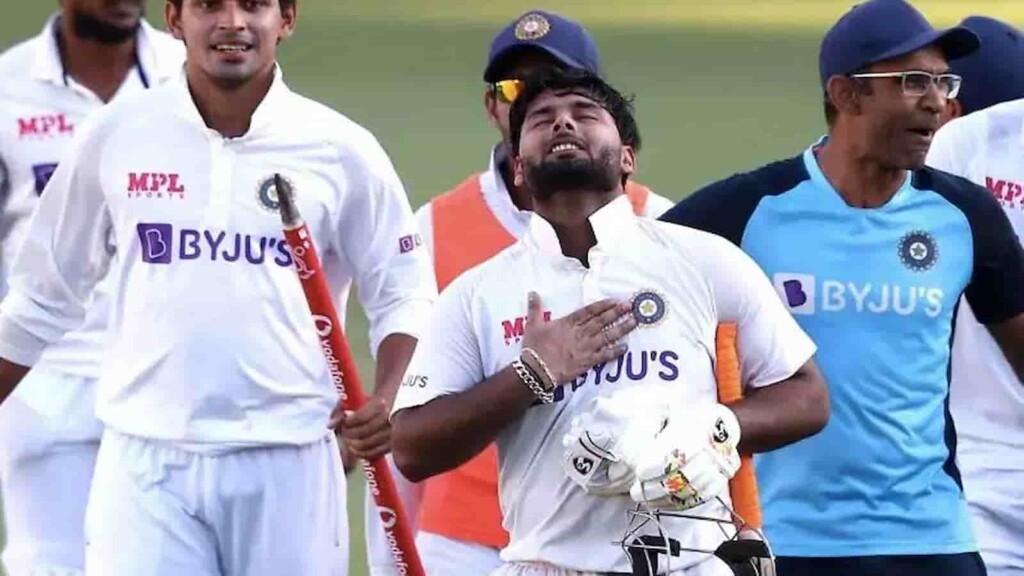 Then there is Rishabh Pant. Booed by his own people, rejected and dejected at only 23. His only fault – he is not MS Dhoni. It is easy to remember Pant's dropped catches and missed stumpings. But we forget he is just like one of us. A human being who can make mistakes. A human from humble beginnings, who has made it where he is through nothing but an insatiable appetite to never ever give up.
Pant comes from a place where aspiring cricketers, like him once, who cannot afford kits. He donates his kit to them after every tour. The kit he donated this time, was of counter-attack borne out of redemption. Bravado and a singular way of looking at adversity – not of surviving but of prospering.
Because that is just how his journey has been. That is exactly how every one of those men have made it to the top. Someone's father was an auto rickshaw driver. Someone else's mother was a roadside fruit seller. They may be nice people, but they are all fighters. In a country of more than a billion, nothing is ever given. Everything is snatched and clawed and earned. Heartbreaks and rejections are everyday life. Hungry people eat punches for breakfast so that, at dinner time, when they finally find food, they know that they have earned their bare necessities.
How else does one explain an Indian team that had 13 Test wickets compared to Australia's 1033 heading into Gabba, actually won. How else does one explain coming back from 36 all out within a month to win in Australia against Australia. How else does one explain braving constant bubbles (IPL and otherwise), constant setbacks (IPL and otherwise), multiple injuries, personal grief, loss and racial abuse to still be triumphant – not just in spirit but even in result.
Gabba – India's greatest Test win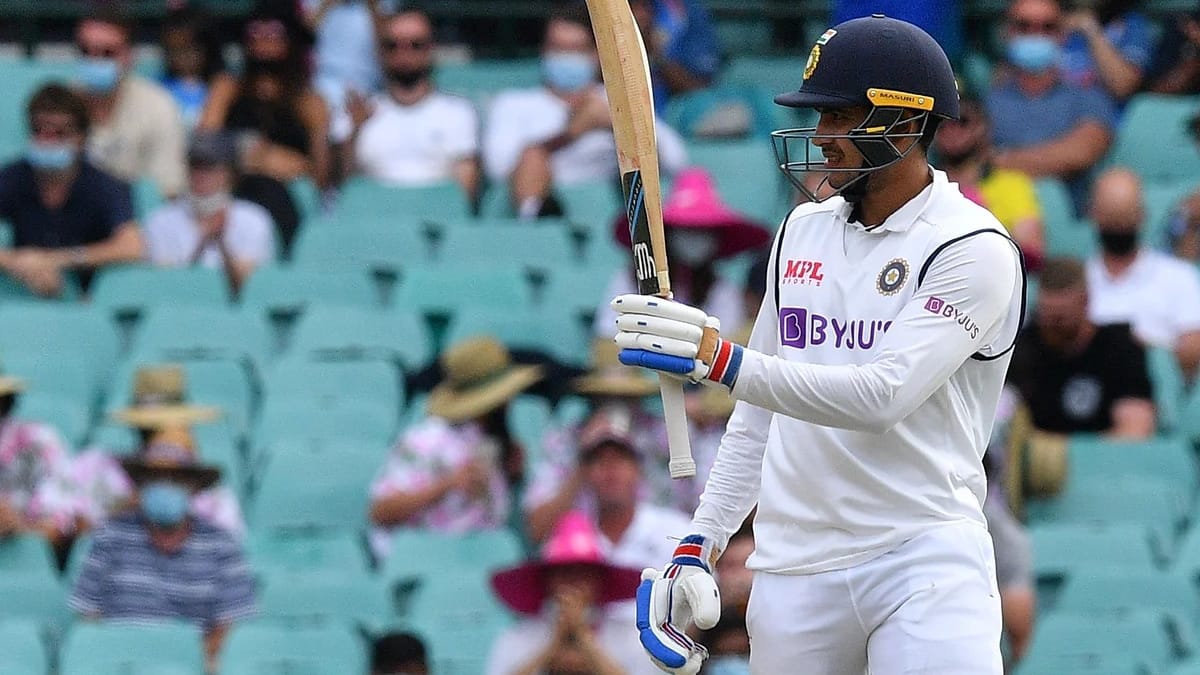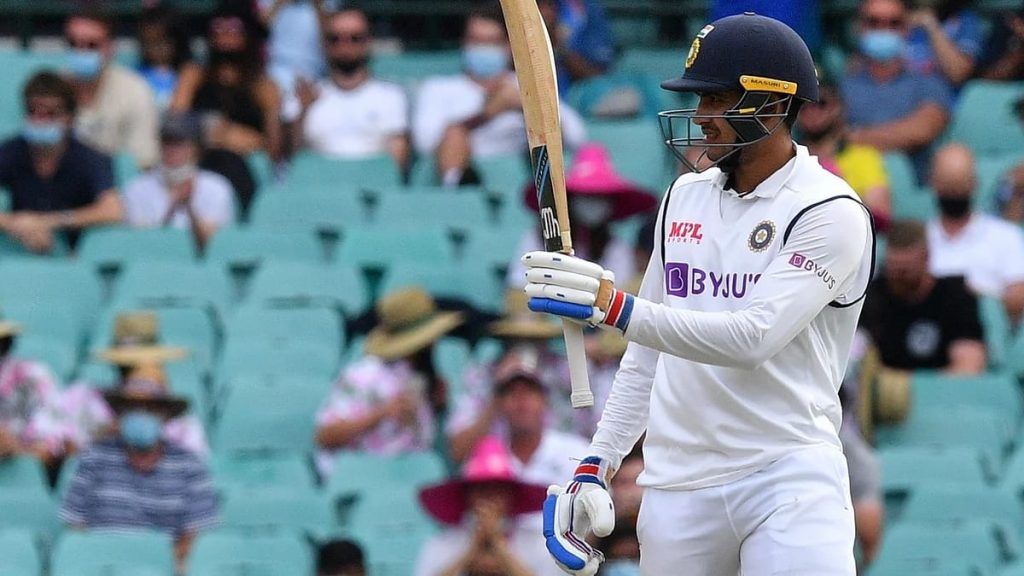 When one looks back at the victory and the scorecard, it will perhaps never standout – 329 for victory is not easy but has previously been achieved. That is why context is important. Standing against Australia on the final day of the tour was a bunch of cricketers who had only played 22 games in all – Pant, Gill, Sundar, Natarajan, Thakur. They were standing against the best bowling quartet in the world – the guile of Nathan Lyon, the ferocity of Mitchell Starc, the tenacity of Josh Hazlewood and the untiring brilliance of Pat Cummins.
When the world was thinking of survival, these men – hardened by circumstance of upbringing and harshness of their journeys to the top – were entertaining thoughts of overcome. Gill was coming down the track, with his red handkerchief of good luck tucked firmly within his trousers, against Lyon and cover driving him against the turn. Pant was swatting Starc on the up off the new ball. Sundar was hooking Cummins for six over deep fine leg. All while Pujara standing tall and taking blows to all parts of his body.
As fans of Indian cricket in particular, and cricket in general, many of us would have seen great victories. Some even classed as impossible victories. But there is nothing that trumps this one. It is a victory that warms the cockles of one's heart like no other. To see simple and hardworking people – those who represent us – succeed, makes this victory nothing like anything ever witnessed.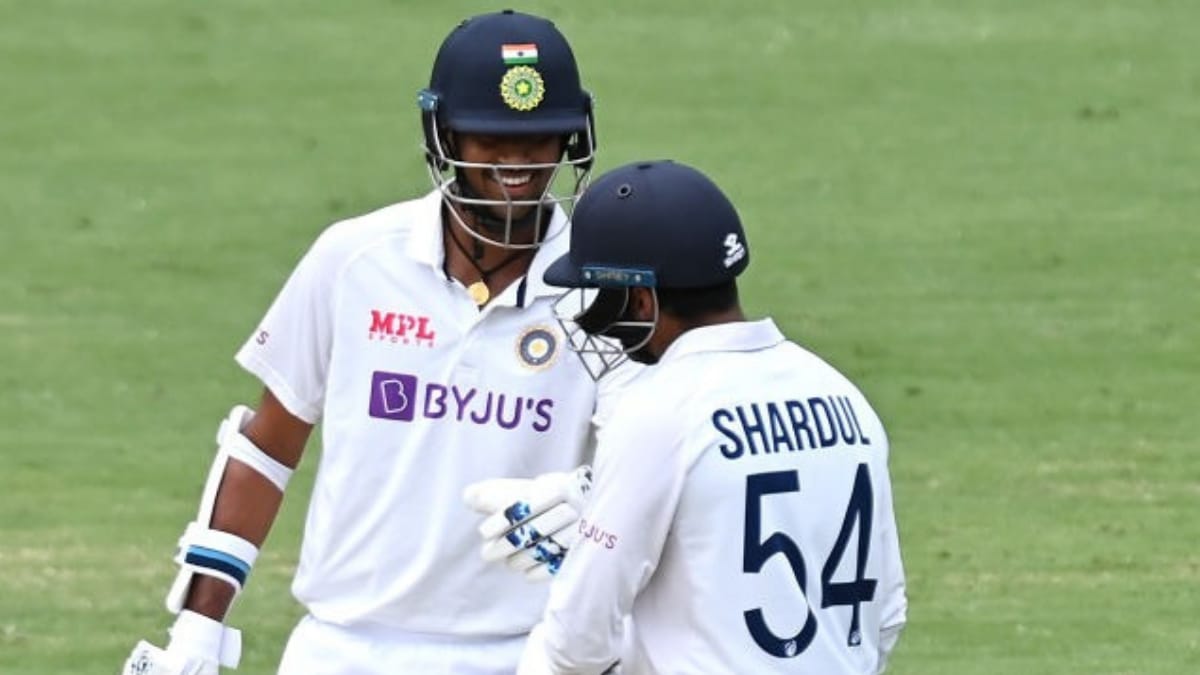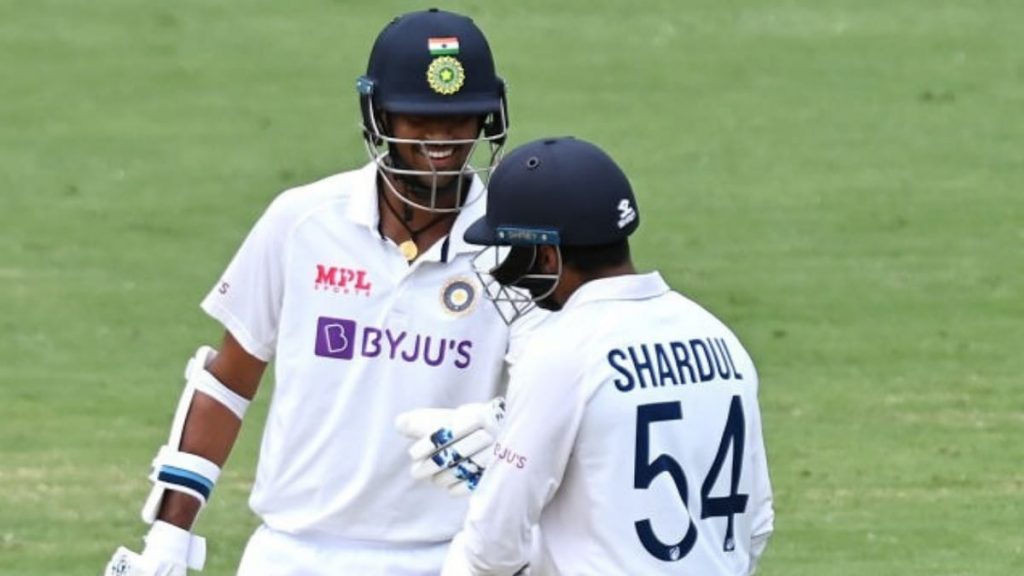 It is unlike any IPL victory and beyond any IPL achievement. It is above the 2018/19 triumph. This is above the 2001 Test series victory at home. In fact, this is the greatest Test match victory because it is not just victory of a team in a game, this is much more. It is a symbol – of hope and inspiration.
Why the Australia tour transcends sport is that it is a representation of India as a nation. Individual scars coming together to form a collective that is stronger by the synergies of shared pain and mutual empathy. It is a victory of a nation that is made by its simple people who bleed together and fight together, but do not ever give up – a spirit of one for all and all for one. For all the wrong the bio-bubbles have caused, there is one right. In times that are as difficult as it has ever been, it has brought everyone closer.
For one little moment, India forgot the real human grief of a global pandemic and years from now, when we shall walk around as one sans mask or fear and hug our friends far and near, we will remember the stories of these men, the stories of Melbourne, of Sydney and of breaching the Gabbatoir.
Shubman Gill, Rohit Sharma, Cheteshwar Pujara, Ajinkya Rahane, Rishabh Pant, Mayank Agarwal, Washington Sundar, Shardul Thakur, Navdeep Saini, Mohammed Siraj, T Natarajan. These men may never play a Test match together ever again, but they will always have the Gabba. And so will we.
Also Read: Why Kieron Pollard is the best all-rounder in IPL history?