Indian shooters got an early reality check for what is in store for the Tokyo Olympics. Out of the 5 Indians who qualified for the finals at the ISSF World Cup Croatia today, it was only one, the ever-reliable Saurabh Chaudhary who won a medal for the country.
Indian shooting has been flying high for the last couple of years especially in airgun events. Today however at Osijek, with just a month to go for the Games, the Indian youngsters got a lesson on all that can go wrong in the sport and how tough it is to win a medal at this level.
It is hoped that the shooters and their coaches take the results in the correct perspective and continue working hard for Tokyo.
10m Air Rifle Men
20-year old rookie Aishwary Pratap Singh Tomar was India's sole representative in the finals whereas Olympic-bound Divyansh Singh Panwar and Deepak Kumar both failed to qualify.
Aishwary, who will compete in 50m Rifle 3 Positions at Tokyo, scored 628 in qualifications to qualify 7th. He was also eliminated 7th in the finals. A couple of 9s in the 2nd series prevented him from reaching a higher position while a nervous 9.8 in the final shot proved to be the end of his campaign.
In qualifications, Deepak finished 14th with 626. Divyansh shot a below-par 624.7 to end up 24th. The finals cut-off was 627.7.
Croatian Petar Gorsa competing in his home event topped qualifications with 631.9. He had to settle for bronze in the finals which were won by American William Shaner who shot 250.5 while Russia's Vladimir Maslennikov was 2nd with 249.2.
10m Air Rifle Women
This event was the disappointment of the day as far as the Indian contingent is concerned. All 3 shooters, Apurvi Chandela, Elavenil Valarivan and Anjum Moudgil failed to qualify.
Apurvi at 24th after scoring 624.2 was the highest placed Indian. Anjum was 42nd with 622.3. Elavenil got a 2 point penalty; her final scored listed as 621.2 for 55th place. Ela in particular had a bright start to qualifications but faltered towards the end. An 8.1 in the final series sealed her fate.
Overall it was a day to forget for the Indians.
Gold was won by Eszter Meszaros of Hungary (250.6), silver by Ziva Dvorsak of Slovenia (249.8) and bronze by Sofia Ceccarello of Italy.
Iranian Fatemeh Karamzadeh shot an astonishing 633.6 in qualifications but was eliminated 4th. The 8th place score was 628.2.
10m Air Pistol Women
This event was an improvement over rifle for India in the sense that both Olympic-bound shooters qualified for the finals. But neither the fans, nor the coaches nor the athletes themselves will be happy after being eliminated 7th and 8th.
Yashaswini Singh Deswal who shot 578 in qualifications, was placed in the middle of the field before the first elimination series in the finals. A shocking 8.1 however caused her to be eliminated 1st. Manu Bhaker (577) was the next to go after a shoot-off with Hungarian Veronika Major.
Antoaneta Kostadinova (240) of Bulgaria was the gold medalist. She finished well ahead of German Carina Wimmer (237.5). Ukrainian Yulia Korostylova was an early lead but had to settle for bronze. Vitalina Batsarashkina, the qualification topper with 585, finished 4th. 574-19x was the 8th place score.
10m Air Pistol Men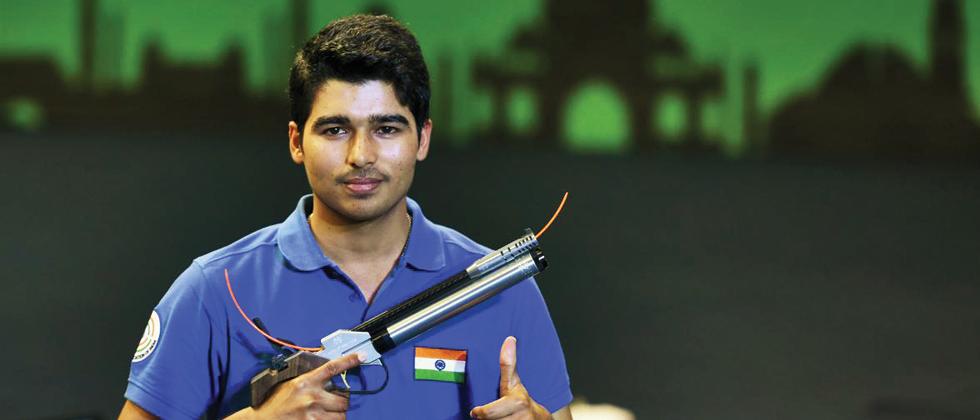 Saurabh Chaudhary did not have the best of days in the qualification or finals by his standards. He nonetheless possesses so much class that he was still able to get a 580+ score and a bronze on an indifferent day.
In qualifications, Saurabh was placed 15th at one stage but rallied back in the last 3 series to ensure 581-27x. In the finals, he started off brilliantly in the 1st series, shot 3 consecutive 9s and an 8.7 in the 2nd and 3rd to get off the podium place, but did well enough in later rounds to stay in touch with the leaders. He finished in 3rd place.
Javad Foroughi of Iran, who had won gold in Delhi 2021, further solidified his credentials for Tokyo by winning gold at Osijek. His final score was 243, 1.3 points ahead of Serbian Damir Mikec.
Abhishek Verma was eliminated in 5th place in the finals. He had shot 581-19x in qualifications. The qualifying cut-off was 580. Mikec and Foroughi had shot 584-23x and 584-19x respectively to place 1st and 2nd in qualifications. The ISSF World Cup Croatia continues tomorrow with airgun team events and skeet individual finals.