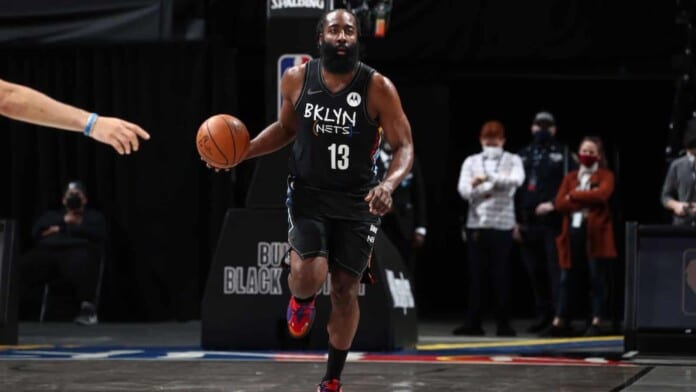 The Brooklyn Nets started their season with a high note. However, after Kevin Durant and Kyrie Irving were out, James Harden took all the responsibility for the team. In his leadership, the Brooklyn Nets had their longest win streak of this season. However, James Harden soon succumbed an injury and has been benched since then. Signing James Harden was one of the fortune moves that Brooklyn Nets pulled off. In their recent matches, the team faced back to back defeats against Milwaukee Bucks. Despite Kevin Durant and Kyrie Irving available, they could feel the pressure building without their primary ball handler and shooter. Are the Brooklyn Nets in need of the James Harden to secure their chances to finals?
The game against Giannis Antetokounmpo and team was meant to be an intense battle of the eastern juggernauts. After failing 3-points in their previous game, Nets could not emerge out victorious today as well. Giannis Antetokounmpo scored 36-points and 12 rebounds to end the Buck's huge win. For the Nets, things did not possibly turn out as expected. Despite Kevin Durant scoring 32 points and Kyrie Irving 38 a piece, they had a miserable defensive line up. Blake Griffin was responsible to guard Giannis but he left him wide open on numerous occasion. Certain defensive errors forced a winnable game to overturn.
Is James Harden the missing piece at Brooklyn Nets?
Ever since James Harden has arrived, the Nets have been dominating in the league. The team has played 19 games without James Harden and are just 9-10 while in his presence the win rate is up by 27-7. That's the difference the 'beard' can bring with his offensive heroics. The Nets gave up 5 players to acquire James Harden other than the picks. The team gave up solid bench players who are potentially the best ones just for the beard. May be their bench strength has descended by a lot.
James Harden turned out to be the best player for the team in the absence of Kevin Durant. KD is one of the best players in the game and a prolific scorer as well.  However, he struggled in the 4th quarter today. As Khris Middleton poured down elbow jumpers, he could not do much on the other end of court. While James Harden has already pulled the team out of such close contests. Plausibly it is right to say that James Harden has become the integral scorer of the Brooklyn Nets.
Also Read: "Kind of on nose dive": Reggie Miller backs LeBron James and Los Angeles Lakers but bursts on players condemning play-in tournament format