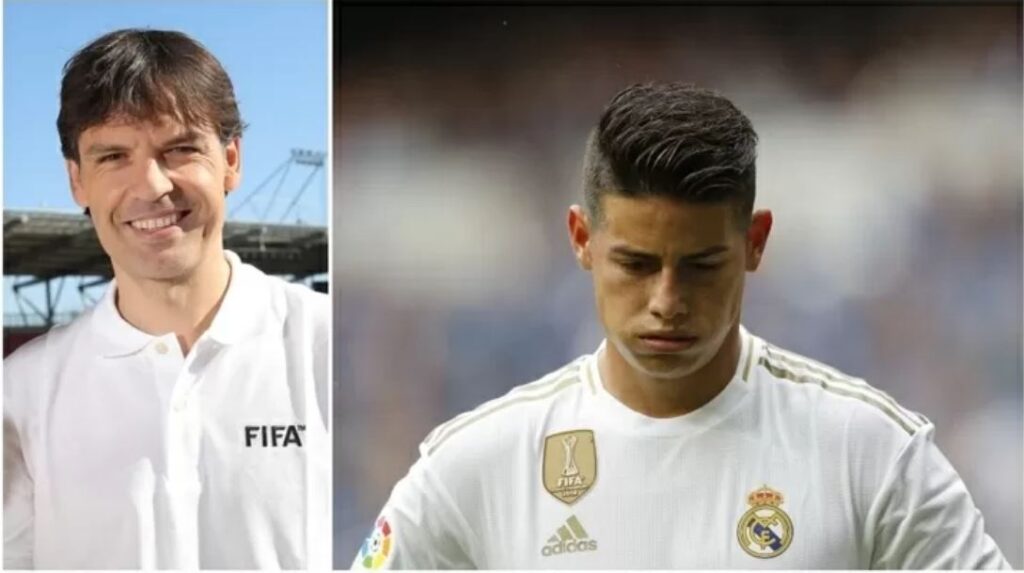 The former Real Madrid and Liverpool striker Fernando Morientes indicated that James Rodriguez is incredible with ball at his feet yet he's not an ideal choice for Real Madrid's strategic framework.
James confirmed his move to Santiago Bernebeau by signing a six-year contract with the Spanish club, which was reported to be approximately £75 million from AS Monaco.
The Colombian made 22 appearances when Madrid won the 2016–17 La Liga. Despite achieving 11 goals and 13 assists, he failed to gain more playing time under Zidane despite his influence on the pitch. This led him to request a loan transfer to Bayern Munich for more playing time for a period of two years.
The 44-year old Spanish believes the Colombian should try his luck elsewhere. Most certainly to the Premier League after on-going talks with Arsenal, Everton and Manchester United. He mentions there is no permanent place for him in aiding Zidane's squad:
"He has a great talent and he is a special player but does not fit in Real Madrid's tactical system. I am sure he can succeed in any other team." – the former Los Blancos forward said.
Madrid's 2-1 victory over Granada restores Los Blancos four-point lead over Barcelona. They are just two points away in winning their 34th La Liga title.
Karim Benzema – who has been an outstanding form this season has scored 19 goals and 8 assists this season – helping Madrid to a 2-1 triumph over Granada.
"Benzema is having a fantastic season, he has assumed the role of leader with Sergio Ramos and if nothing prevents it, he will soon be a league champion." – the former Real Madrid forward said.
"He has given the team what they needed after Cristiano Ronaldo's departure." – he added.
Also read: Manchester United are 'compelling and electrifying' to watch: Paul Scholes