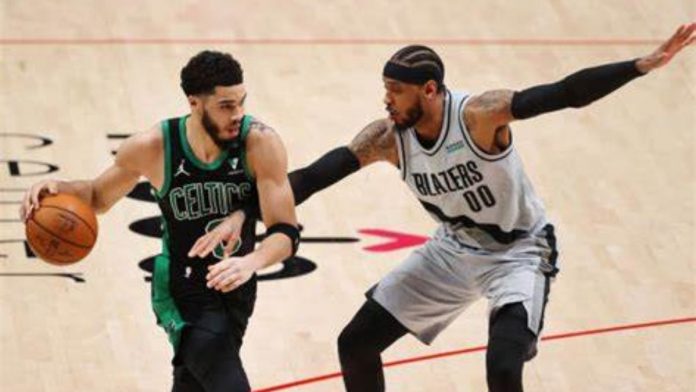 The entire Boston Celtics squad went gaga over the game winner by Jayson Tatum. The team survived a late barrage to overcome the Portland Trail Blazers tonight. After a slow start and a lot of criticisms, Boston Celtics are finally on a winning momentum. Moreover, Jayson Tatum has overturned all the negative remarks and silenced his haters. The young star led the team with absolute effortless performance. As soon as Jayson Tatum ended the game on high note, the social media went crazy with the cold shot. All the fellow NBA superstars expressed their surprise over the clutch game winner.
The Celtics and Trail Blazers went completely neck to neck to end the dramatic game. Both the teams went back and forth continuously before the final buzzer that closed with 115-116 on the score board. The Portland tried quite a lot as Damian Lillard and his wing man CJ McCollum tried to pull the game. Lillard had 28 points and 10 asisst while CJ ended with 16-points. Veteran Carmelo Anthony registered 25-points and yet fell sort. On the other end Jayson Tatum had a great night. Not only he ended with 32 points but also hit the game winner. He iced a super side step shot and got the Celtics to a much needed win.
Jayson Tatum makes Boston Celtics win 4th straight game
The entire social media went crazy when Jayson Tatum ended the game on such high note. With just 13 seconds left in the game, the Celtics gave the ball to their main man. With 7.8 seconds left, Jayson Tatum took the side step three pointer over CJ McCollum. The entire Celtics bench hyped up as soon as the bucket converted. The shot was very identical to Damian Lillard's game winning shot over Paul George. His super game winning shot has now become the talk of the town. Coach Brad Steven said, "This is about the time, the number of games, where last year he started taking off, and you can kinda see that in the last so many weeks."
Many fellow analysts and players reacted to this shot over twitter. The 23-YO has been a huge part of this 4 game win streak. He already had a 53-point game against the Timberwolves recently. He missed by a single rebound to be on a 4 straight double-double record. Jayson Tatum was previously trolled a lot with his mid-season performance. But his recent game has silenced all the negative remarks and thrash talks.
Also Read: Phoenix Suns' bench turn up big fetching win against Miami Heat