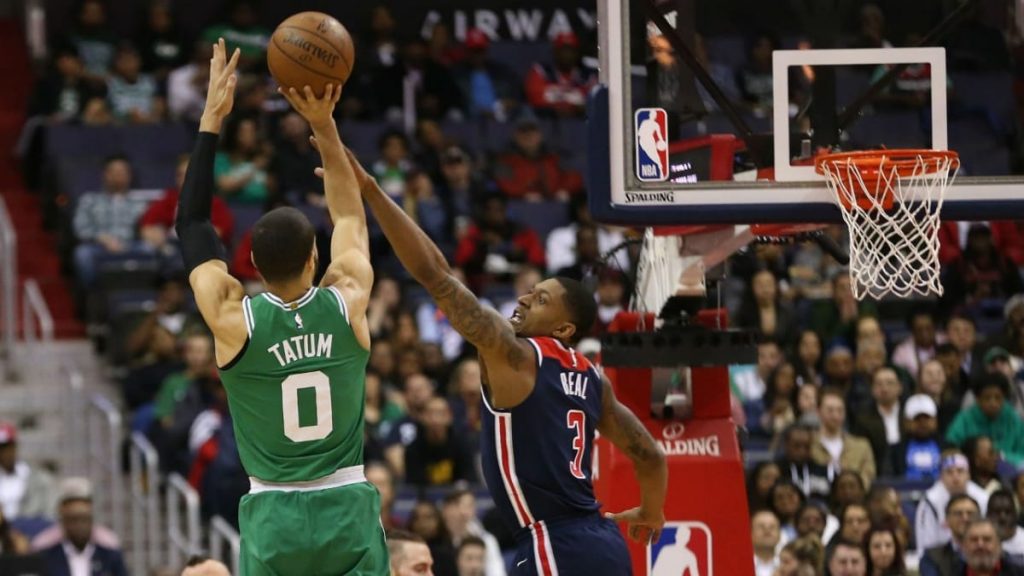 Jayson Tatum made 2 emphatic driving baskets in the last 15 seconds to ensure Boston Celtics inch past Washington Wizards. Bradley Beal's 46 points went in vain as Tatum's 31 proved to be vital for Celtics in this comeback victory. Jaylen Brown and Daniel Theis scored 21 and 20 points for the home team who has now won two consecutive games for the first time since January. 
Russell Westbrook scored 24 points and 11 rebounds, whereas Davis Bertans had 20 points. The Wizards led 110-105 after Bradley Beal's driving basket with 47 seconds left before the Celtics sliced it to one on Jayson Tatum's acrobatic shot in the lane with 15 seconds remaining. Washington then turned the ball over before Tatum's twisting bucket gave the Celtics a 111-110 edge with 4.7 seconds left.
Jayson Tatum scored 2 baskets in last 15 seconds; Bradley Beal's 46 points go in vain
Bradley Beal's four-point play made it 95-94 with just over five minutes left. He followed a basket by Walker with a 3-pointer and had a three-point play, making it 101-96 with 3:57 left.
Coming off a victory at home a night earlier against Minnesota, the Wizards took a while to get going, but after an extremely slow start they opened the final quarter with an 11-2 spurt to take their first lead of the game. The Celtics matched their largest lead of the game on Kemba Walker's 3 from the right wing, giving them a 68-57 edge early in the third quarter, before Beal scored eight of Washington's points during a 12-2 run over a 5:03 stretch.
"We should have won that game. We were up five," Beal said as per ESPN. Did everything we needed to do to put ourselves in position to win that game." 
Also Read: LA Lakers stamp their authority over Golden State Warriors