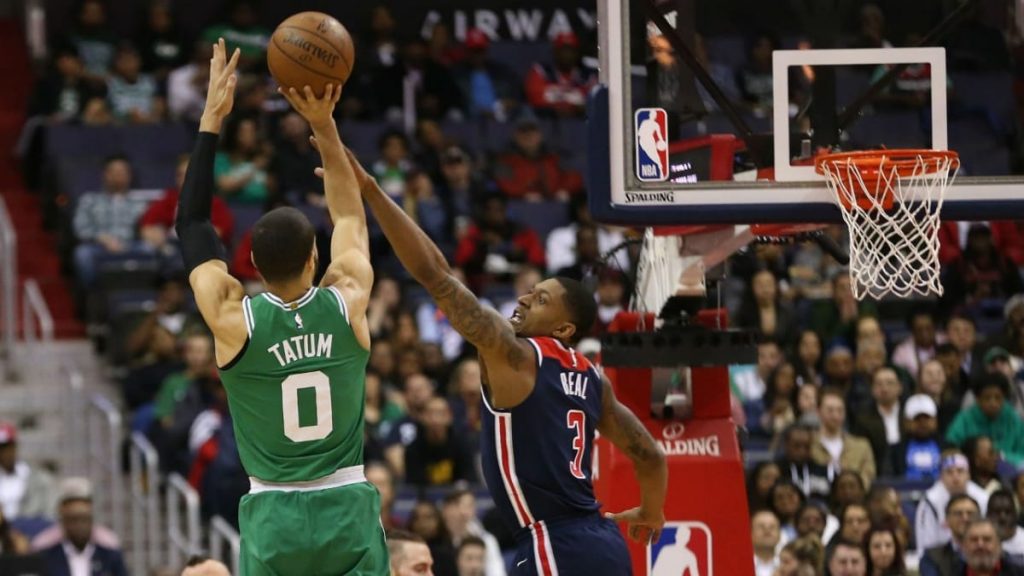 Boston Celtics' superstar Jayson Tatum names Bradley Beal as the only player he has trash talked to. A rite of passage in the NBA has been trash talking. This has been more of n enjoyment in the game. Almost every player has enjoyed the sensation of trash talking in his career. Be it the Kevin Garnett-Charles Barkley or the Draymond Green-rest of the players. The game has given players some serious reasons to do so. However, it is not what the Boston Celtics' forward Jayson Tatum is very fond of.
The Boston forward is rarely seen engaging in any verbal fights. He has been a prospect to the game. With average performance and massive playmaking skills, the young lad has turned heads. Although there is something that incites a player. Everybody remembers the trash talk between Tatum and LeBron James in the 2018 season when Tatum posterized LBJ. There was some serious flexing on the floor after the hyped play. Though Tatum makes exception in mocking one of his childhood friend when it comes to their match upon. He is none other than Bradley Beal.
Jayson Tatum – Bradley Beal relationship
The Celtics forward revealed that he and the Wizards' star have been sharing a special bond since childhood. Both the players hailed from a small town in St. Louis where they started playing together. Both of them have been great friends on and off the court.
"That's what I dreamed about. Just playing against my big brother in the NBA. I cherish every game that we play together. It is always special to be competing against him and I love it" said Tatum on revealing his trash talk to Beal.
It is rather a heart-warming moment for the players when they get to play other. Sharing a friendship and then mocking each other in the play is really some bromance! Although they are the rivals in the Eastern Conference, the respect to each other stands out to them.
Also Read: "I'm done. I can't do it anymore": Wizards' Former Coach Brian…