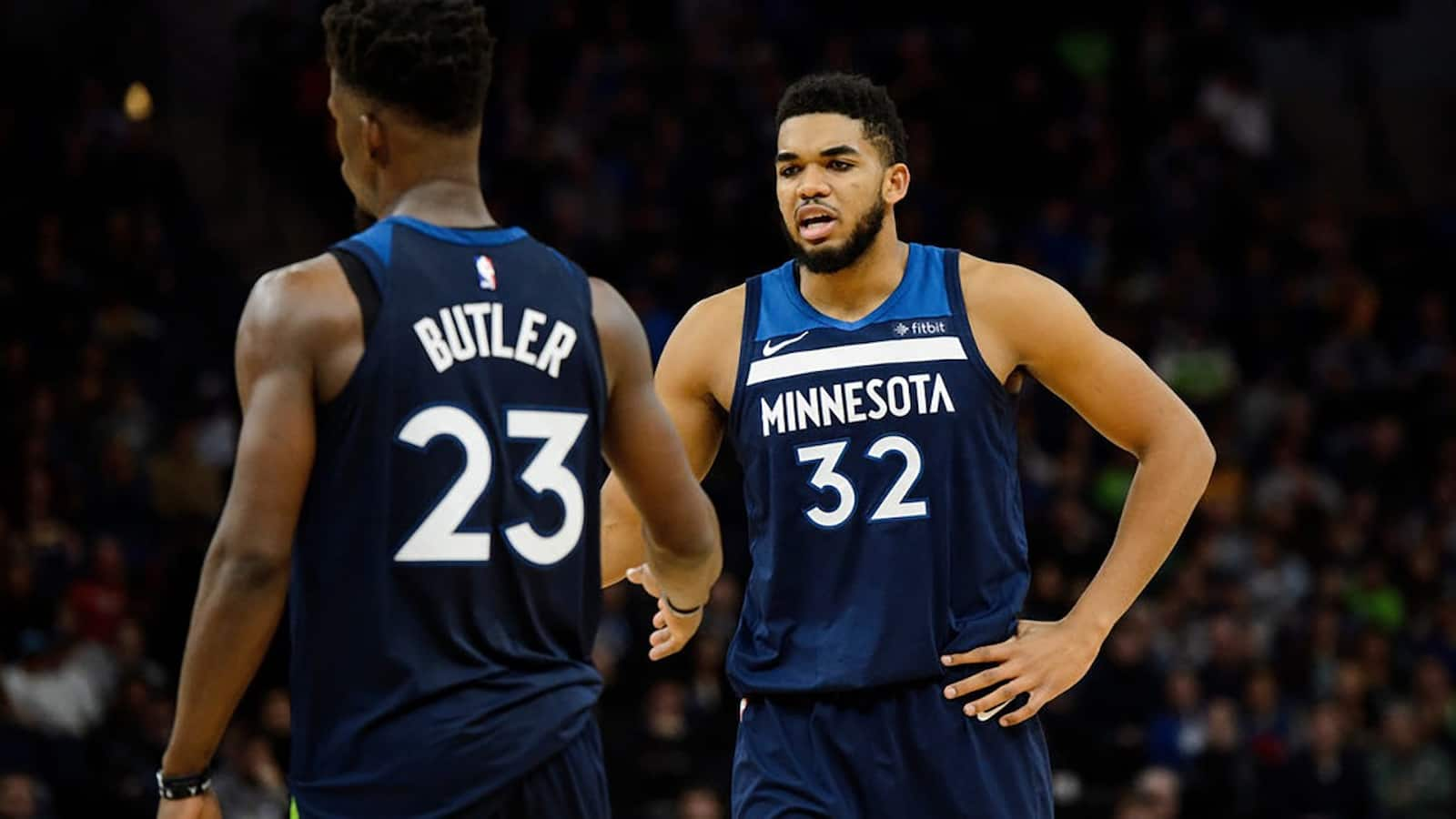 The Miami Heat's leader, Jimmy Butler has been a very vocal and animated player throughout his career in the NBA. Many a time, the altercation has come to bite him instead. The latest to get caught up in this was Minnesota Timberwolves' marquee player, Karl Anthony Towns.
Having said that, the beef between Jimmy Butler and Karl-Anthony Towns has played out in the open since the two were teammates for a little more than one season together on the Minnesota Timberwolves. Butler helped the Wolves end their 14-year playoff drought in 2018
Jimmy Butler goes too far while trash talking to his former teammate Karl Anthony Towns
Jimmy Butler requested a trade ahead of the 2018-2019 season, and then held out of training camp. When he finally showed up to work, Butler famously berated everyone at practice and reportedly led the bench to a win over the starters during a scrimmage. Butler then gave a sit-down interview with Rachel Nichols where he blasted Towns and fellow Wolves youngster Andrew Wiggins. A few weeks later, he was traded to the Philadelphia 76ers.
As microphones picked up the conversation, Jimmy Butler called Towns "a loser." He said "I already punked you once." Butler also said Towns was "soft as baby sh*t." Towns appeared to tell Butler to "call Rachel Nichols" as a response.
Karl Anthony Towns was asked about the incident in the post-game media availability, but rookie Anthony Edwards jumped in and answered the question for him. Edwards called it a "regular conversation" and said "there's no competition if you're not talking sh*t to each other."
The back-and-forth between Towns and Butler got even more attention than it would have because Towns has had an unbelievably difficult year off the court in his personal life, having lost his mother due to Covid-19. 
Also read: Bojan Bogdanovic knocked career-high 48 points as Jazz beat Nuggets 127-120