The UFC women's strawweight champion Weili Zhang is going to face the former champion Rose Namajunas in the co-main event of UFC 261. But one more former champion has her eyes on this match, i.e. Joanna Jedrzejczyk.
Jedrzejczyk last fought in March 2020 when she engaged in the fight of the year against Weili Zhang but in the end, she lost the fight by a very close split decision. Since then she hasn't fought but now Joanna Jedrzejczyk is ready to reclaim her throne.
In her latest interview with MMA Fighting, Jedrzejczyk says, "I'm living my best life, with my personal or business problems, we all have it and I'm very happy. I take everything that's happening in my life and I give a lot. I give 100 percent every single day in everything I do but I did as much as I can."
"I'm still an athlete because I really want to do it but I set my priorities. I have different priorities. I don't want to be part of this crazy rat race because I was there."
Joanna Jedrzejczyk added, "I was the champ for a long time. It's been a while. I lost the title to Rose Namajunas but I know my value. I gave the fight of the year, the fight of the decade and I know I'm still very good. I don't waste my time."
"I keep on training all the time. I can't wait to get back to American Top Team. I'm doing a big TV deal in Poland but can't wait to get back to the states and start training with my team again."
Joanna Jedrzejczyk believes she already earned the title shot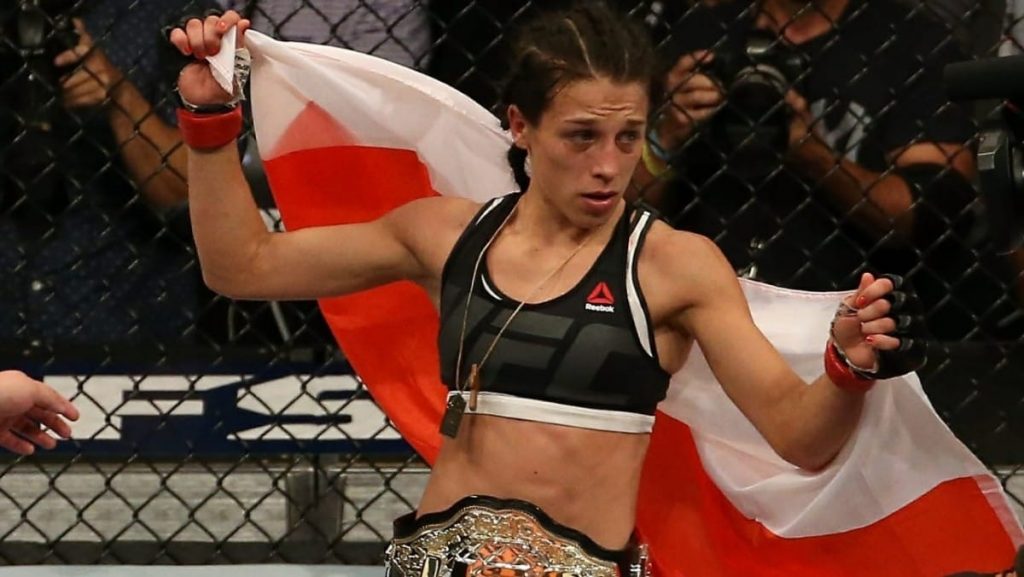 Joanna Jedrzejczyk is planning to move to the United States by the end of May 2020 and train for at least two months at Florida based gym and attend UFC 264 to see the fight of her teammate Dustin Poirier against Conor McGregor.
She hasn't been officially booked to face someone until now but Jedrzejczyk is targeting to face the winner of Weili Zhang vs Rose Namajunas. She added, "I called Mick Maynard a few days ago and I just told him 'you know what the baddest b*tch on the planet is back' so book the fight, watch this fight and tell everybody that I'm next,"
"I was waiting for this fight. It's COVID time, so that's the only reason why the belt was not stripped. Because once a year you have to defend the belt. But we're having COVID times but when I was the champ, I was defending this belt like crazy."
According to Joanna Jedrzejczyk, she already got the opportunity for the next title shot after her performance against Weili Zhang last year. She says, "I know there are so many people who are like 'you lost, you have to prove it again.' I proved it in my last fight, putting on f*cking hell of a show,"
"Giving the closest fight ever. That's the thing. Fight of the year, no gender, no weights. It's the ticket for the next title fight. That's the thing. I just don't want to fight for anything anymore. That's the thing."
"If I fight, I fight for big trophies and I don't have to prove it to anybody. I want to get the winner of this fight, I won't stop. That's the thing if I was losing fights by knockout or if I was losing the fights on points and the difference was big but it's not. I always put on a show and the fights are very close so I want to keep on going."
Also Read: "I don't owe Snoop $2 million, I never bet," Dana White demolish Snoop Dogg's claim that he owes him $2 million.
"I believe that's her weakness is grappling," Jessica Andrade reveals her plan against Valentina Shevchenko at UFC 261.