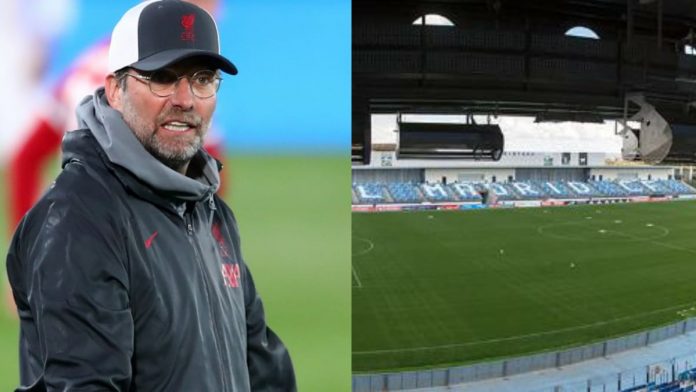 Liverpool lost 3-1 against Real Madrid in the first leg of the quarter final tie played in the Madrid's Alfredo De Stefano stadium. Liverpool were dominated by their Spanish rivals for most of the match as Jurgen Klopp got his tactics all wrong.
Real Madrid have been playing in the ADS stadium since the coronavirus break in Spain. The Bernabeu Stadium is currently undergoing renovation and will be available only in 2022.
Liverpool need to overcome a 2 goal deficit in the second leg, to be played at Anfield
That has been the case since for nearly a year, a "strange" situation which Klopp hopes may work in his favour with the second leg being held at a "proper" stadium.
Jurgen Klopp came up with yet another of his excuses after the defeat instead of faulting his players who were poor throughout the game . The German coach said, "This was strange tonight because it was really difficult with the stadium (at Madrid's training ground) but Anfield is at least a proper stadium and it will be good for us."
"It must be a really tricky task for Real Madrid at Anfield," Klopp said. Playing without fans is the new normal after the Covid-19 outbreak and the situation remains the same for the teams.
Real Madrid coach Zinedine Zidane was having none of Klopp's excuses when he was asked to comment on the German's comments of playing at the Alfredo De Stefano.
Zidane said – "I don't have an opinion about what Jurgen says, we are proud to play in this stadium. Liverpool is the opponent and we know they are going to leave all they have on the pitch."
"I have no question about that. We just need to be ready and it is going to be a very good second leg match. We will need to do the same thing in the second leg."
Also Read : Real Madrid outclass shabby Liverpool to win 3-1 in the first leg of the Quarter finals