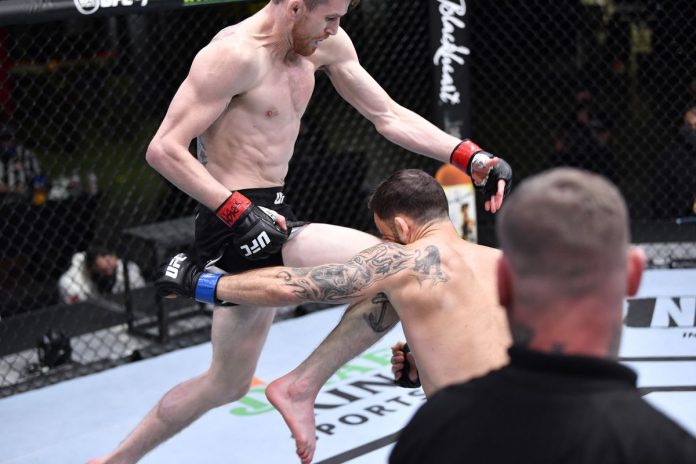 Bantamweight fighter, Cory Sandhagen and former Lightweight champion, Frankie Edgar went head to head in the UFC Fight Night Co-Main event held at the UFC Apex, Las Vegas. Cory came into the fight by beating Marlon Moraes via Knockout. Cory was the underdog who wanted to prove as a top title contender. Frankie on the other hand is a UFC legend who came into the fight beating Pedro Munhoz.
It took only 38 seconds for Cory Sandhagen to knockout a legend like Frankie. Cory wasted no time as he landed a flying knee to Frankie's face which put the veteran to sleep on spot. Cory Sandhagen has made a statement in this fight and has shown the world how bad he wants that title fight.
Twitter reacts to Cory's win against Edgar
After Cory's insane flying knee knockout, it was very hard for any viewer to keep calm. The flying knee of "the Sandman" caught everyone off-guard including Frankie Edgar. The UFC President Dana White posted a video of the flying knee and said "Holy Shit @cors_life".
UFC star fighter Dustin Gaethje said, "@cors_life is a savage" as he loses his mind over the KO.
World cup medalist and UFC star fighter, Gilbert Burns said, "Wow nasty wow OMG".
Other UFC stars, Megan Anderson, Alijamain Sterling and Mike Perry also shared their reactions to this spectacular knockout by the "Sandman".
Welterweight fighter, Mike Perry believes Cory should get his title shot now as he has proved his worth.
The #13 welterweight, Belal Muhammad and UFC reporter Ariel Helwani both tweeted out their reactions to the jaw dropping fight.
Also read UFC Vegas 18 (Co-Main Event): Cory Sandhagen knocked Frankie Edgar with a perfect jumping knee