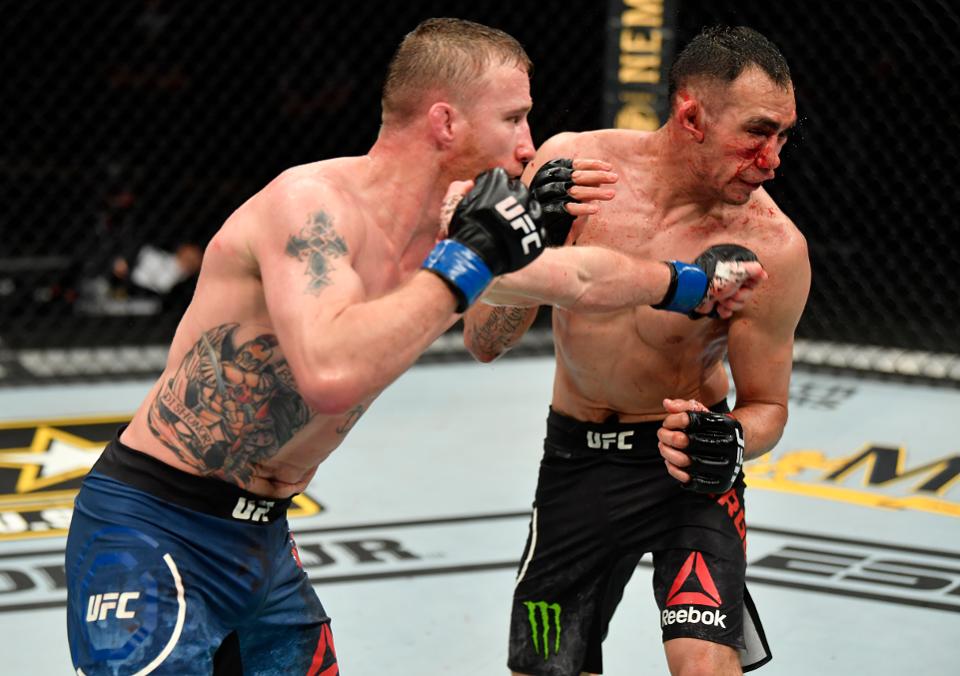 Justin Gaethje has had an eventful year where he faced the toughest competitions of his life. Fighting two of the most challenging fighters in the division, Tony Ferguson and Khabib Nurmagomedov. He went on to secure a win against Tony Ferguson in May and then fought Khabib for title, where he lost via second-round submission. He was Khabib's last opponent before he decided to retire.
Ferguson could not go all the way to finish the fight and lost by a TKO in round 5. Justin seems to be knowledgeable about how to finish Ferguson, knowing his various strengths and weaknesses based off that one encounter. However, he knows that Charles Oliveira will not be able to do what he did and win against 'El Cucuy', as he may not be at his level.
So, why is Gaethje leaning towards Tony Ferguson winning?
Gaethje described what makes Ferguson such a tough match for a fighter like Oliveira, who holds the record for the most submission victories in the UFC. This was discussed about in a recent interview with The Schmo (h/t Abhinav Kini of The Body Lock MMA).
"I don't know, man. How intriguing. Tony coming back — I was talking about it earlier with some fighters and I think Tony's going to win," Gaethje said. "I think to do what I did against him, you have to fight a certain way. I don't think Oliveira fights like that.
"I think his striking [technique] is similar to someone like Anthony Pettis who is on their heels a lot. So I think he's going to have similar issues that Pettis had against Ferguson."
Tony Ferguson is looking to bounce back up from his loss to Justin Gathje and he seems more determined than ever. He will once again step into the Octagon at UFC 256 and will feature in co-main event against Charles Oliveira this Saturday on December 12 at the UFC Apex Center in Las Vegas.
Also read: "That would be a great fight" Vitor Belfort hopes to fight Yoel Romero