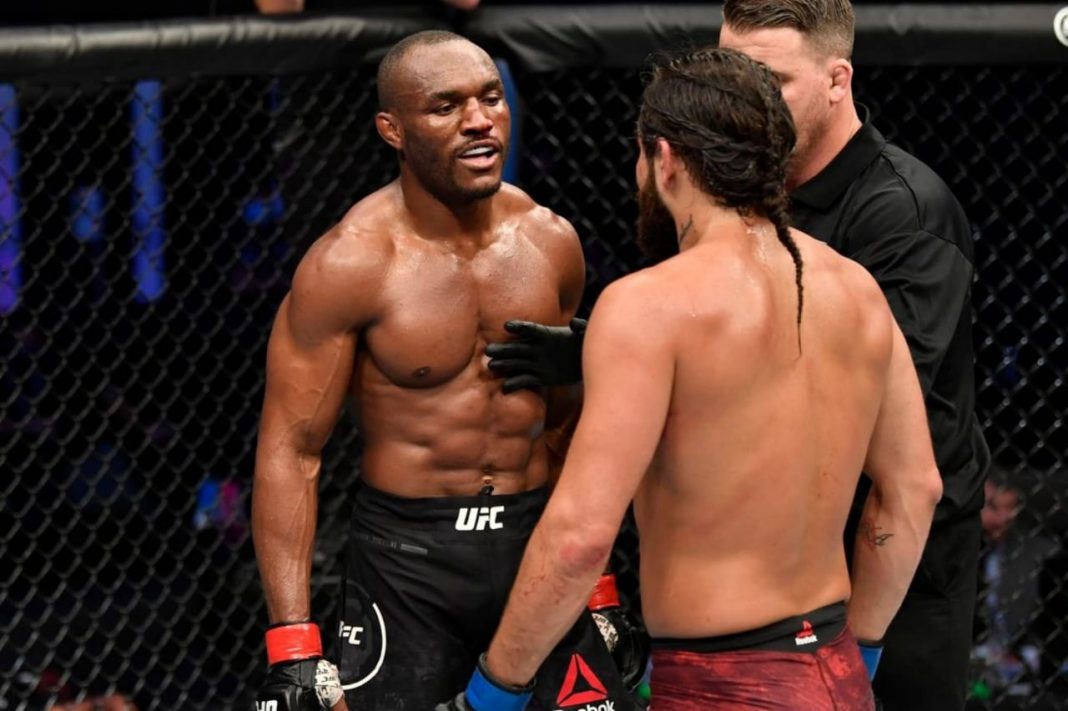 Kamaru Usman is hardly three weeks away from his rematch against Jorge Masvidal at UFC 261. The pair previously met at UFC 251, with Kamaru Usman emerging the victor via. unanimous decision. Masvidal had to agreed to fight Kamaru Usman on extremely short notice after Usman's original opponent Gilbert Burns had pulled out due to coronavirus.
Speaking about the flutters his fights create in the welterweight division in an interview with ESPN MMA, Usman revealed that his aura and presence is the crowd-puller and anyone who fights him becomes popular as well. He also referenced Conor McGregor's red panty night quote but called it a green panty night (when someone fights him).
'He's not getting the pay-per-views on his own, he has to fight me' – Kamaru Usman
Usman was quoted as saying, "There's truth and there's no truth to that. You can't say you are the star and that's who I want to be, that's wrong, because I have what everyone in the world wants, so you can't say that. Of course, does he bring more eyes right now? Absolutely, I'm a realist, I've always been a realist."
He continued, "If I look at all the pools of guys I've been through all of them, now I'm just lapping them all. We're running a race right now and I'm lapping everybody right now. He's the first guy, so he's dead last right now, the first guy I'm about to lap. I'm lapping him."
Usman concluded, "You know, does he bring a little bit more eyes? Absolutely. I don't take that away from him, I'm proud of everything he has done, absolutely proud of him. Respect in that aspect. Let's be honest, I have what everyone wants. It's green panty night when you fight me. He's not getting the pay-per-views on his own, he has to fight me."
It is hard not to agree with Usman. He is yet to be defeated in the UFC. By beating Gilbert Burns at UFC 258, Usman went past Georges St-Pierre's record for the most consecutive wins in the UFC. However, his opponent Masvidal is quite a popular name as well. The former street fighter is one tough dude, and has just one TKO loss to his name (which was totally unfair, as well), out of the 49 fights he has featured in.
Also Read : Holly Holm on facing Miesha Tate in a rematch
Also Read : Vicente Luque pleased with victory over Tyron Woodley