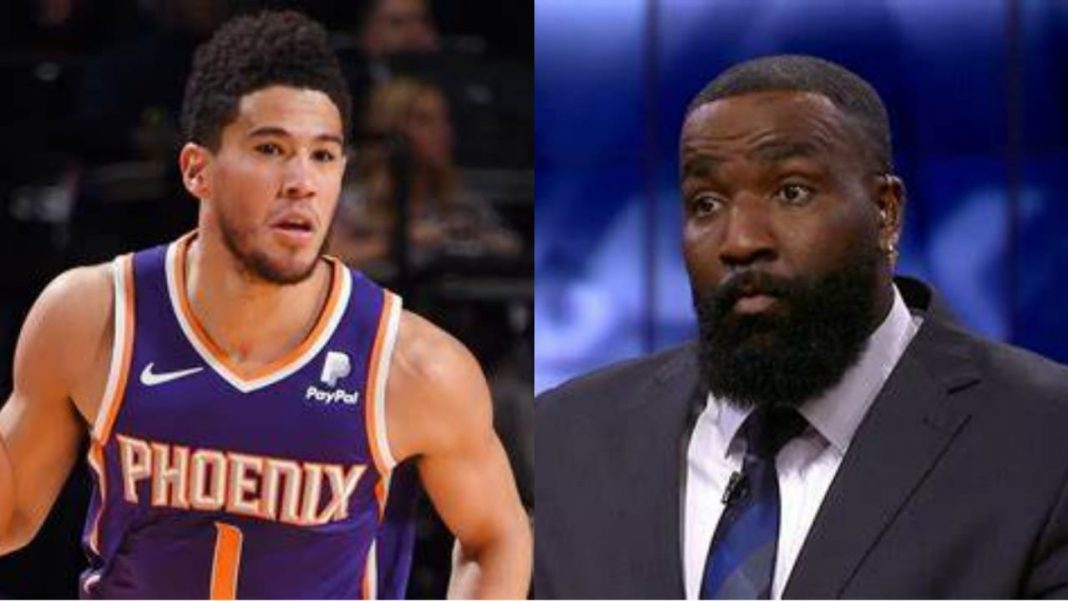 The NBA and controversy are equal footed. One of such controversial debate has engulfed the Phoenix Suns' player Devin Booker Jr. He has been an epitome of shooting the league of NBA. The Phoenix Suns' player proved his greatness last season in the bubble. He was just unstoppable. Despite so many breath taking performance, it has become an annual tradition to criticize the shooter. It all started when he was snubbed form the NBA All-Star this season. Many players including LeBron James acknowledged the fact that Devin Booker isnt given the fair share of respect that he deserves. Kendrick Perkins jumps in to defend the Phoenix Suns' star against all the back lashes.
The Phoenix Suns have had a tough season so far. They have managed to pull off some great victories despite being on the deficit end. The Suns are currently 2nd in the Western Conference with 35-14 record. They are also on a 6 game winning streak that has been inspirational this season so far. However, their best player Devin Booker is exposed to all kinds of negative remarks. After being snubbed form the All-Star roster, he was in the list of players who deserved to be on team but could not make it. Former NBA champion Kendrick Perkins was furious on the ESPN ranking that made him 8th on the list.
Kendrick Perkins rebels for placing Devin Booker down
When ESPN show 'The Jump' revealed the ranking of the players, Kendrick was the one who strove against Devin's 8th rank. Booker was ranked just above Bam Adebayo and Shai Gilgeous-Alexander. He said, "Hell no! It is far from accurate. He should be top 5, alright! I am tired of this disrespect and they need to put some respect on Devin Booker name. I am tired of the All-Star snubs, where he is always a replacement because someone is injured. Listen, this guy is a walking bucket, one of the most prolific, efficient scorers in the game today." He said a hard no, when asked about if he agreed with the pecking order.
Kendrick explained, "He is averaging 25 points, almost shooting 50% from the field, and that team is number two in the Western Conference. Like every single year, he keeps getting better. He has averaged over 24 points over four seasons. And the only other two players to do that were Kevin Durant and LeBron James. He should be ranked higher. I am tired of Devin Booker getting overlooked and disrespected." The Phoenix changed whole perspective of NBA fans when they had 8-0 run in the bubble. It was all because of Booker. He is such an important player. This is sheer dis-respect when he is ranked so low.