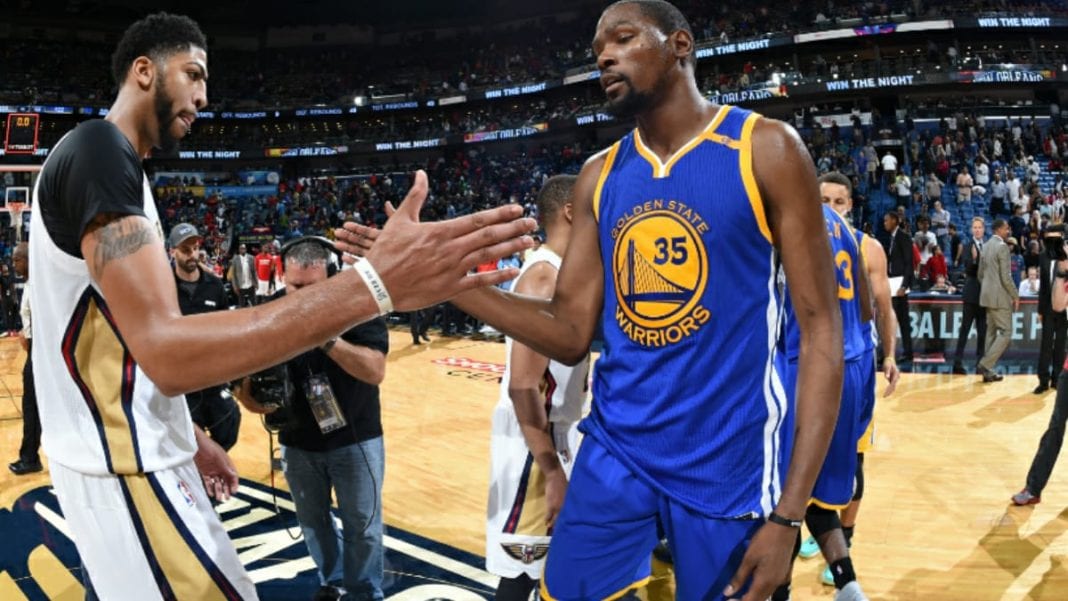 The NBA is one of the most proactive leagues on social media. Most of the players, analysts and former veterans of the game pitch in their motive and perception over this platform. Similarly, Kevin Durant is super active both on and off the court. When he is not on court, he wishes to hit back on harsh comments and critics via the social media. His tweets are lethal and straight forward making a strong case for himself. Kevin Durant is someone who cannot take these criticisms so constructively and will surely reply back with the required etiquettes. Recently he picked Anthony Davis in his All-Time 11 roster pick and the social media over flowed with comments.
Kevin Durant is always covered around controversy. Staring from leaving Oklahoma City Thunder and ghosting Russell Westbrook to leaving behind champion team Golden State Warriors. KD is just surrounded by thrash talks. He recently selected Anthony Davis for his All-Time roster excluding him and people started questioning him regarding the same. But to the contrary, the Brooklyn Nets star came in defense of Los Angeles Laker's Anthony Davis.
Kevin Durant speaks up for Anthony Davis
Durant is arguably termed as 'snake' for the decisions that he has taken within his move. However, the 32-YO has made strong statements when a fan questioned his roster pick. The fan tweeted, "Obviously Hakeem, Shaq, Duncan and a lot bigger names are way greater than him too." Kevin Durant instantly replied to this defending AD throughout. He said, "AD can knock down that three, middies, from everywhere and handle if need be, would be a cheat for any team ever created."
Not only this, Kevin Durant later shut down another hater calling him "a stat guy" when he commented on AD's ability to make three pointers. Alongside Kevin Durant, Nick Wright, a sports talk show host also chose a balanced roster as Tim Duncan replaced AD in the starters. The fact that KD was not ready for Tim Duncan even over Tracy McGrady was nuts.
The 28-YO Anthony Davis made it to KD's starter despite big names in the power forward position. He recently forgot to name Russell Westbrook in his top 5 teammates while sticking to Davis in the pick. But Kevin Durant is pretty straight forward and keeps it to business talks only. Preferring AD over other players made sense for the slim reaper.
Also Read: "I felt like I had an idea": Kevin Love talks of reaction to LeBron James leaving the Cleveland Cavaliers