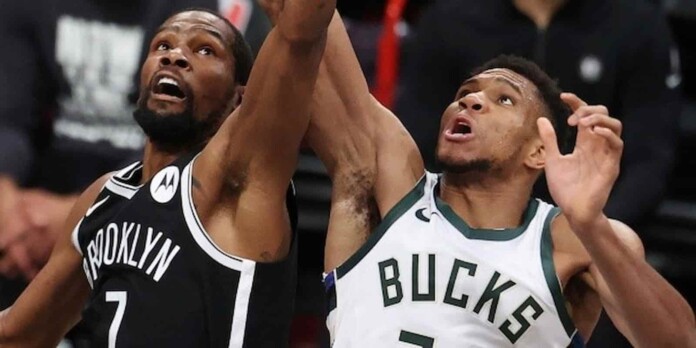 The Brooklyn Nets and Milwaukee Bucks have displayed their super team qualities earlier this season. As they faced each other, it was a plausible eastern conference finals matchup. Giannis Antetokounmpo has been an avid leader for his side. The Brooklyn Nets have displayed immense talent despite being shorthanded of their major scorers. Bouncing back into the league, Kevin Durant has already stacked up huge numbers. It is just a matter of time when Kevin Durant will be joined by James Harden. As the titans in East clashed each other, Giannis Antetokounmpo warns the league of Kevin Durant's shooting form.
 The Brooklyn Nets and the Milwaukee Bucks got into an intense thriller. However, Milwaukee turned out to be the ultimate champion in this hard fought battle edging over by 3 points. The game ended 117-114 as both the teams gave in all their sweat and blood. Giannis Antetokounmpo scored 49-points while Khris Middleton added another 26 points and 11 rebounds. The fundamental guard Jrue Holiday scored 18 points to end the night. While for the Nets, Kevin Durant seemed unstoppable. The Slim Reaper scored 42-points and 10 rebounds while falling short by 3 points.
Will Brooklyn Nets make it to finals?
The reigning DPOY Giannis Antetokounmpo grew up idolizing Kevin Durant back in his high school time. Kevin Durant was dominating figure in Oklahoma City Thunder. Durant is a shooter that every young athlete looked upon. Kevin Durant also proved this going hot against the Bucks. He scored 7 three-pointers and shot 16/33 from the field. Giannis recently revealed, "Nobody in this world can go back and forth with KD. He's been one of the greatest scorers to ever play this game. I was just trying to do my job, get to my spots and execute and help my team win."
Brooklyn Nets are 2nd in the East trailing to Philadelphia 76ers. Kevin Durant exclaimed his views after the game against Bucks. He said, "It's one of those games you enjoy playing in. And hopefully, it's a better one for us next game." They are one of the best teams in east who are fan favorite to win the title. James harden is soon make his comeback to squad while Kyrie Irving is finding it difficult to find the momentum.
Also Read: "Can play a lot longer": MVP contender Nikola Jokic reveals his journey of significant improve in the league