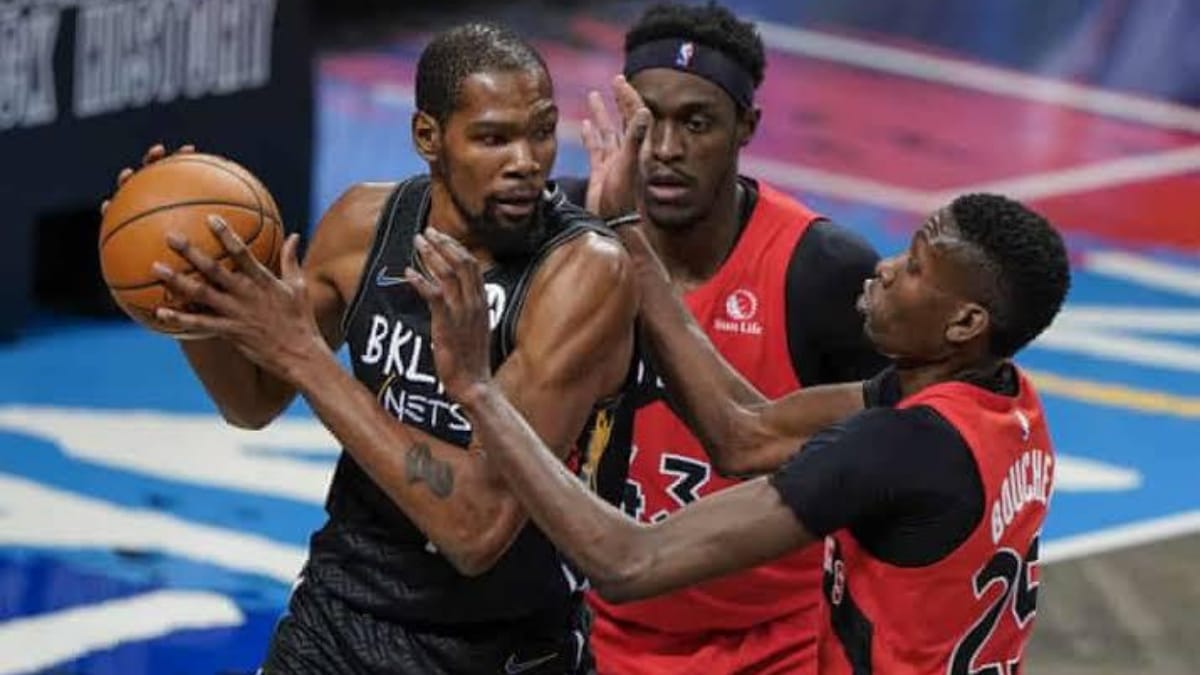 As the NBA steers towards a bubble free environment this season, the global pandemic seems to strike back at the league. The Brooklyn Nets were up against the Toronto Raptors today. The Brooklyn Nets were unable to start with their big 3 for starting roster. Kevin Durant, their star forward was not allowed to start the game due to health and safety protocols.

The major reasoning outcome was the COVUID contact tracing. The players are already on high frustration zone. They are being isolated. They miss practice and now Kevin Durant being held back seems a lot to ask for by the league. Kevin was held off just moments before the tip-off. Withheld from the lineup he underwent the contact tracing method. However, Kevin Durant returned in the 2nd quarter. The 'all clear' report was short lived. As KD was again asked to leave the game for the rest of the night.
KD's short-lived game
Durant left the bench in the 3rd quarter itself. In the 4th quarter, Kevin Durant was highly frustrated over absconding him to play. He took to the twitter and aired "Free Me". As per Adrian Wojnarowski, Durant reported negative thrice in the last 24 hours for contact tracing. Despite that, he allegedly encountered with someone who was reported positive. KD was really angry with the process. He retweeted back Brian Floyd's tweet calling the NBA PR tactics a joke. He said, "Yo NBA, your fans aren't dumb!!! You can't fool em with your wack a** PR tactics".
Kevin Durant is already in his elite form. The way the things have turned out to be, he may be missing a few more games as well. The Nets are up against the 76ers next. If KD isn't back by Saturday, things are going to heat up. The way the contact terracing has been ineffective, it has already been condemned more than once by players.
Also Read: Jayson Tatum drains 34 as Boston Celtics hold off Paul George…