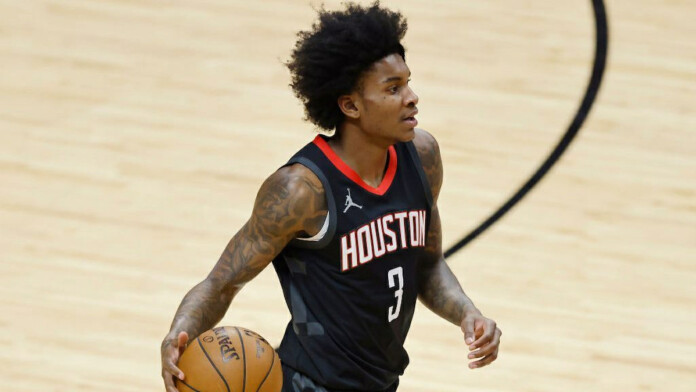 f there is one word to define Kevin Porter Jr's performance against Milwaukee Bucks, it is-exceptional. Kevin Porter Jr has become the fifth youngest player to ever score 50 points in a single NBA game as he led the Houston Rockets past Milwaukee Bucks in exquisite style.
Not only that Kevin Porter Jr has become the youngest player ever in NBA's history to drop 50 points and 10 assists in a single game.
Kevin Porter Jr scores 50 point against Milwaukee; outshines LeBron James record
Houston snapped a five-game losing streak on the back of a dazzling performance from Porter, who scored 32 points in the second half and 17 in the fourth quarter. His previous career best was 30 points as a rookie with Cleveland last season.
Antetokounmpo played just 46 seconds. On a driving layup, he appeared to appeared to step on the foot of Kelly Olynyk, rolling what was already an injured ankle. He limped to the locker room and spent a few minutes there before returning to the bench, where he sat for the rest of the game.
Houston trailed by as many as 17 points in the first half but surged in the second half on hot shooting from 3-point range. Houston made 25 of 46 3-pointers, good for a season-high 54.3%.
Kevin Porter Jr also had 11 assists. Christian Wood had 31 points and nine rebounds, and Kelly Olynyk added 24 points and 13 rebounds.
Milwaukee's Khris Middleton had 33 points and eight assists and Jrue Holiday had 29 points and 10 assists. Bryn Forbes scored a career-high 30 points off the bench, including 18 in the first half. 
Also Read: Kevin Durant knocks season-high 42 as Nets beat depleted Pacers 130-113