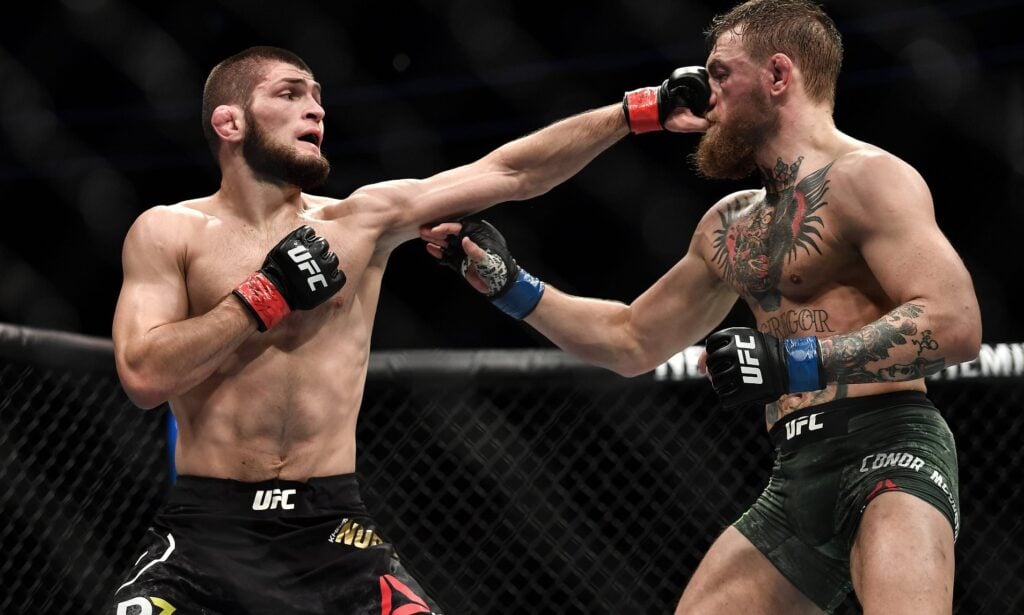 Khabib Nurmagomedov added some amazing fights facts to names which include fighting a Grizzly Bear as a kid, going on a 28-match win streak without any defeat, and dominating the Notorious MMA in Octagon.
Childhood and Early Career
Born on 20 September 1988, Khabib is a Russian mixed martial artist, who competes in several forms like judo, wrestling, sambo, etc. Trained in martial arts from a young age, he developed an interest in the same seeing his father training his students. He is ranked as an International Master of Sports in Army Hand-to-Hand Combat, an International Master of Sports in Pankration, and a World Champion in combat sambo.
However, tasted real fame in UFC where is currently undefeated with 28 wins.
UFC career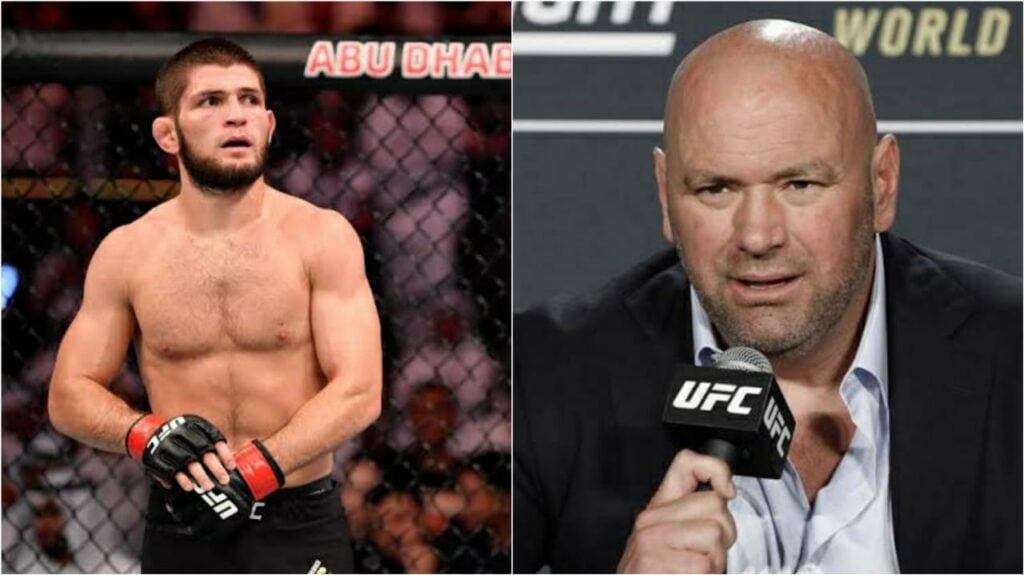 In September 2008, Khabib Nurmagomedov made his debut in MMA. Within a month he secured four wins, of which three were in a day. The following month, he won the inaugural Atrium Cup tournament championship in Moscow.
Entry in UFC
In 2011, he signed a six-fight agreement with The UFC. He entered in the lightweight division.
His debut match was against Kamal Shalorus in early 2012. He won the match in the third round. Other artists whom he has encountered and defeated as part of his UFC matches are Gleison Tibau, Thiago Tavares, Rafael Dos Anjos, Pat Healy, and Abel Trujillo, among several others.
During his match against Abel Trujillo in 2013, he set a new record of 21 successful takedowns from 27 attempts.
Between September 2014 and 2015, he had to cancel several matches due to injuries and ill health. He was affected due to knee and other injuries.
In 2016, he made a comeback with a win against newcomer Darrell Horcher at the UFC. In November that year, he fought against Michael Johnson and won in the third round with a submission.
Nurmagomedov next faced Edson Barboza at UFC 219 on December 30, 2017. Nurmagomedov dominated his opponent in all three rounds of the fight and went on to win by unanimous decision, thereby earning his first Performance of the Night bonus.
On April 7, 2018, Nurmagomedov faced Al Iaquinta at UFC 223. Nurmagomedov was in his top form and he easily defeated Iaquinta and won the fight via unanimous decision to emerge as the UFC Lightweight Champion.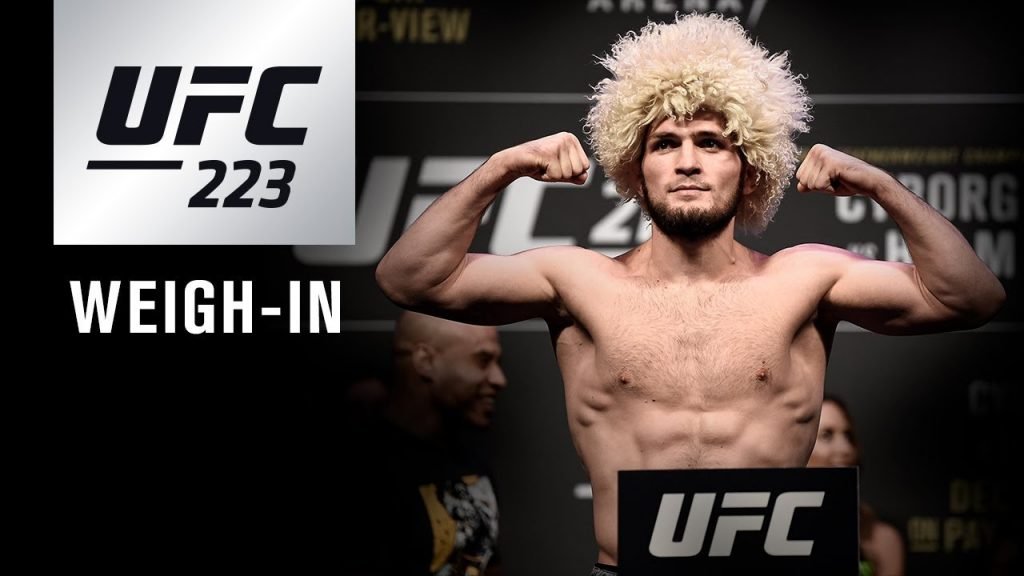 However, the most highlighting point in his career came when he was scheduled to defend his Title against the one and only, Conor McGregor, a fight that was dubbed as the "Greatest Fight in the History of UFC"
Historical Fight
On October 6, 2018, Nurmagomedov defended his UFC lightweight title against Conor McGregor at UFC 229 by defeating McGregor in the fourth round via submission.
This was the pinnacle of success for him. After the fight, both fighters got involved in Ringside brawl and were Suspended by Dana White
He next faced Dustin Poirier and emerged victorious yet again.
Records
Apart from having the longest undefeated winning streak in the history of UFC, he holds many other records.
In 2008, he was the tournament winner of the Pankration Atrium Cup. He won the gold medal at the World Combat Sambo Championships in 2009. The same year he won the selections at the M-1 Challenge. He also got the gold medal at the Russian Combat Sambo Championships organized by Combat Sambo Federation of Russia the same year.
In 2010, he won two awards for Sambo; Gold medal in the World Combat Sambo Championships (82 kg) and a silver medal in World Cup in Combat Sambo (82 kg).
He earned two titles in 2012 for Grappling in 2012. He was the Men's No-Gi Expert Welterweight Champion as well as the ADCC Rules No-Gi Expert Welterweight Champion.
He won the 2013 Staredown of the Year by Fightbooth.com. He was named the 2013 Breakthrough Fighter of the Year by Sherdog.com.
In 2016, he was given the title 'Comeback Fighter of the Year' by Sherdog.com. The same year he won the title International Fighter of the Year at the World MMA Awards.
Khabib Nurmagomedov has the record of most takedowns in a single Ultimate Fighting Championship. His record is 21 takedowns in 27 attempts.
Personal life
Khabib Nurmagomedov got married in 2013. He has not revealed the name of his wife. He has two children, a daughter, who was born in 2015, and a son, who was born in 2017.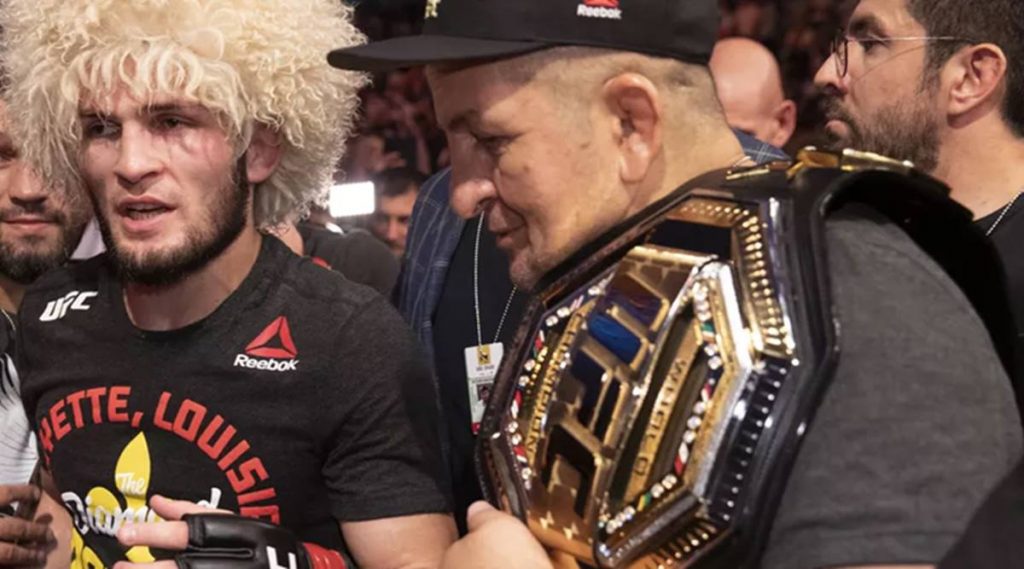 In May 2020, Nurmagomedov's father Abdulmanap was placed in a medically-induced coma after contracting COVID-19 following heart surgery. Abdulmanap died on 3 July 2020 at a clinic in Moscow. The loss of his father is said to have shattered him such extents that his abilities in the ring are said to have been affected.
Also Read :Conor McGregor shows-off his football skills