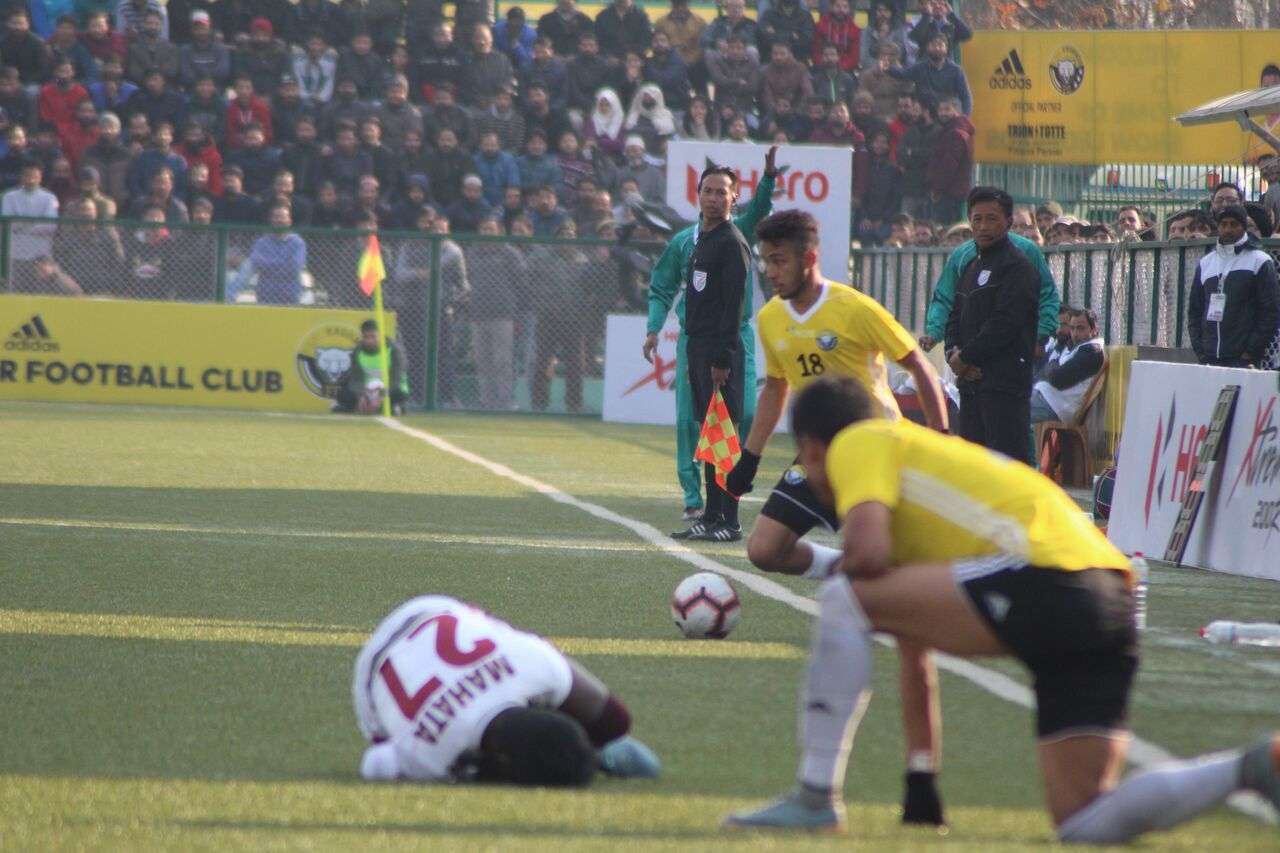 It is almost every Bengali parent's dream to see his son in the colors of Mohun Bagan or East Bengal right from the very first practice their kid attends .Bengal the place that worships football like just any religion.
Abhash Thapa born to a district level player Mr Dhan Singh .The footballing dad has been supportive character to him in his football journey. From being enrolled in a local academy to representing his school in Subroto Cup  ,  Abhash managed to come a long way in short time. At the age of 14 Mohammedan bagged the exciting young prospect where he played as both winger/striker under coach Saeed Anwar.
However it was Bagan (Bagan's SAIL Academy in Durgapur ) who gave him the necessary minutes to Abhash for which he said "Jahar Das was my coach in the first year. It was an U18 team and I was just 14 when I joined. Naturally, I did not get any competitive minutes in my first year. In my second year, I first played for the team in an invitational tournament in Chandigarh as a central midfielder. I was playing in different positions and I learnt a lot." 
In an interview the 21 year old footballer said "Interestingly, I started playing cricket at first. But I lost interest in it soon and enrolled myself in a football academy. Since my father himself was a footballer, he would give me ample freedom to pursue the sport,".
Though it was Brazilian defender Douglas De Silva who saw Thapa's potential as fullback in 2014. It was him who helped Abhash unlock his potential as fullback. To which he said "I think I did well as a full-back. I like to attack and go on the overlap and the position was suiting me very well. But coach thought that I would fit as a midfielder and I once again slotted in at the center of the park." 
Thapa moved from club to club but he was initially signed by Bhowanipore after getting scouted. The youngster showed that he meant business through his discipline and hard work during training sessions .Thapa impressed the officials from Real Kashmir who were on scouting duty. He made seven appearances in the second division and played a key role in Kashmir's elevation/promotion to the I-League .However again playing in the position of a fullback due to injury problems.
Nevertheless he made his awaited debut against Mohun Bagan where he was supposed to man mark his long-time friend Mahata. He described the experience as "Pintu was playing as a right-winger. It was completely out of the world to play against Bagan. I was so charged. Fortunately, I had a good game and Pintu was changed in the first half. Playing in the I-League helped me understand that mentality is the most important thing. You should not bog down to pressure. Loveday (Okechukwu) also guided me a lot."
After successful stints at Kashmir Thapa later joined ISL side Hyderbad however he was not able to capitalize on the given opportunity and was loaned to East Bengal. Where he became a regular figure in the playing 11. Just when he was supposed to make his Bengal derby debut the pandemic stalled the meet between the two sides.
Thapa later added"It is a huge disappointment. It was a dream to play in the Kolkata Derby. Just a day away and the match got called off. Hopefully, sometime in the future, I will be able to play in that match."
Also read: Chelsea 1-0 Norwich City: Chelsea take four points lead ahead of Leicester and Manchester United