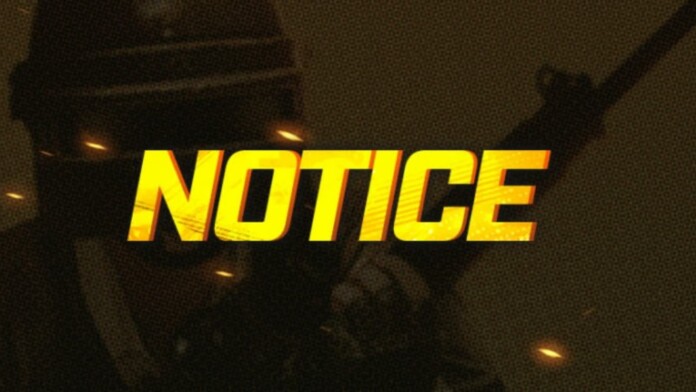 Krafton's Battlegrounds Mobile India is now available for both Android and iOS users. However, various users are facing login problem through twitter, Krafton has addressed the issue of BGMI twitter login.
Battlegrounds Mobile India is a BR game that can be considered an Indian rebrand of PUBG Mobile as it gives the same battle-royale experience which PUBG Mobile gave. However, there are certain features such as the India-centric events which makes it special for Indian users. The game was released on 2nd July, 2021 for Android devices and after much delay, Krafton released BGMI for iOS devices today i.e. 18th August,2021.
Several players of iOS devices were not able to login with their Apple ID as the authentication system of iOS devices was under maintenance. Along with that, players were unable to login through their twitter account and Krafton has addressed regarding the same.
Krafton addresses the issue of BGMI twitter login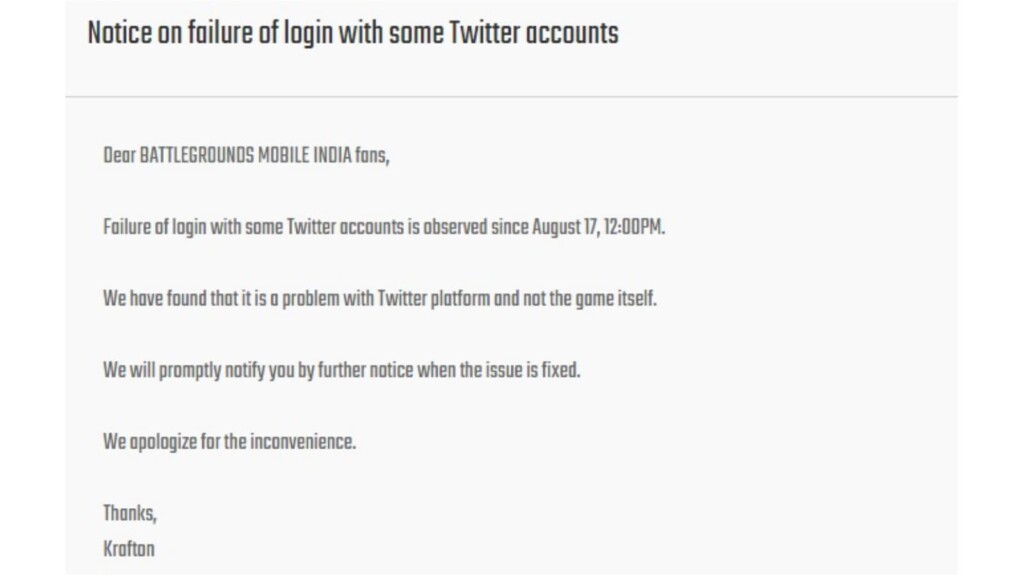 Krafton has posted a notice regarding BGMI twitter login failed issue that they're aware about the fact that many players are facing trouble while logging in with their twitter accounts. It also assures us that they're looking into the issue and trying to fix the issue as soon as possible. BGMI twitter login failed issue has been observed since August 17th,2021 FROM 12:00 PM.
Related: BGMI crosses 50 million downloads: Claim your in-game reward now!
The official post reads as:
Dear BATTLEGROUNDS MOBILE INDIA fans,
Failure of login with some Twitter accounts is observed since August 17, 12:00PM.
We have found that it is a problem with Twitter platform and not the game itself.
We will promptly notify you by further notice when the issue is fixed.
We apologize for the inconvenience.
Thanks,
Krafton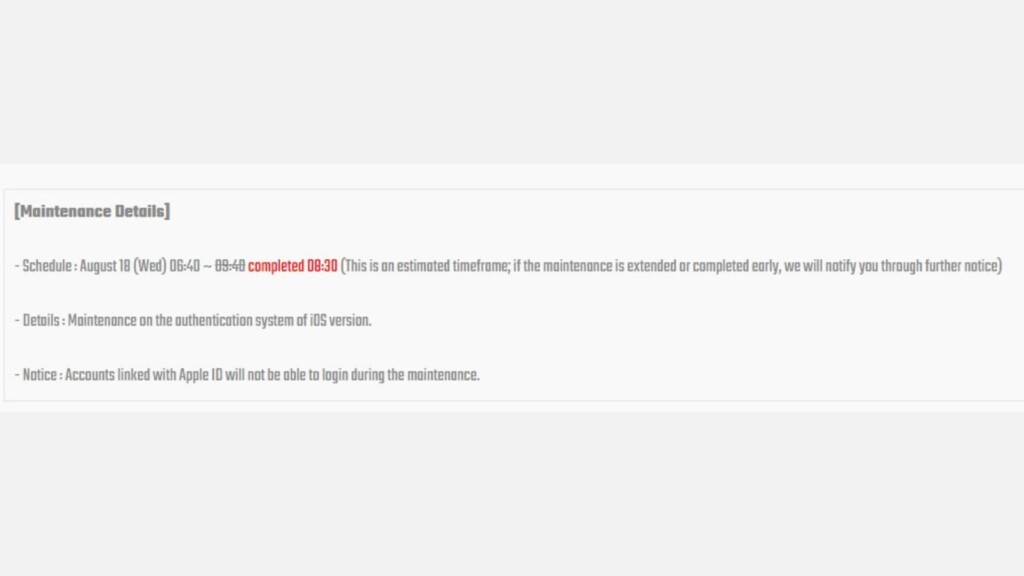 Krafton has also posted the notice on the official Instagram handle of Battlegrounds Mobile India. It is working to fix the issue, until that players can login with their Facebook ID or Google Play Games. Moreover, Krafton recently updated the notice on authentication maintenance for iOS devices stating that the maintenance has been completed at 8:30 AM and iOS users can now login with their Apple ID.
Battlegrounds Mobile India has already completed 50 million downloads on Android devices and players were also given a free permanent Galaxy Messenger Set. Krafton has also claimed that iOS users will be provided with all of the launch rewards as well as 50M downloads rewards. With the game being released for iOS devices, BGMI fans can expect that BGMI India Series 2021 might begin shortly once iOS users start registering for the tournament. BGMI eSports has garnered massive popularity as BGMI Launch Party as well as BGMI Freedom Face-Off received more than 500K peak views.
Also Read: BGMI for iOS: Krafton releases Battlegrounds Mobile India for iOS devices