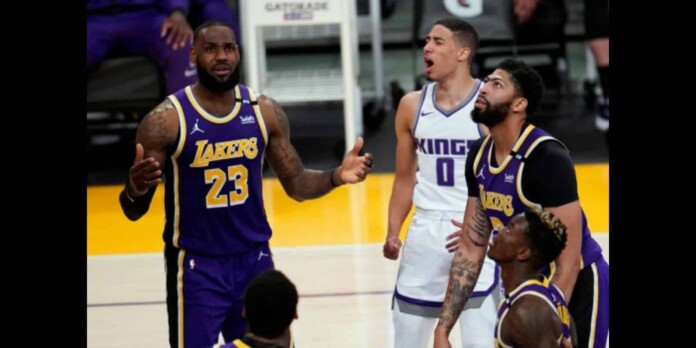 After a rough patch for the Los Angeles Lakers, the team eyed up emerge out with a win today against the Sacramento Kings. The fans were very elated when ESPN revealed yesterday that LeBron James is considering to make his comeback in the game. And so did he, keeping the hopes afloat of every Los Angeles Lakers fan. He made his much awaited return from the high ankle injury but could not save the team from their second straight loss. With seconds to go in the 4th quarter, LeBron James choked on a clutch game winner and was later spotted apologising to Anthony Davis.
A 20-game gap between LeBron James' injury and return represented that his touch might just have fallen loose during the rest period. As the Lakers took on Kings, they were handed a 106-110, 4-point loss. Anthony Davis was the only player with 20+ rebounds on the Laker's squad while adding 11 rebounds. Andre Drummond missed some sitters under the ring initially but later added 17-points adjusting with great pick and rolls from LeBron James. LeBron managed to score 16-points coming the bench. But he had a great impact on the defense along with Anthony Davis swatting a piece each. King's rookie Tyrese Haliburton scored 23 points going aggressive against the best defensive team.
LeBron James chokes on game winner
With just 4 seconds left on the game clock, Kyle Kuzma passed the ball to LeBron James who straight away attempted a three-pointer. As he choked on the game winner Lakers could not get the 1-point lead. Kings gathered and sealed the win. As soon as LeBron James missed the game winner, he was spotted apologising to Anthony Davis. AD was coming to him for a last second screen but LeBron shot the ball right away. While Bron complained that he felt 'tightness; throughout the game, the fans were disappointed. Despite having their main man on the court, they could not manage a win.
These defeats come in testing times for the Los Angeles Lakers as they struggle to maintain their spot in top 6. While LeBron James revealed that he might never be back to 100% form, fans are desperate to see the team improve. This is the time when the team needs to step up and defend their crown. The LeBron AD duo is what people are looking at to contribute to the game.
Also Read: Michael Jordan's rookie year 'AIR Jordan' shoes valued at $110000 in auction house