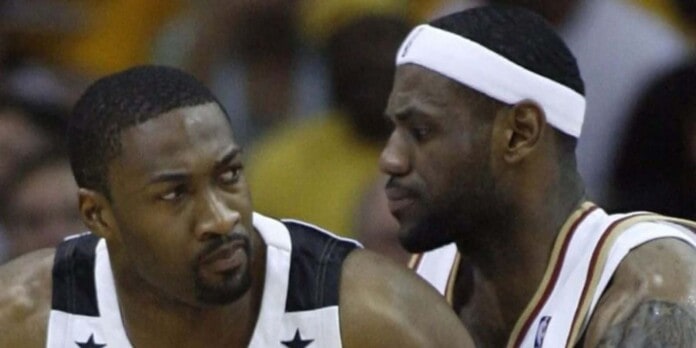 LeBron James has been impacting the NBA since the last 17 years. Starting from his rookie season to 2020-21 season, each one of it has been special. He is arguably the best player of this generation. From being a small forward to a point guard, 'King' James' versatile playing ability has adapted him to pull off some great wins. LeBron James has put out his greatness on offence and defense. His impeccable vision of passing along with incredible scoring ability has made him earn the top spot in Gilbert Arenas top 5 point guard list recently.
LeBron James has developed round the years to every possible position. He can shoot, drive which are the most conventional small-forward jobs. But very recently he has mastered the post up, passing and shooting three-pointer. He has perfected almost every move in the books of the game. Other than that the 'forward-guard' showed his potential as a playmaker. Bron already led the league in assists last year and now is still averaging high numbers. The potential MVP just needs to be back on court to display utter dominance again.
Gilbert Arenas picks LeBron James for top point guard list
LeBron James has high IQ with respect to the game. This one of the reason he drew a lot of attention in the last 5 years. The social media still remembers LeBron James' no-look pass to Ante Zizic back in Cleveland Cavaliers. This is one of many reasons Gilbert Areans has LeBron James as his top point guard in the list. In a recent episode of No Chill podcast, Arenas spoke of his picks. He said, "I'm gonna have LeBron, CP… Curry, Russ, and Dame." While he names his roster, Gilbert Arenas left out Kyrie Irving from this list.
With regard to his picks, he added, "See, that's what I said so like Kyrie is tricky because in this moment in time he is the most skillful offensively. Out of all of them like I mean no matter you know Curry getting his shot off or how Westbrook can just get to the basket at will um gets all the numbers, Dame range, his precision, his deadly you know mindset at the end of the game. Kyrie is just a whole different breed."
Arenas added, "It's really hard because it's you can't keep him out of the top five at all you I mean it just like when it comes to guards, he is the guard you know I mean he is the guard. The only reason that if you do leave them off, you're only leaving them off because Chris Paul is still here and LeBron is still here sitting on 16 years and 18 years you know what I mean so you got to give the respect still to those guys who put in that work and they're still here so they're still relevant to the game." Gilbert Arenas made some valid points with respect to LeBron James and his importance as a point guard.
Also Read: "Impactful on both sides": Former NBA Champion BJ Armstrong chooses Giannis Antetokounmpo over LeBron James and Kevin Durant