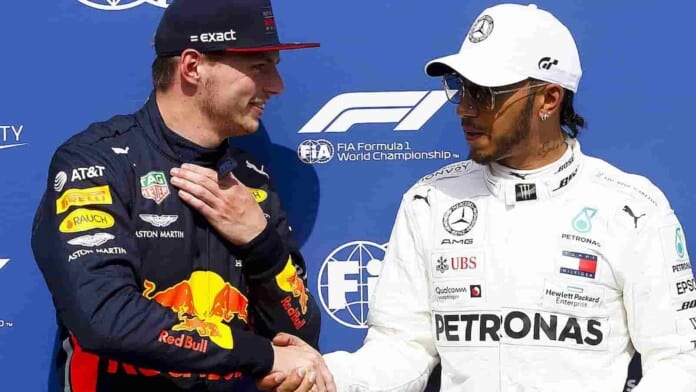 Lewis Hamilton claimed the second win of his season at the Portugal GP, as he finished P1 on Sunday. Max Verstappen, another championship protagonist finished P2 in Portugal, and is now eight points behind Hamilton.
Max Verstappen has made a few errors this season, which has cost him some crucial points. He made an illegal move on Lewis Hamilton at Bahrain GP, overtaking him outside the track. As a result, he finished P2, despite starting from the pole position. He also made a mistake at Portimao, as he chased down Valtteri Bottas, which put Lewis Hamilton in DRS territory.
Jolyon Palmer, F1 pundit believes that a few errors from Verstappen were punished, whereas, Lewis Hamilton's error at Imola GP went unpunished.
On the BBC's Chequered Flag podcast, Palmer said: "We're talking three errors for Verstappen this weekend – the qualifying one, tiny error, punished; the one behind Bottas, again small error that was punished." "Is Hamilton more experienced, is he making fewer errors? The guy crashed it into the wall at Imola!," he added.
Lewis Hamilton has made a far costlier mistake: Palmer
Palmer believes that Lewis Hamilton was luck enough to escape at the Imola GP, where he finished P2. The Briton lost control of his car, and lost some precious time. However, Valtteri Bottas and George Russell had a huge collision, due to which a red flag was shown. As a result, Hamilton had an opportunity to regain his place, and made an impressive recovery drive.
"He has made a far bigger, and should have been far costlier, mistake than all of the mistakes Verstappen made [in Portugal] put together, but circumstance got him back to second place – and a great recovery drive thereafter the red flag," said Palmer.
"But without Bottas and Russell crashing in the manner they did, there's not a Safety Car, there's not a red flag at the perfect time that Hamilton can basically restart the race from ninth place rather than being ninth plus a pit-stop and, by the way, a lap down," he continued.
"Hamilton is making very few errors overall, but he has also made a big one this year that should have cost him a lot more than six points in the end to Verstappen at Imola," the pundit concluded.
Also Read: "Lando Norris right up there with Hamilton, Verstappen and Leclerc," claims F1 pundit