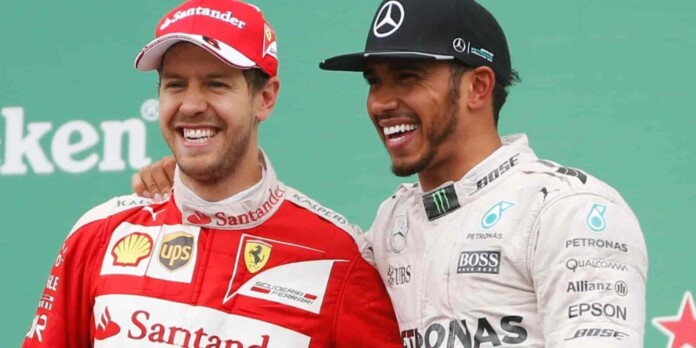 Sebastian Vettel dominated the grid from 2010 to 2013 when he won 4 consecutive championships. Before Lewis Hamilton lashed onto his dominance and emerged even more superior. Having said that, one can definitely say that they've enjoyed a monumental career in F1 so far.
Almost 15 years have gone by, and the two drivers are still a part of the F1 grid. What's more, the duo has delivered a handful of nail-biting battles against each other, with some turning ugly and threatening to intensify their rivalry as well. Vettel and Hamilton have managed to sustain their healthy off-track relationship, which has further bolstered in the past couple of seasons.
What passion do Sebastian Vettel and Lewis Hamilton share in common?
Speaking to The Guardian, Sebastian Vettel opened up about his relationship with his long-term racing colleague, Lewis Hamilton.
"Me and Lewis will always have that history. We have a common passion that connects us," Vettel said. "Why am I doing it? Because I love it (racing)," he added. "Because I still want to prove to myself that I can do what I want to do, what I used to do, and in a way that I am happy with."
It has been a tough start for Vettel and his newly formed team, Aston Martin, so far. Considering how their rivals have improvised from last season, things are looking tough for the British team to make a comeback. But, despite such negatives haunting the team's future, Sebastian Vettel is still keeping his eye on the title.
"In the big picture the target is quite clear," Vettel said. "I want to be at the front of the grid. Because I have been there so many times and I have learned to enjoy it."
The British Team will have one golden opportunity heading toward them, which could potentially decide their fate in F1. They need to build a competitive car for the 2022 season, which will witness one of the biggest regulation changes in the sport's history. 
Also Read: Daniel Ricciardo explains why have McLaren been struggling