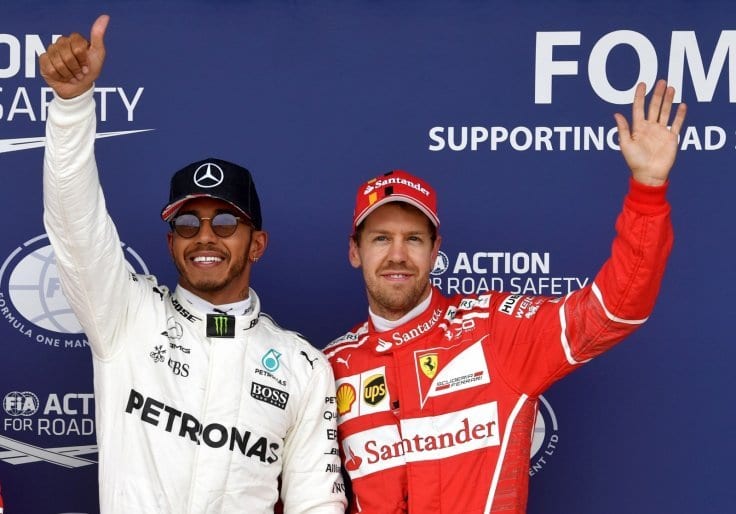 It is not an unknown fact to any F1 fan, that Lewis Hamilton and Sebastian Vettel's rivalry is surely one of the best ever seen in the 21st century. While more often than not the Silver Arrows driver came out on top, Vettel ensured that he is not far behind. In a recent conference, Lewis Hamilton opened up about his toughest battle in the F1 to date.
The 7-time World Champion mentioned, Sebastian Vettel as his toughest companion till date to challenge for the title. Racing for rival teams, Hamilton mentioned that the pressure was immense racing against Sebastian Vettel in a Ferrari.
Lewis Hamilton reckons battle with Sebastian Vettel as the toughest 
During the press conference in Imola ahead of the race weekend, Lewis Hamilton revealed how hard it was to race against Vettel during the latter's phase with Ferrari.
"I think it is just knowing how hard it is to be where we are today, knowing that I was racing against an incredible driver, and not only that but a great man in Sebastian Vettel," Lewis Hamilton said. "He's a four-time world champion.
"And we were racing against another team. He was at Ferrari, who were very strong at that time. So, it took a lot out of both of us in that period of time, to remain focused, to deliver weekend in weekend out."
Although Vettel's period with Ferrari dates back to 2015, the German started showing his true pace from the 2017 season. By the end of that season, just 46 points separated Vettel from Hamilton.
"And whilst it was a difficult period for us, it brought us closer as well. Because the respect that we have between us is huge," Lewis Hamilton said.
While it has been a consistent phase for Hamilton, with race wins and ultimately the championship wins, it hasn't been a journey as easy for Vettel.
Also Read: Nico Rosberg unloaded 'Every Political Weapon' to beat Lewis Hamilton at…