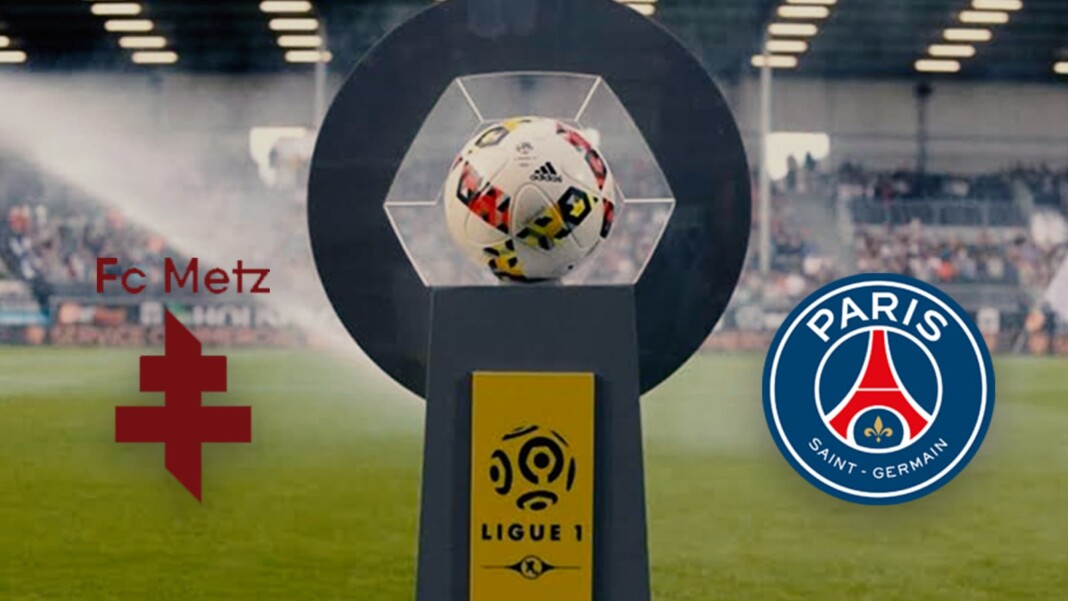 Riding on the brace form Achraf Hakimi, Paris Saint-Germain retain their top spot in the Ligue 1 while Metz only managed to get a single goal from Boubakar Koyote.
Let us have a brief look at how each of the two teams performed:
Metz
Alexandre Oukidja (GK) (7/10): Oukidja made crucial saves across the entirety of the 90 minutes but was not good enough.
Matthieu Udol (7/10): Udol supported his team in the attack but was pretty ordinary when it came to defending.
Boubakar Kouyate (8/10): Kouyate scored the equaliser with a header from a corner. He was a constant aerial threat for PSG and also a rock at the back.
Dylan Bronn (7/10): The captain had a decent game and never allowed the PSG strikers to dominate the Metz defence.
Fabien Centonze (6/10): Centonze struggled to support his side in attack and was mostly restricted to his own half.
Papa Yade (6/10): Yade made some darting runs into the attack against PSG but was never threatening enough.
Vincent Pajot (6/10): Pajot did create some openings but was not on top form throughout the game and could have done better.
Digbo Maiga (6/10): Maiga played some key balls but never looked comfortable and strong enough to counter PSG's defensive midfield.
Pape Sarr (6/10): Pape Sarr made some decent runs with his pace but failed to keep the goalkeeper in check.
Lamine Gueye (6/10): Gueye was on par with the other Metz midfielders in the central areas and did do well on the defensive front.
Ibrahima Niane (6/10): Ibrahima was stranded in the PSG box for large parts of the game and was not of much use to the home side.
Substitutes
Sikou Nikate (6/10): Nikate was much more aggressive than his counterpart and effective in the final few minutes against PSG.
Boubacar Traore (NA)
Nicolas de Preville (6/10): Preville was upfront as the primary striker but did not play much role in the same.
Farid Boulaya (6/10): Boulaya did not have much of an impact on the result of the game. 
Paris Saint-Germain
Keylor Navas (GK) (8/10): Navas made some key saves to keep Metz at bay when the Paris Saint-Germain defence was outfoxed several times.
Achraf Hakimi (10/10): Hakimi had the perfect game. He scored both the games for his side dispute being a full back. Hakimi also was defensively solid and never allowed Metz to dominate the right flank.
Marquinhos (8/10): The captain was a tall and towering presence which kept Metz at bay.
Presnel Kimpembe (7/10): Kimpembe made some crucial interceptions for Paris Saint-Germain but was often slow to react to certain Metz moves.
Nuno Mendes (6/10): Mendez made some darting runs down the wings but never looked dominant enough in the game.
Rafinha Alacantara (6/10): Rafinha created some openings for his side but was mostly subdued.
Danilo Pereira (6/10): Pereira created a number of opportunities for Paris Saint-Germain throughout the second half but never managed to dominate the home side.
Georginio Wijnaldum (7/10): Wijnaldum had a decent number of attempts at goal and was a very involved figure in the midfield against Metz.
Kylian Mbappe (7/10): Mbappe did his usual dazzling runs but failed to create anything substantive with his pace.
Mauro Icardi (7/10): Icardi was a constant threat for Metz and kept knocking the doors of the home side with his quick runs with the ball and sudden attempts at goal.
Neymar (7/10): Neymar had a dynamic presence on the field but it was never out of the extraordinary.
Substitutes
Ander Herrera (6/10): Herrera replaced Rafinha and it was nothing special at all except some extravagant moves with the ball.
Angel di Maria (6/10): Di Maria made some darting runs and had a decent second-half.
Julian Draxler (N/A)
ALSO READ | La Liga: Sevilla vs Valencia Player ratings as Sevilla triumph over Valencia with a 3-1 win