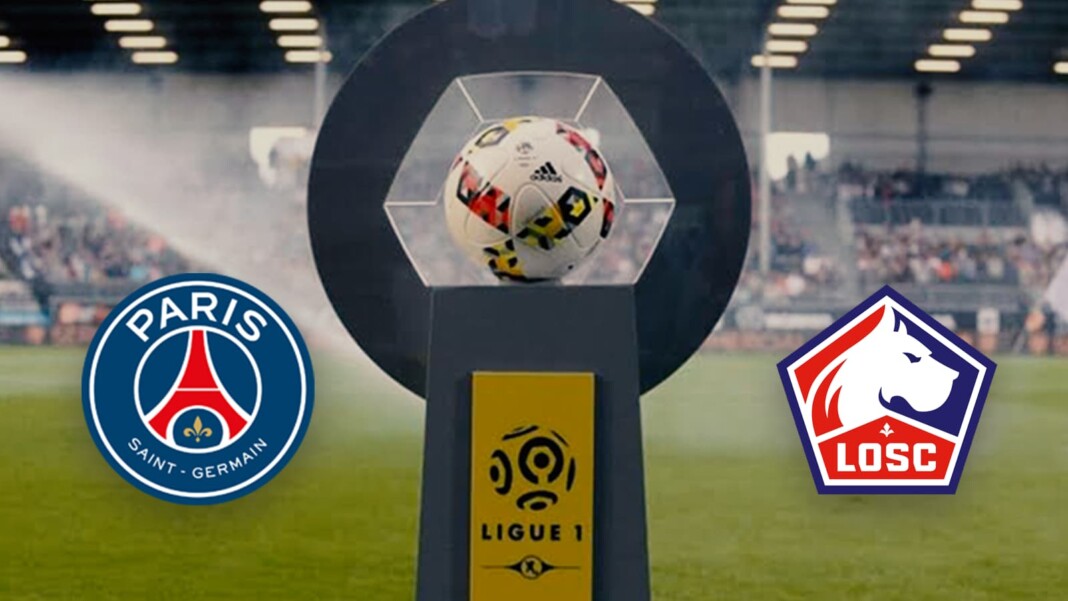 Parc des Princes witnessed a wonderful and rather thrilling encounter against Lille and PSG. The two teams took ground at the home turf to PSG and it certainly did work in the favour of the home side.
It was Jonathan David who scored the opening goal for Lille in the match in the 31st minute. However, PSG kept applying pressure ball after ball and they were soon rewarded for their hardwork as Marquinhos recieved a brilliant assist from Di Maria in to bring in the equaliser.
It was later doubled by the late goalscorer, Angel Di Maria who helped PSG bag a crucial win and also to hold their position on top of the league's table. With that, let's look at how the players performed :
PSG
Gianluigi Donnarumma (GK) (6.8/10) : Donnarumma had a standard game as he made a few good standard saves and a couple of saves from inside the box.
Thilo Kehrer (6.4/10) : Just the 65 minutes of gameplay for Thilo Kehrer. He made a good impression with tackles and passing but his performance wasn't impactful.
Marquinhos (7.9/10) : Marquinhos recieved a lovely cross from the byline into the middle where he remains completely unmarked and he fires into the roof of the net first-time and brings in the equaliser for PSG.
Presnel Kimpembe (6.7/10) : Kimpembe did a fine job at defending today. He made some really valuable interceptions and tackles while also being exceptional with his passing accuracy. He himself had an eye at the goal but went off target.
Juan Bernat (6.5/10) : A gentle and a normal performance by Juan. He did a commendable job at with his passing but his performance wasn't impactful overall for PSG.
Georginio Wijnaldum (7/10) : Wijnaldum created a huge opportunity for PSG which was handled and taken care of with experience and comfort. He had an excellent passing accuracy of 93%.
Danilo Pereira (7.2/10) : Danilo made some valuable clearences and also when it came to sending in the long balls, Danilo was quite a magician with his long ball passing accuracy. He aslo had a shot at goal but was way off target.
Idrissa Gueye (7/10) : Idrissa's passing was as good as 93% accuracy but he was out there and didn't hesitate to bring in the ground duels which he won almost after every attempt.
Ángel Di María (8.7/10) : At first, Di Maria put a lovely ball into the middle to help Marquinhos get the equaliser. Later he went on to score the winning goal by finishing it neatly in the back of the net, courtesy of Neymar's brilliant assit.
Lionel Messi (6.6/10) : Just the 45 minutes of gameplay for the Argentine Professional. In those 45 minutes, he had two shots at goal but he was way off target. A decent over-all game for the star player.
Neymar Jr (7.7/10) : Neymar awarded a beautiful assist to his brother, Angel Di Maria who then converted it into fantastic winning goal for PSG. However, Neymar himself had an on target attempt at goal but nothing good came out of it.
Substitutes
Mauro Icardi (6.6/10) : In his short stint out there in a middle, Icardi received a massive opportunity at goal but he went off target to begin with.
Nuno Mendes (N/A)
Julian Draxler (N/A)
Ander Herrera (N/A)
Colin Dagba (N/A)
Lille
Ivo Grbić (GK) (6.8/10) : A rather decent game for Ivo. Made a couple of really good saves and proved to come in really handy for Lille but couldn't hold on to his nerves to win or draw the game.
Mehmet Zeki Çelik (6.7/10) : Mehmet has been excellent with his pace and quick feet. He has proved ro be very lethal at winning ground duels and also winning tackles over the PSG players.
José Fonte (6.8/10) : The captain made as many six clearences and did a fine job at defending. He also won a couple of interceptions and had a good game all in all.
Tiago Djaló (6.5/10) : A below average performance by Tiago. He knows all the right things to do but hasn't been able to unleash the best player inside him.
Reinildo Mandava (6.6/10) : Mandava did an amazing job at winning tackle battles but he failed at capitalising wins in ground duels as he just won 6 out of 12 duels that he attempted.
Nanitamo Ikone (6.7/10) : Ikone had a huge opportunity at goal and could've changed things for Lille but he went off target on attempt. He also attempted ground duels but luck didn't favour him a lot over there.
Xeka (6.8/10) : One of the most busiest Lille players on the field was Xeka. He made as many as four crucial interceptions will also winning as many as 7 tackles and courtesy of his face paced feet, dribbling past comfortably.
Renato Sanches (7.7/10) : Renato was the star playe for Lille in the match. He was spot on with his long ball passing and among 15 ground duels, he won 11 of those. He also did an outstanding job at winning as many as seven tackle scenarios.
Jonathan Bamba (6.1/10) : A poor performance by Jonathan Bamba. He failed miserably to put an impact but rather kept on losing possesion.
Jonathan David (/10) : David recievds a brilliant assist in the middle from the edge of the box and he brilliantly fired it over Donnarumma to grant Lille the lead. The scoreline read 1-0 by the 31st minute, in favour of Lille.
Burak Yılmaz (7/10) : Yılmaz provided a magnificent assist in the opening goal of the match to hand the lead to Lille. Apart from that, Burak had a shot himself at goal and despite being on target, his attempt was denied.
Substitutes
Timothy Weah (N/A)
Yusuf Yazizi (N/A)
Amadou Onana (N/A)
ALSO READ | Ole Gunnar Solskjaer urges Manchester United to take inspiration from Tyson Fury after 5-0 defeat against Liverpool