Garena Free Fire frequently updates the game and adds new items to the game. The addition of Characters is one of their best additions of the game which are unique and they possess special skills & abilities that aid players to achieve a Booyah. A solid combination of some characters gives any player the upper hand in most difficult times over the opponents and that leads to a win for the whole squad. There are a total of 34 characters in the game both Female and Male characters. Here are the details of Free Fire female characters in the game.
Let us take a look at all the Female characters in Free Fire with their abilities in this article.
There are a total of 34 characters in Garena Free Fire, out of which 15 are Female characters and 19 are male characters.
List of all Free Fire Female characters:
Dasha (Prankster and rebel)
Kelly (Sprinter)
Moco (Outstanding Hacker)
Steffie (Pro graffiti artist)
Misha (Talented Racer)
Caroline ( Kelly Best Friend)
Laura (Special Agent)
Clu (Private Detective)
Paloma (Arms queen of Underworld)
Nikita (Bodyguard)
Kapella (Pop singer and star)
Notora (Motorcycle gang member)
A124 (Modern Technology)
Olivia (Nurse brings happiness and care)
Shani (engineer at Junkyard)
Click here to visit the official website of Free Fire
1. Dasha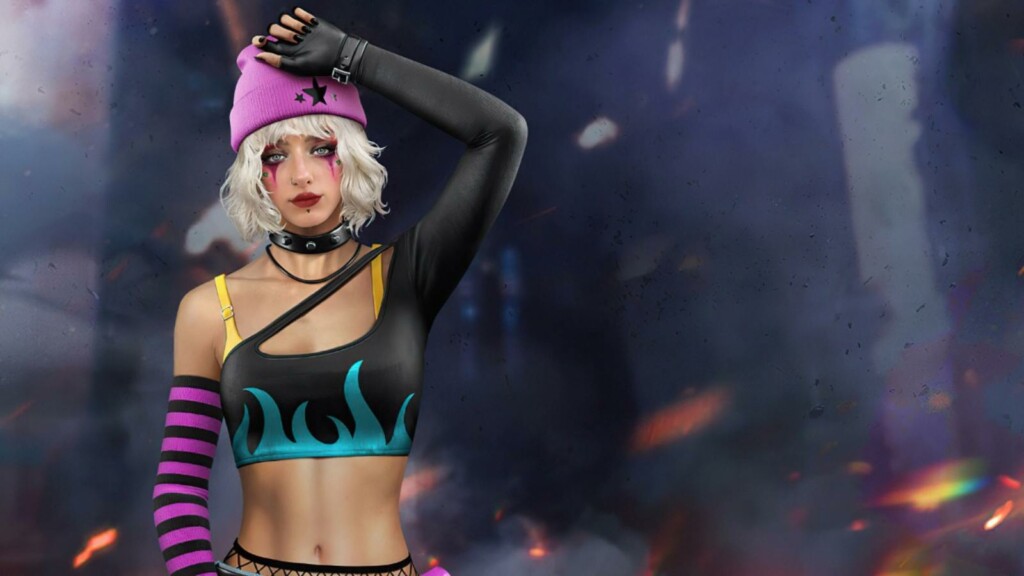 Ability: Partying On
Sex: female
Age: 25
Birthday: Dec 08th
| | |
| --- | --- |
| Level | Description |
| Level 1 | Reduce damage taken from falls by 30%. Reduce recover time from falls by 60%. Reduce the rate of recoil buildup by 6%. Reduce maximum recoil by 6%. |
| Level 2 | Reduce damage taken from falls by 32%. Reduce recover time from falls by 62%. Reduce the rate of recoil buildup by 6.4%. Reduce maximum recoil by 6.4%. |
| Level 3 | Reduce damage taken from falls by 35%. Reduce recover time from falls by 65%. Reduce the rate of recoil buildup by 7%. Reduce maximum recoil by 7%. Summon airdrop play card |
| Level 4 | Reduce damage taken from falls by 39%. Reduce recover time from falls by 69%. Reduce the rate of recoil buildup by 7.8%. Reduce maximum recoil by 7.8%. |
| Level 5 | Reduce damage taken from falls by 44%. Reduce recover time from falls by 74%. Reduce the rate of recoil buildup by 8.8%. Reduce maximum recoil by 8.8%. |
| Level 6 | Reduce damage taken from falls by 50%. Reduce recover time from falls by 80%. Reduce the rate of recoil buildup by 10%. Reduce maximum recoil by 10%. Dasha's Banner |
2. Kelly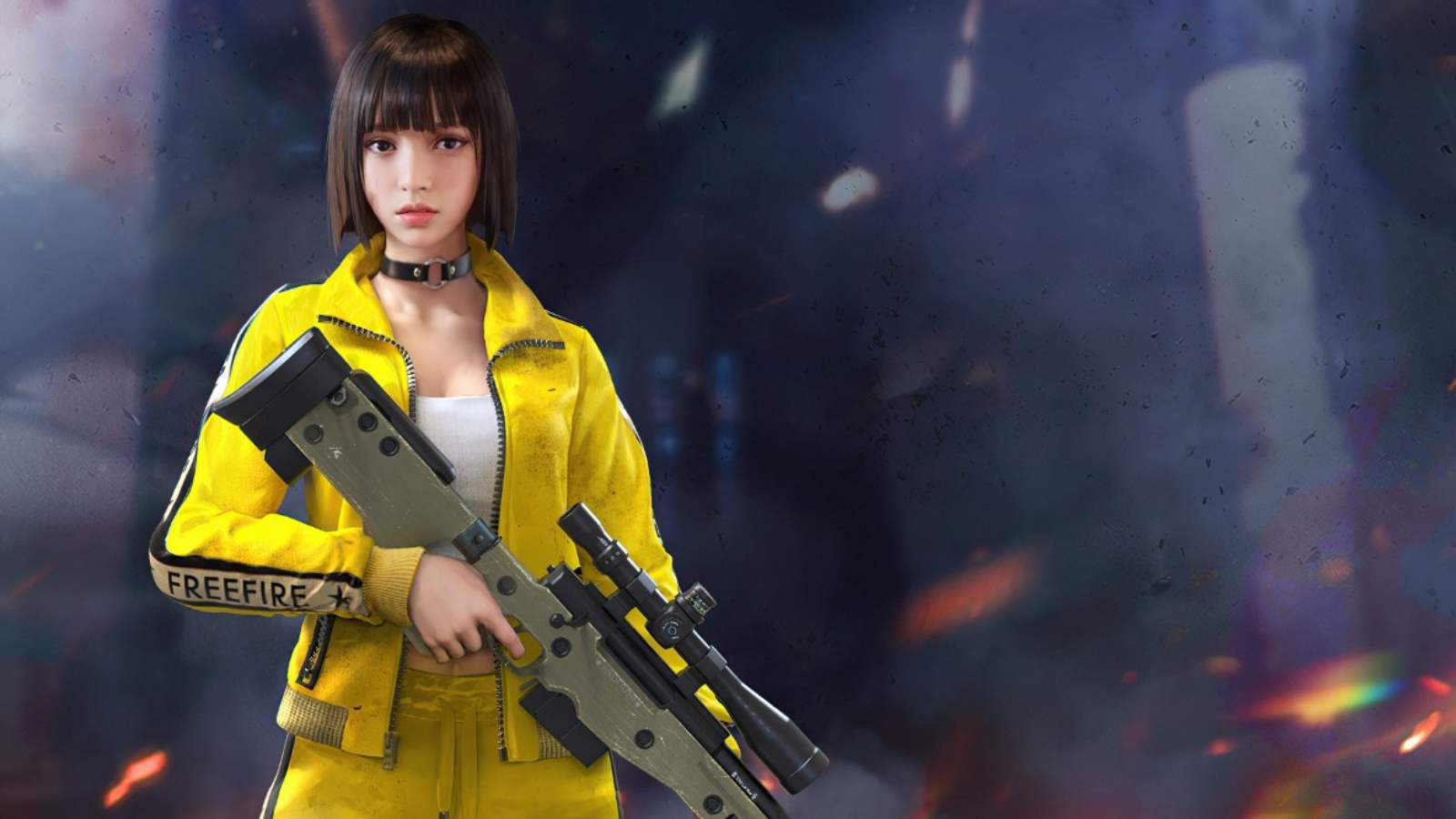 Ability: Dash
Sex: female
Age: 17
Birthday: Apr 01st
| | |
| --- | --- |
| Level | Description |
| Level 1 | Sprinting speed increased by 1%. |
| Level 2 | Sprinting speed increased by 2%. |
| Level 3 | Sprinting speed increased by 3%. Unlocks Training Set |
| Level 4 | Sprinting speed increased by 4%. |
| Level 5 | Sprinting speed increased by 5%. |
| Level 6 | Sprinting speed increased by 6%. Kelly's Achievement |
3. Moco
Ability: Hacker's Eye
Sex: female
Age: 20
Birthday: Feb 13th
| | |
| --- | --- |
| Level | Description |
| Level 1 | Tag the enemies that Moco shot for 2 seconds. |
| Level 2 | Tag the enemies that Moco shot for 2.5 seconds. |
| Level 3 | Tag the enemies that Moco shot for 3 seconds. Moco's Hacker Jacket |
| Level 4 | Tag the enemies that Moco shot for 3.5 seconds. |
| Level 5 | Tag the enemies that Moco shot for 4 seconds. |
| Level 6 | Tag the enemies that Moco shot for 5 seconds. Banner Moco |
4. Steffie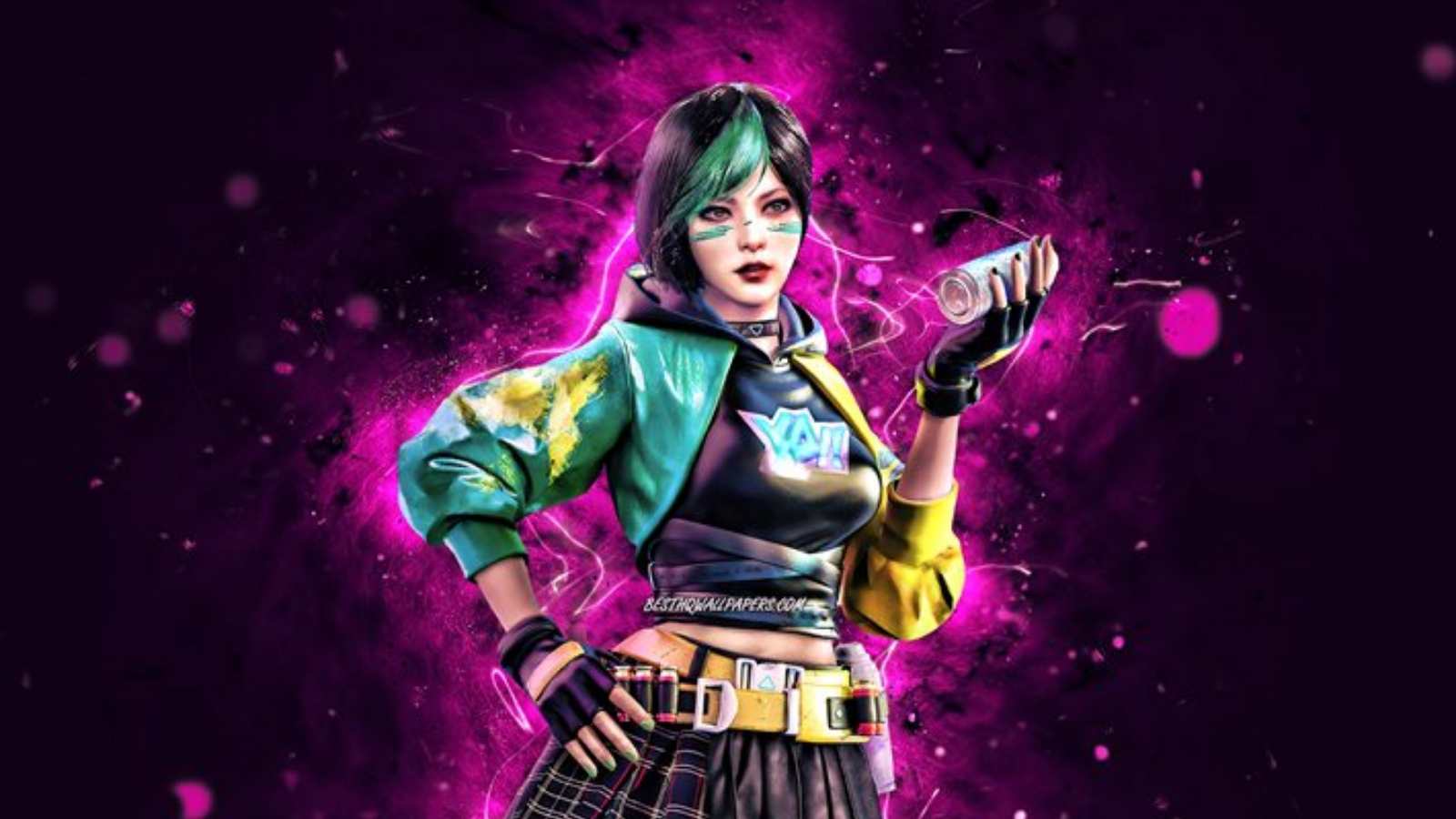 Ability: Graffiti's Blessing
Sex: female
Age: 23
Birthday: Mar 22nd
| | |
| --- | --- |
| Level | Description |
| Level 1 | Create graffiti that reduces explosive damage by 15% and bullet damage by 5% for 5 seconds. CD 45s. Effects do not stack. |
| Level 2 | Create graffiti that reduces explosive damage by 17% and bullet damage by 5% for 6 seconds. CD 45s. Effects do not stack. |
| Level 3 | Create graffiti that reduces explosive damage by 19% and bullet damage by 5% for 7 seconds. CD 45s. Effects do not stack. Summon airdrop play card |
| Level 4 | Create graffiti that reduces explosive damage by 21% and bullet damage by 5% for 8 seconds. CD 45s. Effects do not stack. |
| Level 5 | Create graffiti that reduces explosive damage by 23% and bullet damage by 5% for 9 seconds. CD 45s. Effects do not stack. |
| Level 6 | Create graffiti that reduces explosive damage by 25% and bullet damage by 5% for 10 seconds. CD 45s. Effects do not stack. Steffie's Banner |
5. Misha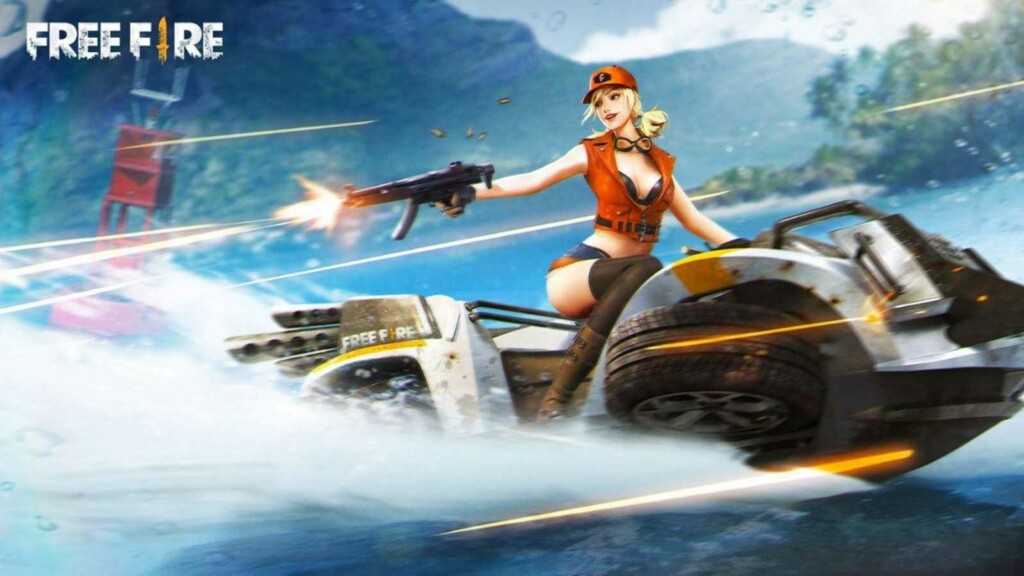 Ability: Afterburner
Sex: female
Age: 19
Birthday: Jul 26th
| | |
| --- | --- |
| Level | Description |
| Level 1 | Driving speed increased by 5%, damage taken while in a vehicle decreased by 5%. Harder to be targeted at while driving. |
| Level 2 | Driving speed increased by 6%, damage taken while in a vehicle decreased by 8%. Harder to be targeted at while driving. |
| Level 3 | Driving speed increased by 8%, damage taken while in a vehicle decreased by 12%. Harder to be targeted at while driving. Misha's Racequeen Set. |
| Level 4 | Driving speed increased by 11%, damage taken while in a vehicle decreased by 17%. Harder to be targeted at while driving. |
| Level 5 | Driving speed increased by 15%, damage taken while in a vehicle decreased by 23%. Harder to be targeted at while driving. |
| Level 6 | Driving speed increased by 20%, damage taken while in a vehicle decreased by 30%. Harder to be targeted at while driving. Misha's Achievement |
6. Caroline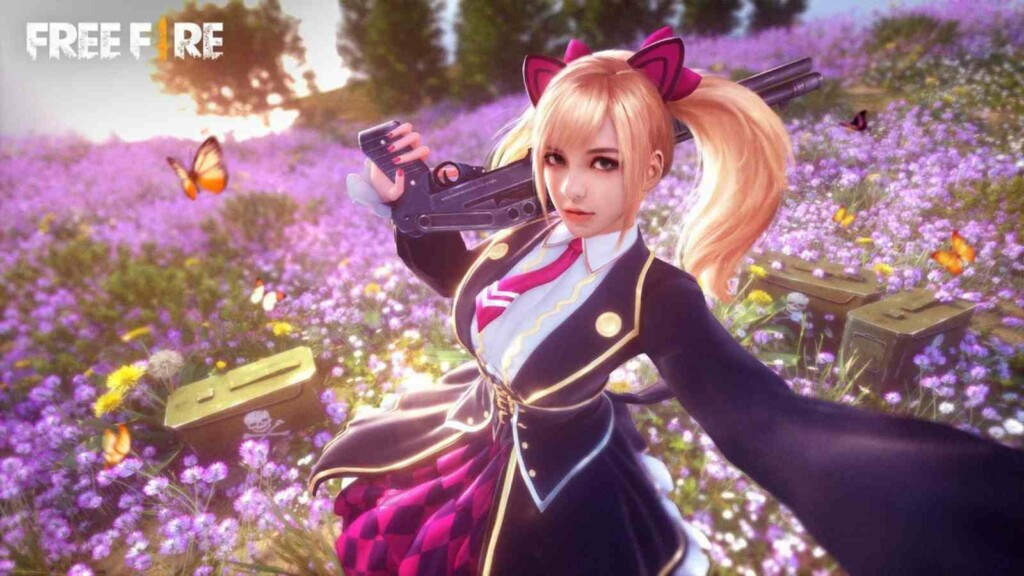 Ability: Agility
Sex: female
Age: 17
Birthday: Oct 10th
| | |
| --- | --- |
| Level | Description |
| Level 1 | When holding a shotgun, movement speed is increased by 3%. |
| Level 2 | When holding a shotgun, movement speed is increased by 4%. |
| Level 3 | When holding a shotgun, movement speed is increased by 5%. Caroline's Fan Club Jacket |
| Level 4 | When holding a shotgun, movement speed is increased by 6%. |
| Level 5 | When holding a shotgun, movement speed is increased by 7%. |
| Level 6 | When holding a shotgun, movement speed is increased by 8%. Caroline's Grace |
7. Laura
Ability: Sharp Shooter
Sex: female
Age: 24
Birthday: May 21st
| | |
| --- | --- |
| Level | Description |
| Level 1 | Accuracy increased by 10% while scoped in. |
| Level 2 | Accuracy increased by 14% while scoped in. |
| Level 3 | Accuracy increased by 18% while scoped in. Agent's Windbreaker |
| Level 4 | Accuracy increased by 22% while scoped in. |
| Level 5 | Accuracy increased by 26% while scoped in. |
| Level 6 | Accuracy increased by 30% while scoped in. Special Agent Banner |
8. Clu
Ability: Tracing Steps
Sex: female
Age: 24
Birthday: Feb 28th
| | |
| --- | --- |
| Level | Description |
| Level 1 | Locate positions of enemies within 30m who are not in a prone or squat position. Lasts for 5s, CD 50s. Teammates share skill effects afters level 4. |
| Level 2 | Locate positions of enemies within 35m who are not in the prone or squat position. Lasts for 5.5s, CD 50s. Teammates share skill effects afters level 4. |
| Level 3 | Locate positions of enemies within 40m who are not in a prone or squat position. Lasts for 6s, CD 50s. Teammates share skill effects afters level 4. Summon airdrop play card |
| Level 4 | Locate positions of enemies within 40m who are not in a prone or squat position. Lasts for 6s, CD 50s. Teammates share skill effects. |
| Level 5 | Locate positions of enemies within 45m who are not in a prone or squat position. Lasts for 6.5s, CD 50s. Teammates share skill effects. |
| Level 6 | Locate positions of enemies within 50m who are not in the prone or squat position. Lasts for 7s, CD 50s. Teammates share skill effects. Clu's Banner |
9. Paloma 
Ability: Arms-Dealing
Sex: female
Age: 28
Birthday: Aug 04th
| | |
| --- | --- |
| Level | Description |
| Level 1 | 30 AR ammo will not take up inventory space. |
| Level 2 | 60 AR ammo will not take up inventory space. |
| Level 3 | 90 AR ammo will not take up inventory space. Paloma's special set |
| Level 4 | 120 AR ammo will not take up inventory space. |
| Level 5 | 150 AR ammo will not take up inventory space. |
| Level 6 | 180 AR ammo will not take up inventory space. The avatar of Paloma, the arms queen. |
10. Nikita
Ability: Firearms Expert
Sex: female
Age: 22
Birthday: Nov 11th
| | |
| --- | --- |
| Level | Description |
| Level 1 | The submachine gun reloads faster by 4%. |
| Level 2 | The Submachine gun reloads faster by 8% |
| Level 3 | The submachine gun reloads faster by 12%. Nikita's Bodyguard Set |
| Level 4 | The submachine gun reloads faster by 16%. |
| Level 5 | The submachine gun reloads faster by 20%. |
| Level 6 | The submachine gun reloads faster by 24%. Nikita's Achievement |
11. Kapella
Ability: Healing Song
Sex: female
Age: 21
Birthday: Jul 17th
| | |
| --- | --- |
| Level | Description |
| Level 1 | Increase effects of healing items by 10% and healing skills by 10%. Reduce ally HP loss when downed by 20%. Effects do not stack. |
| Level 2 | Increase effects of healing items by 12% and healing skills by 10%. Reduce ally HP loss when downed by 22%. Effects do not stack. |
| Level 3 | Increase effects of healing items by 14% and healing skills by 10%. Reduce ally HP loss when downed by 24%. Effects do not stack. Summon airdrop play card |
| Level 4 | Increase effects of healing items by 16% and healing skills by 10%. Reduce ally HP loss when downed by 26%. Effects do not stack. |
| Level 5 | Increase effects of healing items by 18% and healing skills by 10%. Reduce ally HP loss when downed by 28%. Effects do not stack. |
| Level 6 | Increase effects of healing items by 20% and healing skills by 10%. Reduce ally HP loss when downed by 30%. Effects do not stack. Kapella's Banner |
12. Notora
Ability: Racer's Blessing
Sex: female
Age: 27
Birthday: Mar 22nd
| | |
| --- | --- |
| Level | Description |
| Level 1 | When driving a vehicle, restore the HP of all members on the vehicle by 5 HP every 4.5s. Effects do not stack. |
| Level 2 | When driving a vehicle, restore HP of all members on the vehicle by 5 HP every 4s. Effects do not stack. |
| Level 3 | When driving a vehicle, restore HP of all members on the vehicle by 5 HP every 3.5 s. Effects do not stack. Summon airdrop play card |
| Level 4 | When driving a vehicle, restore HP of all members on the vehicle by 5 HP every 3s. Effects do not stack. |
| Level 5 | When driving a vehicle, restore HP of all members on the vehicle by 5 HP every 2.5 s. Effects do not stack. |
| Level 6 | When driving a vehicle, restore HP of all members on the vehicle by 5 HP every 2 s. Effects do not stack. Notora's Banner |
13. A124
Ability: Thrill of Battle
Sex: female
Age: 18
Birthday: Jan 01st
| | |
| --- | --- |
| Level | Description |
| Level 1 | Quickly convert 20 EP into HP in 4s. CD 10s |
| Level 2 | Quickly convert 26 EP into HP in 4s, CD 10s. |
| Level 3 | Quickly convert 33 EP into HP in 4s, CD 10s. AI Jacket |
| Level 4 | Quickly convert 41 EP into HP in 4s, CD 10s. |
| Level 5 | Quickly convert 50 EP into HP in 4s, CD 10s. |
| Level 6 | Quickly convert 60 EP into HP in 4s, CD 10s. A124's Banner |
14. Olivia 
Ability: Healing Touch
Sex: female
Age: 29
Birthday: Oct 11th
| | |
| --- | --- |
| Level | Description |
| Level 1 | Players revived by Olivia will get up with an extra 30 HP. |
| Level 2 | Players revived by Olivia will get up with an extra 36 HP. |
| Level 3 | Players revived by Olivia will get up with an extra 43 HP. Unlocks Intern Set |
| Level 4 | Players revived by Olivia will get up with an extra 51 HP. |
| Level 5 | Players revived by Olivia will get up with an extra 60 HP. |
| Level 6 | Players revived by Olivia will get up with an extra 70 HP. Olivia's Achievement |
15. Shani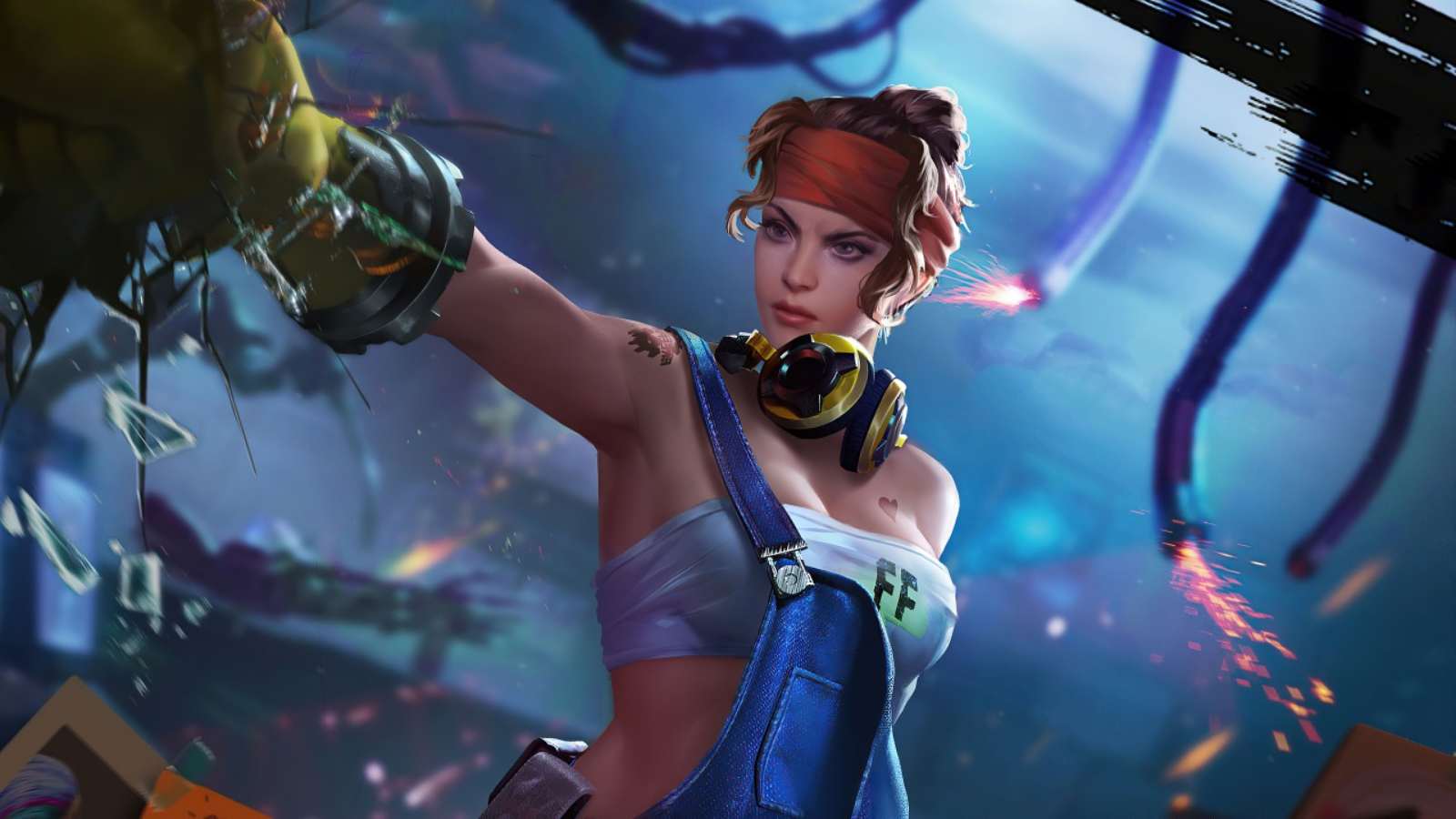 Ability: Gear Recycle
Sex: female
Age: 30
Birthday: Jun 15th
| | |
| --- | --- |
| Level | Description |
| Level 1 | Restore 10 armour durability after every kill. Extra durability can upgrade your armour, up to level 3. |
| Level 2 | Restore 12 armour durability after every kill. Extra durability can upgrade your armour, up to level 3. |
| Level 3 | Restore 14 armour durability after every kill. Extra durability can upgrade your armour, up to level 3. Summon airdrop play card |
| Level 4 | Restore 16 armour durability after every kill. Extra durability can upgrade your armour, up to level 3. |
| Level 5 | Restore 18 armour durability after every kill. Extra durability can upgrade your armour, up to level 3. |
| Level 6 | Restore 20 armour durability after every kill. Extra durability can upgrade your armour, up to level 3. Shani's Banner |
ALSO READ: How many characters are in Free Fire their name, abilities and all you need to know