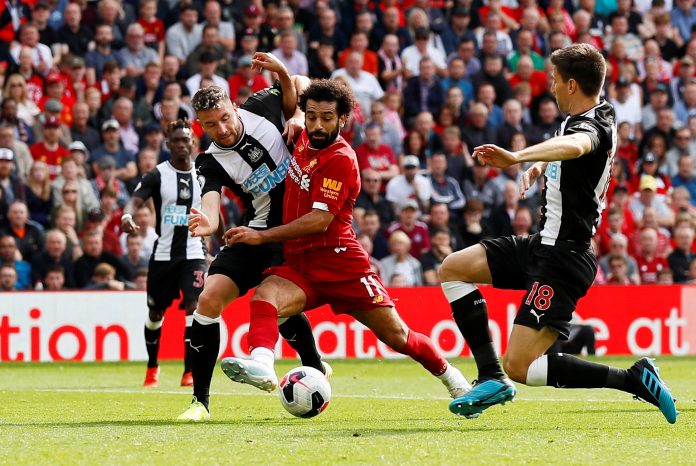 It finishes at 1-1 at Anfield after all the drama. What a game we witnessed. Liverpool have dropped 15 points this season despite leading the game. That's all from our side. Tune into Firstsportz for the Chelsea game. Signing off Varun Aithal
The drama unfolds. This time!!! its surely a goal. Last minute goal…Joe Willock scores.. The scores are level
Oh wait!!!. There is a VAR check. It is a Wilson handball and the goal is chalked off
It is a Magpies steal. Final minutes and Callum Wilson finds the back of the net. Goal!!!!!!!
90th minute: Four minutes added on. Can Newcastle United salvage a point or will Liverpool take all three points?
89th minute: Fabinho recieves yellow card while attempting to stop a Newcastle United counter attack
82nd minute: Both teams pushing for the goal. James Milner shot saved by Dubravka after Sadio Mane passes it back
75th Minute: Liverpool are going for the second goal. Mane hits the side nets whereas Alexander Arnold fails to find the back of the net.
65th minute: Both teams trying to score. However, the defenses are upto the mark.
60th minute: Both managers make changes. Diogo Jota is subbed off whereas Joelinton is replaced by Callum Wilson
Though Newcastle United failed to score, Saint Allan Maximin was a player to watch out. He will be a potential threat in the second half.
Its 1-0 at the end of the first half. Liverpool might regret missing chances in the first half. The players have had too many chances against Leeds as well. Tune back in 15 minutes.
45th minute: Two minutes added on at the end of the first half. Newcastle United looking to turn the tide at the end of the first half.
40th Minute: Mohammad Salah and Sadio mane combines once again. But Sadio Mane dissapoints Liverpool fans again.
36th minute: Liverpool are creating chances but at the same time, they are shaky at the back. Newcastle United are sending waves of attack as their defenders are out of position. Salah misses one on one with Dubravka.
27th minute: Mane and Salah combine to create threat but the shot is deflected wide. Liverpool enjoying great posession and pass completion rate at Anfield.
Newcastle United defender latch a long ball but Alisson Becker saves Liverpool from blushes. Newcastle United have corner here and Alisson saves again.
Watch Mohammad Salah's goal vs Newcastle United here:
With the goal against Newcastle United, Mohammad Salah becomes first ever Merseysider to score 20 goals three times in English Premier League. Luis Suarez and Robbie Fowler had achieved the feat twice.
Liverpool have started the game proceedings on a high tempo and are already a goal up at Anfield.