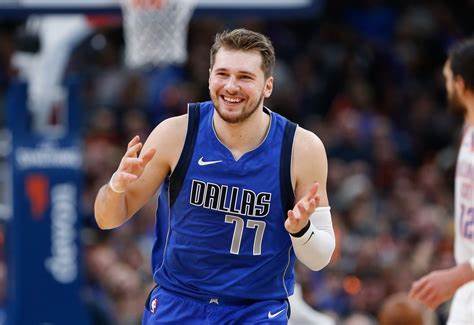 The NBA this season has seen some of the greatest game winning shots so far. Just as we think this season has seen enough, Luka Doncic memerised the game with another one of his precious moments. The incredible last second game winning shot edged the Dallas Mavericks over Memphis Grizzlies. A lot of NBA stars including LeBron James reacted to this epic shot. The Dallas Mavericks lost two consecutive games before their win today. A lot debate and negative questions flowed in the way Luka Doncic led the team. But, the Serbian International once again proved his worth after the spectacular display performance.
The Mavs ended their game with 113-114 and a win against the Grizzlies. Young gun Luka Doncic ended his night with 29 points, 9 assists and 5 rebounds. Centre Kristaps Porzingis had 21 points and veteran JJ Redick ended with 9. On the other hand, highlight player Ja Morant was contained won his aggressive defense this time. He managed to score only 17 points while Grayson Allen had 23. Memphis valuable centre Jonas Valanciunas registered a double-double with 19 points and 15 rebounds. Despite putting a tough fight till the ned, Grizzlies couldnot escape the last second Luka magic.
Superman Luka Doncic to the rescue
Luka Doncic has been the in game leader for the Mavs since his signing. After the Dirk Nowtizki era, Dallas got their potential future superstar who can get them a championship. The legend NB A legend LeBron James reacted to this incredible shot. He tweeted, "WOW WOW WOW!!!!! Cmon you ain't serious man!!" and even tagged Luka. The Mavs and Grizzlies went back and forth on court continuously. With 1.8 seconds left on the game clock after Grayson Allen missed 2 free throws. As the inbound came in, Luka Doncic got it away while stumbling and hit the dagger.
Luka Doncic has always proved how valuable he has been for the side. With this win, the Mavs have a strong chance to finish at 6th spot and avoid the play-in tournament format. This format allows the 9th and the 10th spot team to contest for 7th and 8th spot with the teams on that position. This is just a concept to make the competition more hard. Luka Doncic has the caliber to get the Dallas Mavericks a trophy during the post season games.
Also Read: "Kind of Lucky": Luka Doncic on improbable game winning shot