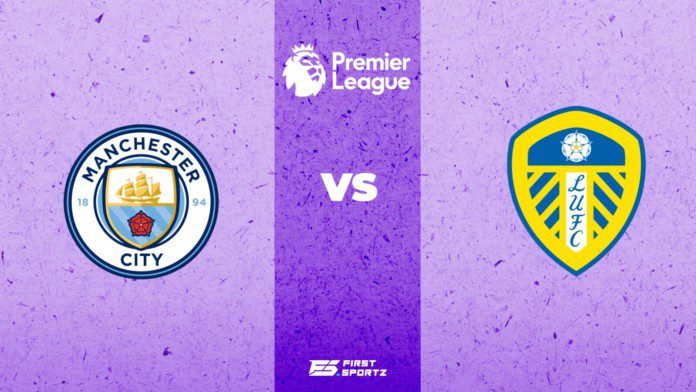 Manchester City vs Leeds United: Manchester City just ran rampant for Leeds United tonight as they thrashed the away side 7-0. City looked unstoppable against Leeds tonight and didn't give them away team any opportunity to make a comeback into the game.
Pep Guardiola will be very happy with the performance produced by his side tonight as they maintain the top position at the Premier League points table.
Let's take a look at the Manchester City vs Leeds United player ratings for the match:-
Manchester City Vs Leeds United Ratings
Manchester City
Ederson (GK) (6.5/10): Apart from a few touches and a couple of saves on occasions, Ederson didn't have a lot on his plate tonight. He spent most of his time waiting for any noteworthy attack by the visiting side. He did make some good saves in the second half as Leeds tried to catch City off-guard.
John Stones (8/10): John Stones was magnificent tonight, he played his part to the end, making outstanding runs inside the box, he was very accurate with his interceptions and gave no room to the Leeds attackers to find a way past him.
Ruben Dias (8/10): Ruben Dias has become a cornerstone for the Manchester City defensive lineup and it seems as if he can do no wrong these days. He was accurate with his tackles and made great interceptions stopping Leeds dead in their tracks before they could even formulate any attacks against his side in the Manchester City vs Leeds United encounter.
Ayemeric Laporte (7.5/10): A great defensive display by Laporte tonight, he made some good clearances for his side. He was also involved in various attacking chances and created additional pressure on the Leeds backline.
Rodri (8/10): Rodri has been outstanding for Manchester City this season and he maintained his form tonight against Leeds who just looked out of shape on all fronts. He made some very good runs providing chances for his teammates in the attacking third.
Kevin DeBruyne (9.5/10): The Belgian attacking midfielder was just on his A-game tonight. He made some great moves in the attacking third and was just on-point with the ball distribution. DeBruyne etched his name on the scoresheet with a goal in the 32nd minute turning the storyline to 3-0 for Manchester City. He added another goal to his tally with an absolute beauty in the 62nd minute to turn the score to 5-0.
Oleksandr Zinchenko (7.5/10): Zinchenko just dominated the midfield against Leeds tonight, he made some very nice interceptions in the midfield thwarting any attack from Leeds that could have challenged the defensive line. He made some good passes in the attacking third and maintained his presence throughout the game.
Bernardo Silva (7/10): Any other player would have been happy with the performance tonight, but perhaps not Bernardo Silva, missing an open goal early in the game, the player had his ups and downs tonight, but still an overall decent day for the Portuguese. He will look for a refresher as he was subbed off after halftime.
Riyad Mahrez (8.5/10): A very impressive outing for Mahrez tonight who shined in both attack and defense tonight. He made some great runs in the attacking third creating opportunities for his teammates. On occasions, the player was fast in tracking back to make interceptions avoiding Leeds from progressing any forward. He opened the second half for Manchester City with a banger in the 47th minute.
Jack Grealish (8.5/10): A brilliant display from Grealish tonight as he seemed on fire tonight, he looked threatening in the attacking third tonight creating space and position to take chances, he gave City their second goal in the 13th minute of the game with an outstanding header.
Phil Foden (8.5/10): Foden was outstanding tonight, he kept the Leeds defenders constantly on their toes. He made some very impressive runs inside the attacking third and created some great chances for his side. He opened up the scoresheet for City with an amazing goal in the 8th minute.
Substitutes:
Ilkay Gundogan (7.5/10): The German came on during the start of the second half and looked outstanding tonight. He was a constant threat for the Leeds backline and made it hard for them to focus on one player as they were hounded by City who attacked in numbers throughout the game.
Fernandinho (7/10): A decent outing for the Brazilian tonight as he came on as a substitute in the second half of the game. He displayed some nice ball control skills in the midfield and made some great interceptions for his side.
Nathan Aké (7.5/10): Nathan Ake came on the field during the 65th minute of the game and shined on both offense and defense. The central defender made some great tackles and clearances for his side and scored City's 7th goal of the game in the 78th minute.
Leeds United
Illan Meslier (GK) (3.5/10): It was a nightmare for Illan Meslier tonight against a fired-up Manchester City who came at him from all fronts. The keeper wasn't just up to it today and it was evident by the scoreline at the end of the game.
Jamie Shackleton (6/10): Shackleton was perhaps the best player in Leed's defensive unit tonight, he made some good interceptions in his half that kept City somewhat at bay. He was good at the few attacking opportunities Leeds got tonight and made some nice runs from the flank to support his team. He seemed to be struggling with his hamstring and was subbed off at the start of the second half.
Luke Ayling (4.5/10): A very forgettable performance by Ayling who was just utterly neutralized by the Manchester City attackers. He tried but the numbers the home side attacked were too much for him to handle.
Diego Llorente (5/10): A very mediocre performance by Diego Llorente who was caught out of position on multiple occasions and left Meslier vulnerable to attacks from the Manchester City forwards. He did make a few good tackles but it wasn't a good day for the defender by any means.
Junior Firpo (4.5/10): Firpo had to be very careful with his moves tonight, as a booking meant he'd miss the upcoming game against Arsenal and the player wasn't just composed enough to withstand the on-fire Manchester City attack. Booked in the 20th minute of the game Firpo just couldn't do enough as a sent-off would just add onto the worries of Leads tonight.
Stuart Dallas (3.5/10): A very poor showing by Dallas tonight, he just seemed all over the place, missing tackles, defensive errors, rash plays, the midfielder wasn't just good enough to feature tonight against a side like Manchester City.
Adam Forshaw (4.5/10): A very mediocre performance by Forshaw tonight as he was severely outplayed in the midfield. He couldn't control the ball against his opposition midfielders and made errors that could have been easily avoided.
Raphinha (5/10): A disappointing day for the Brazilian tonight as didn't have any major contributions for his side. He failed to create any major opportunities for his side and he would love to forget tonight's embarrassment at the hands of Manchester City.
Tyler Roberts (4.5/10): A very mediocre display by Roberts who was just outplayed tonight by the Manchester City side who crushed him in midfield, the player didn't have enough opportunities as he was outnumbered and didn't receive support from his side.
Jack Harrison (5.5/10): A somewhat decent performance by Harrison tonight who did make some good moves in the attacking third on the minimum opportunities he was provided with. He has a great shot on target that was saved by a flying Ederson.
Daniel James (4.5/10): Daniel James added more worries to his side tonight, he was absent for the majority of the game, getting just measly passes that aren't up to mark for a player of his caliber. He needs to focus more on his defensive duties as well against sides that can open their opposition upon counterattacks such as Manchester City tonight.
Substitutes:
Joe Gelhardt (4.5/10): The striker was brought in after the first half as his side trailed 3-0, but it was a literal nightmare for the player as Manchester City just thrashed Leeds 7-0. Gelhardt had a negligible contribution in this Manchester City vs Leeds United fixture tonight.
Mateusz Klich (4.5/10): Klich was brought in at the start of the second half to strengthen the Leeds defensive lineup as they trailed by three goals, but he couldn't hold the onslaught that was brought on by the City forwards as they relentless outnumbered the defender at various occasions.
Cody Drameh (4.5/10): Drameh was brought in during the closing minutes of the game as Leeds trailed by five goals but it was to no avail as Manchester City were just relentless with their attacks and added two more goals to Leeds' misery. Drameh did not produce any impact on tonight's game.
Also read: BREAKING! Premier League introduced new rules, lifts ban on owner-related sponsorship deals