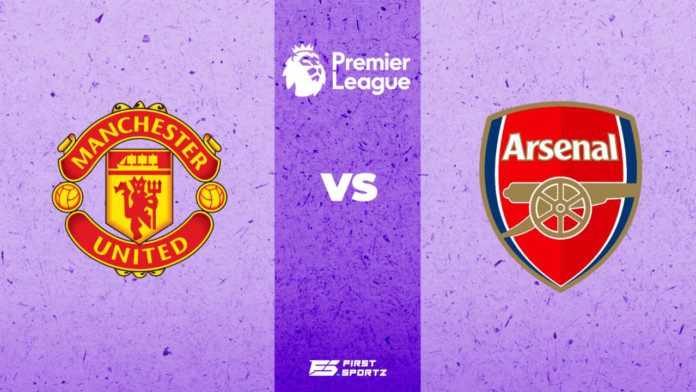 Manchester United vs Arsenal: Manchester United squared off against Arsenal at Old Trafford on Matchday 14 of the ongoing edition of the Premier League.
A nail-biting game as Manchester United win against Arsenal, courtesy of goals by Bruno Fernandes and none other than the main man, Cristiano Ronaldo. It was Arsenal who took the lead though, as David De Gea went down injured and the Gunners' man in form, Emile Smith Rowe scored a beautiful volley but couldn't hold onto the lead. Martin Ødegaard pulled one back and equalised the game but unfortunately gave away a penalty at the other end which Cristiano Ronaldo promptly took care of, raising his goal tally to a mind-blowing, 801 goals!
Let's take a look at the player ratings for the match:-
Manchester United vs Arsenal Player Ratings
Manchester United
David De Gea (GK) (6/10): While defending a corner, David De Gea went down holding his leg because he felt contact, not realising it was one of his own teammates, leaving Emile Smith-Rowe to fire a volley in an empty goal. Poor decision making from the veteran who made some great saves in the latter stages of the game.
Alex Telles (7/10): Alex Telles was rock solid defensively and his crossing along with his linkup play with Sancho and Bruno Fernandes certainly had the Arsenal backline on alert.
Harry Maguire (7/10): Harry Maguire had a decent evening as he defended well and made life difficult for the Arsenal attackers.
Victor Lindelöf (7/10): Victor Lindelof had a good game as he partnered well with Harry Maguire and dealt well with the pace of players like Aubameyang.
Diogo Dalot (6.5/10): Diogo Dalot started a Premier League game after a considerable amount of time and he certainly held his own as he defended well and didn't take unnecessary risks.
Fred (7.5/10): A shaky start, Fred had a first-half filled with errors as he got caught in possession multiple times and played some lazy passes early in the match but grew in confidence as the game went. He did well to get in a good position to pick out Bruno Fernandes and grab an assist and also won a penalty which lead to the Red Devils grabbing a winner.
Scott McTominay (7/10): With a good balance of attacking and defensive football, Scott McTominay did it all as he had an impressive evening.
Marcus Rashford (6.5/10): Marcus Rashford linked up well with his fellow attackers and showed some great footwork to put pressure on his opponents before eventually being subbed out.
Bruno Fernandes (8/10): A great run into a dangerous position ended Bruno Fernandes' longest goal drought and equalised the game for Manchester United.
Jadon Sancho (7.5/10): Jandon Sancho was electric tonight as he constantly put the Arsenal defenders on the backfoot and was always looking to provide an incisive pass.
Cristiano Ronaldo (9/10): Goals number 800 and 801 in quick succession for Cristiano Ronaldo as he made an excellent run into the box and finished a great ball into the box by Rashford for his first and slotted the ball home from the penalty spot to grab the winner for Manchester United.
Substitutes:
Jesse Lingard (N/A)
Anthony Martial (N/A)
Donny van de Beek (N/A)
Arsenal
Aaron Ramsdale (GK) (6.5/10): Ramsdale didn't have a whole lot to do in the first half of the game but unfortunately got beaten three times in the latter half of the game.
Takehiro Tomiyasu (6/10): Tomiyasu didn't have the easiest of nights as he was left chasing Jadon Sancho's shadow on multiple occasions.
Ben White (7/10): A decent defensive display and a last-ditch tackle in the first half, everything was going right for Ben White until he made a sloppy pass and gave the ball away in a dangerous position, which led to Manchester United equalising the game.
Gabriel Magalhães (6/10): Gabriel had an average evening. A decent display of defending but momentary lapses in concentration.
Nuno Tavares (6/10): Tavares played out of pressure quite a few times but didn't have that cutting edge to provide an incisive ball.
Gabriel Martinelli (7.5/10): Gabriel Martinelli had an intense battle against Alex Telles throughout the night and fared well as he put an inviting ball into the box and grabbed an assist.
Thomas Partey (6.5/10): Caught in possession repeatedly and losing the ball in dangerous areas, the first half was sprinkled with mistakes for Thomas Partey. Performed much better and was on high alert during the second half though.
Mohamed Elneny (7/10): A sensible presence in the heart of the Arsenal midfield, Elneny progressed the ball well up the pitch and was instrumental to the Gunners tonight.
Emile Smith Rowe (7.5/10): Firing home a beautiful volley albeit, in an empty net, Emile Smith-Rowe helped Arsenal grab the lead in tonight's game before he got subbed out for Saka.
Martin Ødegaard (8/10): Full of creativity and flair, Martin Ødegaard was a constant problem in the attacking third and equalised the game for Arsenal as he slotted the ball in the bottom corner, courtesy of a great pass by Martinelli. Unfortunately, he also gave away a sloppy penalty before being subbed out for Edward Nketiah.
Pierre-Emerick Aubameyang (6/10): Arsenal's talisman had an average performance as he didn't receive the ball in great positions that often and couldn't really do much with it when he did.
Substitutes:
Bukayo Saka (6.5/10): Unfit to start, Bukayo Saka was missed by the Gunners as his introduction certainly caused troubles for the Manchester United backline.
Edward Nketiah (N/A)
Alexandre Lacazette (N/A)
Also Read: "Factos !": Twitter reacts as Cristiano Ronaldo comments on an Instagram post criticizing his Ballon D'or snub