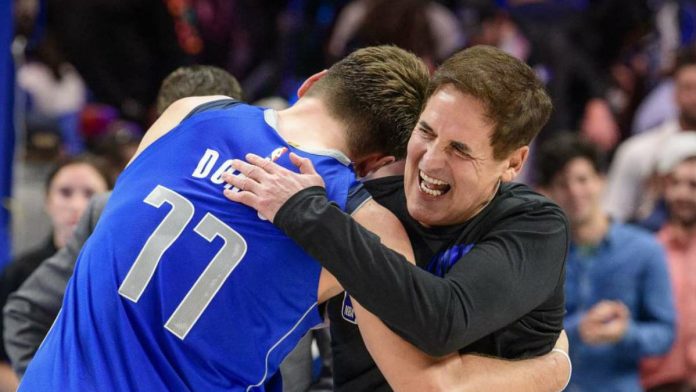 The post All-Star weekend has just been perfect for the Dallas Mavericks. The team is having a dream run currently. After their 40-point win over Portland Trail Blazers the team is brimming with confidence. Ever since Luka Doncic has held on to his leadership role, the franchise has always stood up. The Dallas Mavericks have had some great comebacks till now. Starting it with the Golden State Warriors, they have now pulled back games from LA Clippers as well. And as always Luka Doncic has been the shining star. Mark Cuban is optimistic that Luka Doncic will definitely hold on to his words.
The Mavs are 22-19 in the Western Conference. They are 8th seeded and barely making it up for the playoff spot. Despite controversial stance, they have paced against all odds to rise as a new team. The improvement that Luka Magic has brought in has definitely helped the franchise. Luka is displaying the complete trait of temperament and actions.
Mark Cuban feels proud of the Serbian, Luka Doncic
Luka's incredible performance against the Trail Blazers has awed everyone. His performance was enough to make Mark Cuban believe that youngster is striving to fulfil his promise. He shot 8/9 from the 3-point arc.
Mark Cuban said, "After his rookie year I asked @luka7doncic what he would add to his game. He said "Finishing the basket w/ my left hand". He became top 10 finisher in the NBA. Asked him the same thing after last year, he said "shooting". Can't wait to see what comes next."
Luka Doncic has been a great shooter this season. Especially against Blazers, he was just unstoppable. It seemed as if he swapped his strengths with Dame's.
He is certainly delivering the promise to Mark Cuban. As opposed to last year, he is shooting 37.1% on 7.9 attempts this season. Luka has become an irreplaceable part of Mavs' franchise. He is the next probable leader after Dirk Nowitzki. The 22-YO has shown that he can put the defenders on their toes.
Also Read: Steve Kerr predicts Warriors' rookie James Wiseman has bright future ahead