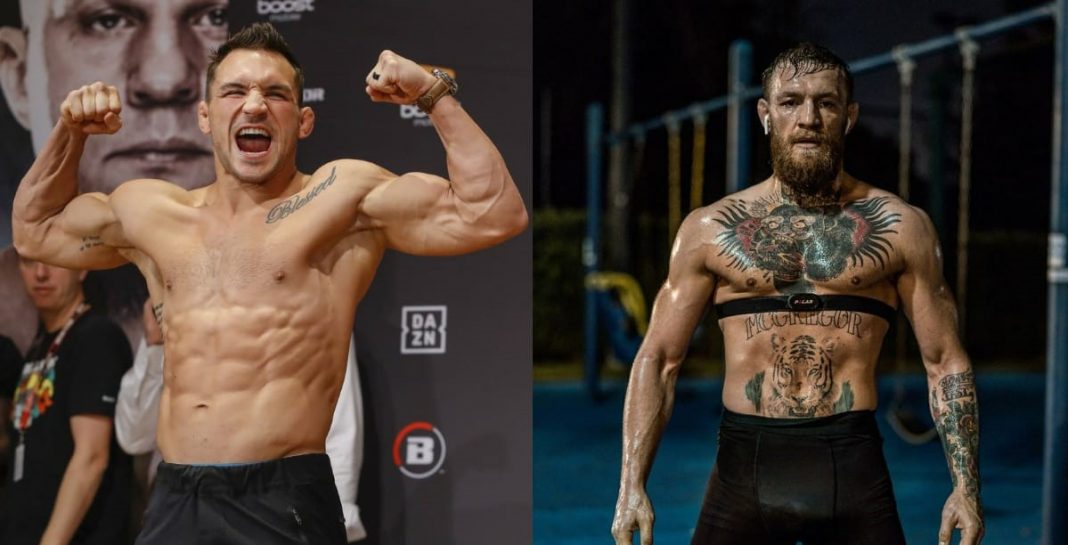 Michael Chandler made a dream start to his UFC career, as he beat Dan Hooker in the first round at UFC 257, via knockout. The win catapulted 'Iron Mike' right into the top 5 of the lightweight rankings, and he now finds himself just one step away from the lightweight title. He is scheduled to face Charles Oliveira on the 15th of May, 2021 at UFC 262 – for the vacant lightweight belt.
Speaking in an interview with Brett Okamoto of ESPN, Michael Chandler was asked who would stand in his path during his first title-defense (if he manages to get past Oliveira). Chandler replied that it would be Conor McGregor, while predicting a win for the Irishman in the trilogy bout.
'I think he makes some adjustments' – Michael Chandler
Michael Chandler was quoted as saying, "If I put my money on it, I think it's gonna be Conor [McGregor]. I think he makes some adjustments, very small minor adjustments, and he gets the win in that trilogy [with Dustin Poirier]."
Michael Chandler looked explosive and very fast during his short fight against Dan Hooker. However, in his path stands Charles Oliveira is coming off a massive dominating victory over the exceptional Tony Ferguson. The Brazilian's ground game was a sight to behold, as he made Tony almost tap at one point. Going past Oliveira wouldn't be that easy for the former Bellator great.
Conor McGregor, on the other hand, is most certainly going to face Dustin Poirier as expected. But the Irishman looked a mere shadow of his former self at UFC 257 against Dustin, where he was knocked out for the first time in his career.
Do you think things will pan out as Michael Chandler says?

Also Read : Daniel Cormier urges fans to 'enjoy the fighters while they're here' in the wake of Stipe Miocic's uncertain future after loss at UFC 260
Also Read : 'I'd like to beat her sister first' – Miranda Maverick targets Antonina Shevchenko next