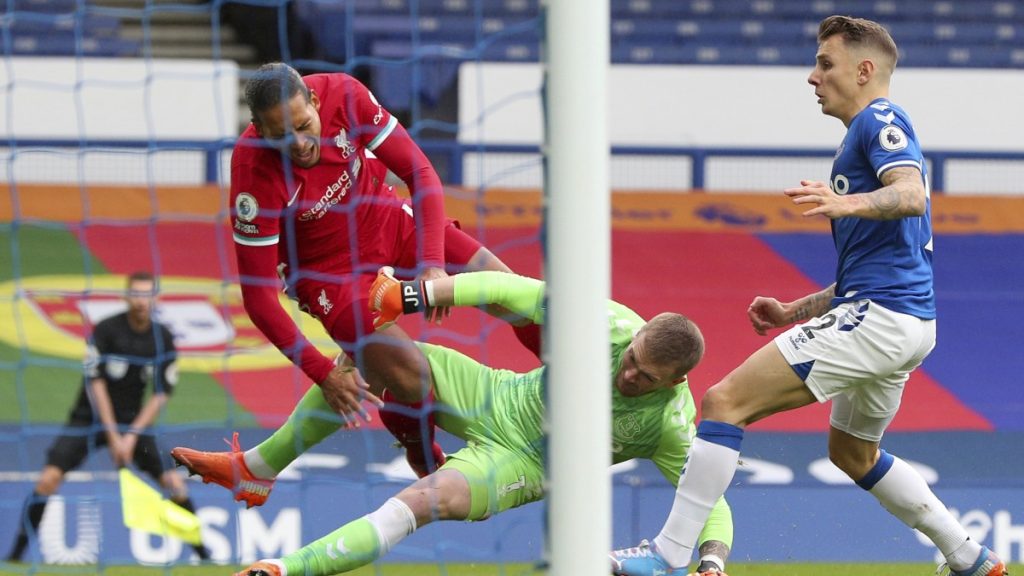 The first Merseyside derby of the 2020/21 Premier League season was a controversial one and ridden with referee errors. Both Michael Oliver on the pitch and David Coote in the VAR room had controversial moments as some of their decisions were atrocious at best. Nevertheless, the former has taken his time to acknowledge that he had made some errors which he shouldn't have made.
The Premier League title race has changed a lot due to events like these
When people say that a referee's mistakes can change the outcome of a match and in fact change how a whole season is determined, look nowhere apart from this season. Liverpool have faced the brunt of VAR this season as a lot of decisions have gone against them. Despite the fact that VAR has been against them for almost the whole season, Liverpool are currently sitting at the top of the Premier League table with goal difference keeping them ahead of Manchester United. However a lot of decisions made by referees in the previous matches have come back to bite Liverpool now.
There were two controversial decisions in the match, the first of which was Everton's keeper Jordan Pickford fouling Liverpool's Virgil van Dijk. The other was a contentious goal of Jordan Henderson being ruled out for offside. The first happened when Virgil van Dijk was offside when he got a pass from Thiago, but Pickford crashed into the former with both his legs. As a result van Dijk suffered an ACL injury and has been ruled out for the season. Henderson's goal was contentious at best as VAR has ruled out similar goals before but also have let the same goals stand before.
Michael Oliver stated recently that "We have all, myself included, not thought about the challenge as much as should have done. We could have still have given offside and sent Pickford off. What I was surprised about looking at it afterwards was that nothing was expected on-field in terms of a red card. None of the players were asking for that."
"We got sucked too much into going step by step as opposed to thinking of the bigger process, which was considering the challenge as well and not just the fact it can't be a penalty. We should have restarted with the offside, as we did, but with a different punishment for Jordan Pickford."
To say the least, it is ok for a referee to make mistakes and admit it and that Michael Oliver has done fine to do the same. But this is too little too late as that decision has contributed Liverpool to not have a lead of two points right now. It was shocking for every referee involved to not spot the violent conduct exhibited by Pickford while adjudging Virgil Van Dijk as offside.
Also read: Manchester United turn attention away from Moises Caicedo as Brighton and Hove Albion make a formal bid