A fight between Michel Pereira and Jorge Masvidal is one that everyone would welcome with open arms, however the circumstance that may finally lead us to that bout may be less than ideal, even troubling to an extent. The whole beef started after Michel won his fight at UFC Vegas 55 against Santiago Ponzinibbio and called out Masvidal in his post-fight press conference stating he had some problems with him.
When asked by a media member as to what the problem with Masvidal was, he revealed that "Gamebred" had sent an emoji (One with praying hands) to Pereira's wife on Instagram and wanted to talk it out with him in the Octagon. The following day, Gamebred came out with the receipts and revealed that it was in fact Pereira's wife, who had texted him first and the emoji was merely a reply to the text.
Related: "She slid in my dm"- Jorge Masvidal nukes Michel Pereira for trying to set up a fake narrative
Michel Pereira's wife addresses Jorge Masvidal DM-row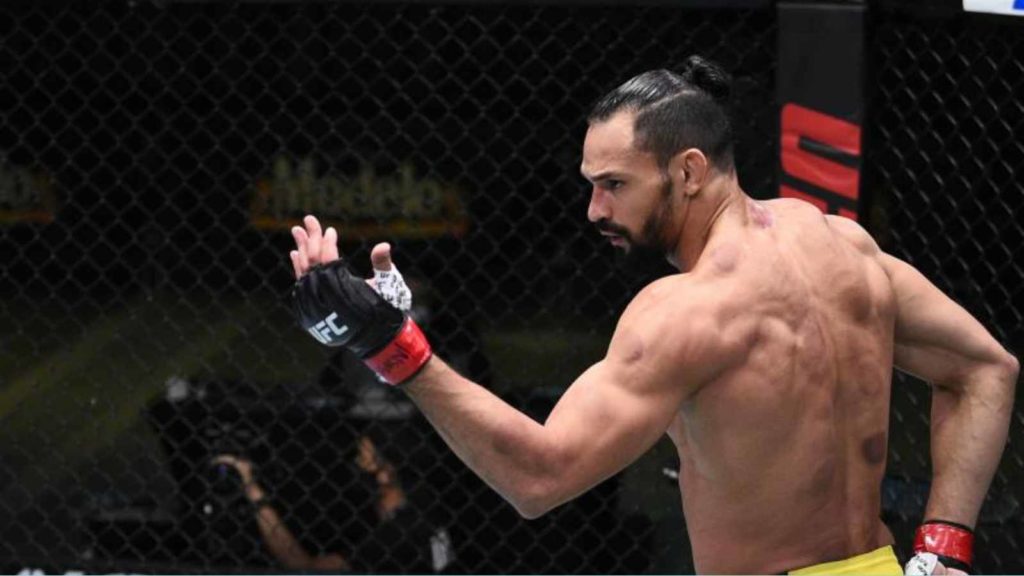 The screenshot posted by Gamebred on Twitter also revealed an earlier story posted by Gina Amir, Pereira's wife that dates back to July 11th of 2021. Today Michel Pereira's wife finally put out a statement addressing the whole controversy. On her Instagram which has now been made private for obvious reasons due to the wave of trolls, she said, "Society is always looking for excitement and unfrotunately drama sells-twisting the narrative to create a story that is false" she continued, "I have never and never would do anything to disrespect my marriage or my husband"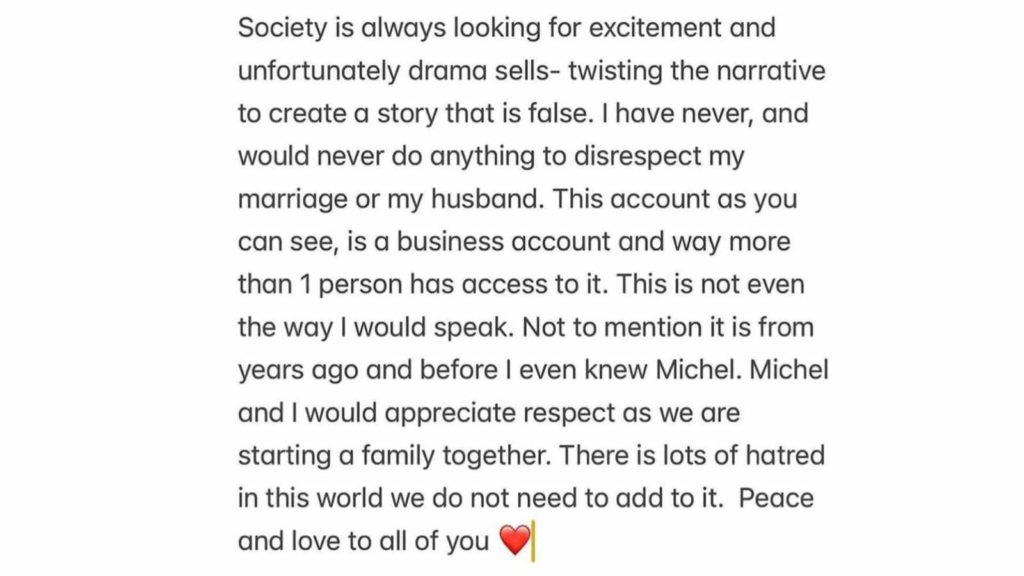 Gina then clarified that her account is a business account and hence is controlled by her along with a few of her associates saying, "That is not even the way I would speak" She then pointed out that the supposed incident took place years before Michel and her were together and that they would like some privacy as they start a family together.
Gina Amir is a celebrity jeweler and works in Diamond and Fine jewelry creation according to her Instagram. She concluded the message by saying, "There is a lot of hatred in this world we do not need to add to it. Peace and love to all of you"
Also Read: "He sent an emoji"- Michel Pereira reveals Jorge Masvidal made a shocking move on his wife
Also Read: Michel Pereira secures the biggest win of his career against Santiago Ponzinibbio at the co-main event of UFC Vegas 55