The New York Yankees and Boston Red Sox experienced one of the rarest moments being featured on Sunday Night Baseball, which included Derek Jeter being the special guest at the KayRod Cast on ESPN2 with Michael Kay and Alex Rodriguez. Derek Jeter hopped into the limelight as riding the mild buzz from The Captain.
Jeter and Rodriguez became teammates with the Yankees from 2004-14, winning the World Series in 2009. Rodriguez missed Jeter's final season as he served a season-long PED suspension. Michael Kay of the KayRod Cast asked in the end if fans can see a "DJ-A-Rod Cast" next year, They both started laughing a Jeter said, "No, No chance"
A totally genuine discussion took place in the sitting between Derek Jeter and Alex Rodriguez on ESPN2, Derek Jeter points to it, "What's in the cup?". Rodriguez: "Just water.". DJ, pointing to a different cup: "That one.". A-Rod: "Well that one we can't talk about."
Also Read: "Really need him": Giancarlo Stanton's convincing injury update, MLB 2022 All-Star MVP to scare MiLB pitchers at the earliest
Derek Jeter and Alex Rodriguez react to their SHIRTLESS picture, Alex Rod regrets his mistakes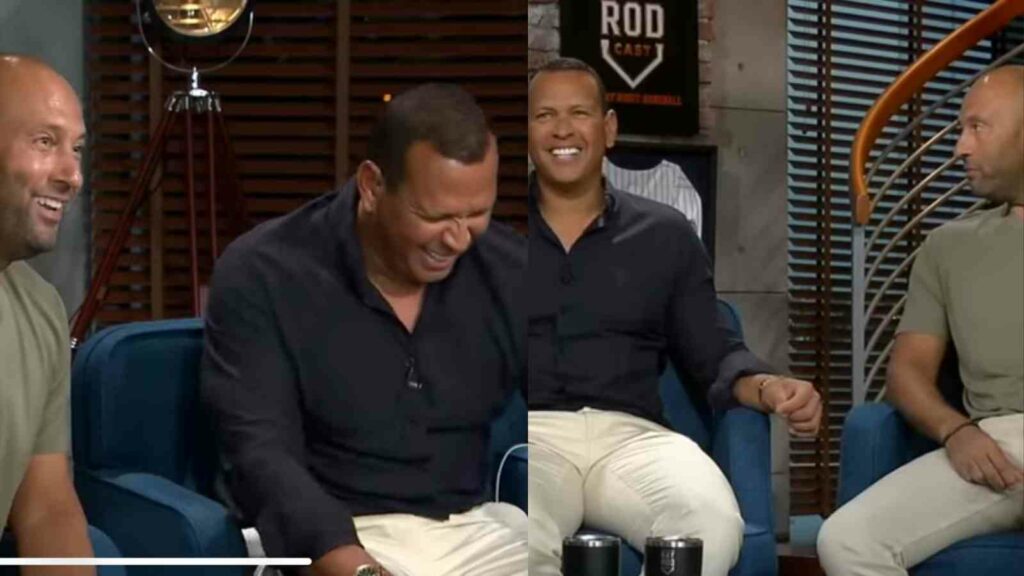 Rodriguez was caught in an emotional out pour of words when he stated on of the biggest "regrets" in his life, said, "One of my biggest regrets, a lot of it is because of my craziness, all the mistakes I have done on and off the field."
"My regret is that I wish we (Jeter and him) were as close as we were when we were teenagers when were in Seattle when we played and I guess 2009 will still be the highlight."
"You move on. You learn. Things happen in life," Derek said. "[I] lost one of my best friends in Gerald Williams [to cancer in February] and you realize life is short. You don't hold grudges anymore and you move on."
Also Read: "Carried himself with dignity": Joey Votto embellishes himself as MLB's Canadian maestro, plays his 1989th game
A now infamous 1997 Sports Illustrated photograph, featuring Jeter, Rodriguez, Edgar Renteria, Alex Gonzalez and Rey Ordóñez, all shirtless, wearing baseball pants and gold chains came up.
Kay joked that Jeter "scared" the show's producer into not showing the photo. "This will be my last visit here," Jeter said, responding to Kay.
After some laughter, Kay continued calling the game. Moments later, the shirtless photo appeared on the screen. While Rodriguez laughed, Jeter was silent. "Well, it was nice having you," Rodriguez laughed. Jeter responded, "This is my last time here."
Also Read: Watch: Albert Pujols thrashing a 443 feet 3 run HR, hits his longest HR of his season