Back in 2017, Mia Khalifa went on to enjoy the Game 1 of National League Championship Series (NLCS) between Los Angeles Dodgers and Chicago Cubs. A fan made the video of her being escorted out of the stadium as she allegedly punched a guy who was trying to take a selfie with her without asking her first.
The video went viral as fans were seen howling at her when she was escorted towards the exit, the camera quickly turned towards the game as Dodgers were about to complete a Home Run. Mia Khalifa wrote "Fake News" on the post which made the fans go bonkers.
The reporter in the above video states, "The man allegedly tried to take a selfie and was punched by Mia Khalifa"
The news was instantly confirmed as Mia Khalifa herself posted a story of the Dodgers game in which she, at first showed the Live Dodgers game and then popped another smartphone in which she was enjoying a college football game. "Priorities," she wrote on the Dodgers' end of the screen.
"That's better," appeared on the screen when the college game popped up. Later, Mia Khalifa posted a photo of herself at the Dodgers game denying she was thrown out, captioning, "Update: still prefer regular season hockey over playoff baseball. And no, I didn't get kicked out,"
Also Read: Netflix's 'The Swimmers' inspiration Swimmer Sarah Mardini was ARRESTED for saving lives of Refugees, sent to PRISON for 100 days
Moving ahead Mia Khalifa, Los Angeles Dodgers have issued the most 2022 Post Season Shares in MLB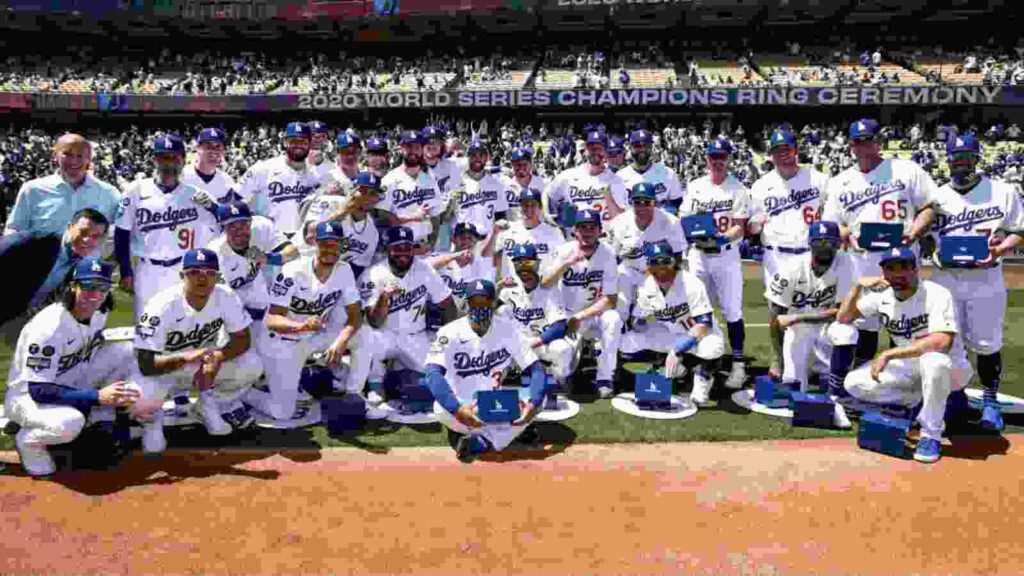 The MLB teams recently released the numbers on their postseason bonus with the World Series Champions receiving over $30 Million and splitting it amongst 59 people. On the other hand, the Los Angeles Dodgers received just under $3 million and the bonus was to be divided amongst 82 people, more than any other MLB team.
The overall pool was much higher than what MLB had last year, there was a $17 million more. The total amount came out to be around $107 million compared to last year's $90 million.
Dodgers distributed over $36,000 to each which is the reason behind the big deal cracked by some of the younger players. As compared to the team who lost the LCS, San Diego Padres and New York Yankees, they issued shares worth $150,000 each.
Also Read: "Baby put on the dress"- 2022 World Series winner Alex Bregman dedicates an INTIMATE song for his wife Reagan
Also Read: San Fransisco Giants owner made multiple $100K donations to Herschel Walker's Senate campaign to push him over the line