Saturday night game, Rays vs Orioles turned into a wild fight as both benches cleared in the eighth inning of Tampa Bay's 8-2 win. Emotions were all over the place in St. Petersburg as the win for Rays put the Rays (59-53) back in front of Baltimore (59-54) for the final AL wild-card spot by half a game.
Rays vs Orioles saw a brawl when the benches cleared at the top of the eighth inning after Rays pitcher Pete Fairbanks had some words for Baltimore's Robinson Chirinos. Chirinos was audacious enough to call time before a pitch and the home plate umpire granted him the time out.
Fairbanks yelled at Chirinos after striking him out. Chirinos didn't take kindly to it, and suddenly the benches cleared to engage in some shoving and jawing.
"There was a late time call, I took offense," Fairbanks said after the game, according to the Tampa Bay Times, Rays vs Orioles. "Apparently, I misunderstood who had called time, where it came from. Apparently, it was the umpire, not Chirinos. I, as you guys know, can be a little fiery. So, I think that that might have caused some things (Saturday)."
Also Read: "DJ-A Rod Next Year?" Derek Jeter and Alex Rodriguez rekindle their old spark, regret losing a friendly disposition
Rays vs Orioles: Drew Rasmussen had the longest and most dominant outing his career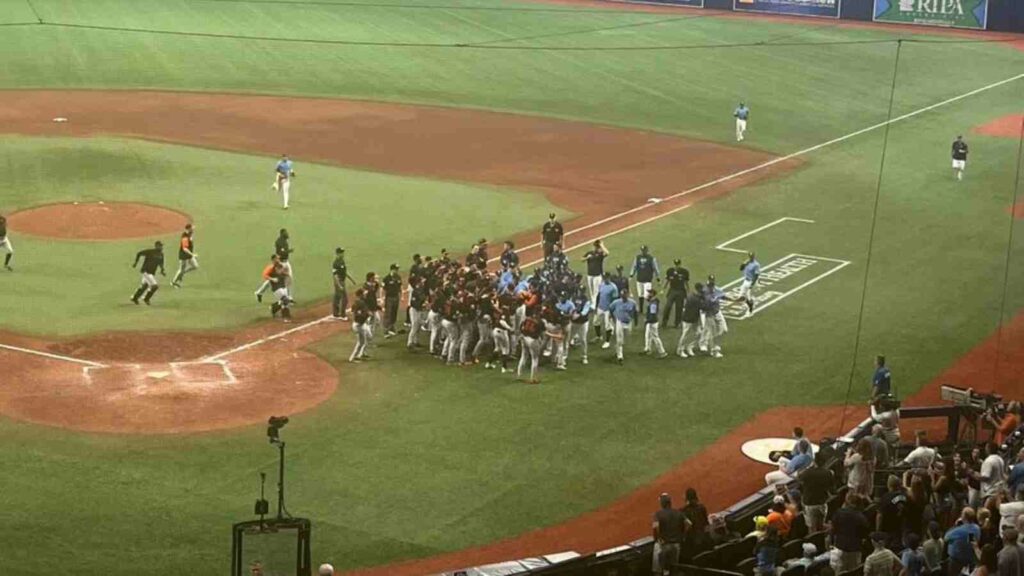 Rays vs Orioles was witnessed by the crowd of 18,093, including many fans, who responded with a standing ovation for the righty's outstanding performance. "I mean, I'll take it," Drew Rasmussen said, smiling. "I wouldn't say it was disappointing, man. I came that close, and very few can say they've done that, too."
Drew Rasmussen fell short of the 24th perfect game in MLB history, but he still felt proud after the longest and most dominant outing his career. "Any time you get that close to a perfect game, I think it speaks for itself. He was shoving," said reliever Jason Adam, who recorded the final two outs in the ninth. "His stuff's elite. His mentality is elite. He kept his composure."
The Rays won the game and hold a half-game lead over the Orioles for the final wild-card spot. There's lots of baseball left to be played but it feels like things just got a little more personal between these teams.
Also Read: "Carried himself with dignity": Joey Votto embellishes himself as MLB's Canadian maestro, plays his 1989th game
Also Read: "Really need him": Giancarlo Stanton's convincing injury update, MLB 2022 All-Star MVP to scare MiLB pitchers at the earliest